National League Champions Series St. Louis Cardinals +102 (Carpenter R) at San Francisco Giants -112 (Vogelsong R) Total: OvUn 6.5
Game 2 St. Louis leads series 1-0
The St. Louis Cardinals continued their postseason run with a Game 1 win against the Giants. What has become improbable and extraordinary for other teams has seemingly become normal for the Cardinals. After winning a one game playoffs against the Braves, the Cardinals took out the Nationals, a team which boasted the MLB's best record through the regular season. Once again the final seed in the playoffs, the Cards are just three wins away from another World Series berth.
St. Louis got help from proven postseason sluggers David Freese and Carlos Beltran in Thursday's 6-4 win in San Francisco. Clearly not weary after a cross country flight, the duo both hit 2-run homers in the victory. Bullpen specialist, Edward Mujica got the win, and Jason Motte held off a San Francisco rally and got the save. Normally reliable starter, Madison Bumgarner was chased after just 3.2 innings after giving up 8 hits and 6 earned runs.
The Cardinals will start veteran Chris Carpenter, and the Giants will go with Ryan Vogelsong in the Game 2 matchup.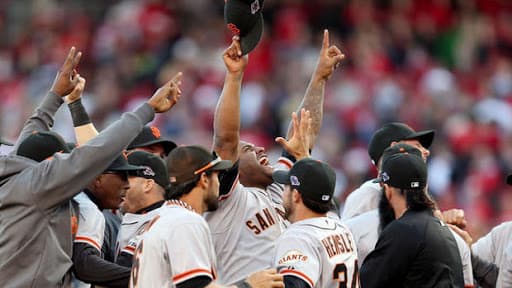 Carpenter vs. Giants
Carpenter has not played most of the season, but he appears to be in dominant form. The veteran lefty has been dominant in his postseason career. He pitched 5 2-3 innings in a win over the Nationals last week, and has a 2.88 ERA in 16 postseason appearances.
In his career, he's 4-1 with a 3.57 ERA in eight starts against the Giants, and won both of his games at AT&T Park this season.
The Giants are hitting just .165 at home in the postseason. Carpenter has had a lot of success against Giants' hitters, in 22 at bats against Pence; he has held him to a .182 batting average with 7 strikeouts. Only Ryan Theriot has a productive past against Carp, hitting .467 in 15 at bats, but he hasn't started a game once this postseason.
Vogelsong vs. Cardinals
Vogelsong has been unhittable at home, sporting a 2.86 ERA at AT&T Park this season. He made his postseason debut last week against Washington, allowing one run over 5 innings in a 2-1 victory. Vogelsong won an August 8th start against St. Louis, allowing 3 hits in 7 innings of a 15-0 blowout. However, he's gone 0-4 with a 9.00 ERA in five career starts against them.
Our Play
While the Cardinals look intriguing, based on the matchup and lack of run scoring for the Giants, this one still seems to close to call. We're interested in the total.
The Giants are bound to break out of their slump sooner or later, and the Cardinals should be able to get to Vogelsong. Also, Carpenter hasn't gone deep into ball games too often, so we could easily 4-5 innings of the Cards' bullpen.
Get on the Overs, currently at 6.5 at most books.