Amid all the hoopla surrounding Pep Guardiola's decision to sign a three-year contract with German giants Bayern Munchen, the promotion of Everton boss David Moyes to favourite in the market on the next Manchester United manager was lost.
While Moyes has long enjoyed close ties with Red Devils head Alex Ferguson – Moyes was the Preston boss to whom Ferguson entrusted David Beckham when the future England captain went out on loan in 1995 – and for years has been mentioned as a potential Manchester United manager, surely someone with a bigger, better brand will get the Old Trafford job once the knight decides to call time on his incredible career.
The third longest serving boss in England's top four leagues behind only Ferguson and Arsenal's Arsene Wenger, Moyes has done a good job with the Toffees but certainly not a great one. Everton's average English Premier League finishing position under Moyes has been between eighth and ninth.
Moyes and Ferguson get on well – they share a Glaswegian childhood and neither of them scaled the greatest heights during their playing careers – but the Red Devils will be looking for someone more than merely a mate of their outgoing manager. They will want a genuine superstar.
According to the latest betting in a market that has been open for more than 20 years – remember, Manchester United would have probably sacked Ferguson (though he denies this) had Mark Robins not scored his famous goal against Nottingham Forest that enabled the Red Devils to continue their ultimately successful English FA Cup run in 1990 – there are three leading candidates: Moyes, Guardiola and Jose Mourinho.
Moyes does not have the gravitas to succeed Ferguson so that leaves Guardiola and Mourinho, both of whom fall into the superstar category and have contracts until the European summer of 2016, which seems about when Manchester United will be in the market for a new head of team affairs.
Bookmakers reacted to Guardiola's announcement that he was joining Bayern by lengthening their odds about him being Ferguson's successor. But were they right to do that?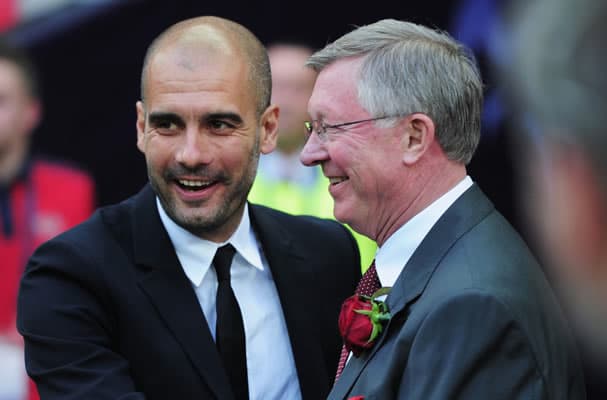 Could Pep Guardiola be the man to succeed Alex Ferguson at the Manchester United hot seat?
There has to be a very good chance that Mourinho, also known as The Special One, will be back managing an English Premier League club this time next season. Chelsea and Manchester City loom as highly possible destinations for the highly rated Portuguese, with Rafa Benitez and Roberto Mancini under huge pressure to retain their highly paid jobs at Stamford Bridge and the Etihad Stadium respectively.
If Mourinho either rejoins the Blues or links up with the Manchester club that Ferguson tagged the noisy neighbours, one would have to think that he would stand next to no chance of succeeding Ferguson at Old Trafford, leaving Guardiola as the pick of the current crop of favourites.
No offence to Bayern, the Bundesliga or German football but Bayern does not seem like the end game for Guardiola, rather the best of the available options for the former Barcelona boss who wanted to get back into the managerial business.
After steering Barca to three Spanish La Liga championships, two UEFA Champions League titles and two FIFA Club World Cup crowns – plus the small matter of seven other major honours – Guardiola walked away from Camp Nou because the four years in charge of the Spanish side had drained him and he needed a year off to prepare himself for his testing assignment.
Guardiola moved to the Big Apple – New York City – for his 12-month sabbatical and watched from the other side of the Atlantic Ocean as he was linked with every top club job, including many that were not strictly speaking open. Earlier this month, Guardiola came out and said that was ready to consider offers for the 2013-2014 season and beyond. Within weeks, Guardiola had agreed to coach Bayern for three years.
Guardiola could have had almost any job that he wanted. One can think of maybe three clubs – Real Madrid and Espanyol because of their rivalries with Barcelona and Manchester United because of Ferguson's incumbency – that would not have taken the 42-year-old Spaniard's call. Unfortunately for Guardiola – and fortunately for Bayern – the job that he covets is one of the three that he cannot have right now.
If Guardiola wanted to manage Chelsea or Manchester City then all that he had to do was ask. Blues owner Roman Abramovich would pay whatever it takes to get Guardiola, while the same goes for the members of Abu Dhabi's ruling family who control the purse strings of the Citizens. But Guardiola wants his first and only English Premier League job to be as the post-Ferguson boss of the Red Devils.
So Guardiola has gone into a holding pattern by following in the footsteps of his mentor, Louis van Gaal, and agreeing to lead Bayern for a while. Guardiola is likely to be a success in Germany – one could argue that the Bayern team that he will inherit from Jupp Heynckes will be better than the Barcelona side that he inherited from Frank Rijkaard – so domestic and European glory will be possible. If Guardiola can uphold his reputation, Manchester United is likely to come knocking when Ferguson decides to call it a day.
Guardiola is around 4-1 to be the next Red Devils boss when he should be the favourite ahead of Mourinho and Moyes.