San Francisco +114 (Matt Cain R) at St. Louis -124 (Lohse R) Total: OvUn 7.0
Game 3: Series Tied 1-1 First Pitch: Wednesday, October 17th, 4:07 EST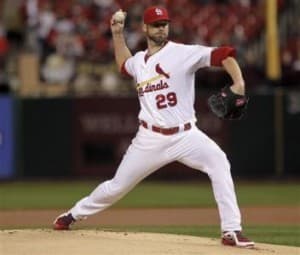 The Giants head to St. Louis for the first time in this series, in a critical NLCS Game 3. The series is currently tied 1-1, after St. Louis took the first game, and San Francisco won the second.
San Francisco cruised to a Game 2 win against the Cardinals, after a strong start from starter Ryan Vogelsong. Vogelsong pitched 7 strong innings of one run ball, giving up just four hits and walking two. Jeremy Affelt pitched a scoreless eighth, and Sergio Romo closed out the game in the 9th.
The Giants' bats finally woke up against Chris Carpenter, who gave up five earned runs in just four innings. Marco Scutaro blew the game open in the bottom of the fourth, singling with the bases loaded scoring Blanco and Crawford. Pagan also scored on an error by outfielder Matt Holiday.
Game 3 is a matchup of elite pitchers. The Giants bring Matt Cain, and the Cardinals counter with Kyle Lohse.
Cain vs. Cardinals
Cain has been excellent during the season, posting 16 wins and an ERA of 2.79. However, Cain has looked a bit shaky in two postseason starts; the right hander has given 6 runs in 10 2-3 innings. He also hasn't been strong against the Cardinals this season, going 1-1 with a 6.94 ERA.
It's easy to see why Cain has struggled against the Red birds; looking at the numbers the Cardinals have against him. Beltran leads the bunch, going 7 for 18 off Cain, with two doubles, a triple and a home run for a .389 average. John Jay is 4 for 6, Matt Carpenter is 4 for 4, and back stop Yadier Molina is hitting .289 off him in 14 at bats.
Lohse vs. Giants
St. Louis needs some consistency with their starting rotation – in the last three games no St. Louis starter has recorded an out in the 5th inning or later. Lohse was excellent in his last game against the Nationals, going 7 innings and throwing just 87 pitches in a 2-1 loss by the Nationals.
Lohse has some mixed numbers against the Giants. Ryan Theriot, who likely won't be in the lineup, is hitting a whopping .545 against him with two doubles and two triples in 22 at bats. Pence is hitting .295 in 44 at bats against Cain but has just a 712 OPS. Pagan and Blanco also have had some success against Lohse, going 3 for 6 with a double and 1 for 2 with a double, respectively.
Our Play
While the numbers don't look terrific for Cain, we'll take our chances. Cain as underdog, home or away, is simply too hard to pass up. He's one of the best pitchers in the NL, and though he is facing a potent Cardinal lineup, we think he gets it done this afternoon. Hopefully, the Giants bats wake up against Lohse, who while extremely talented is certainly a contact pitcher. He tries to get ahead in counts early with his fastball, and it looks like the Giants are finally getting their offense back.
We are looking to back the Giants +114. Check the offer below for: