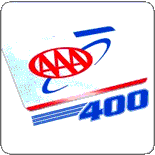 Kenseth May Be in Driver's Seat, But Busch and Johnson Want to Take the Wheel
There is little doubt that his rivals lost a golden opportunity to make up some ground on Matt Kenseth last week in Loudon, NH. Kenseth had come into the Chase for the Sprint Cup as the #1 seed by virtue of his points lead produced by five victories on the season, and has solidified that with a win in the first Chase contest that was held at Chicagoland Speedway.
But he did not figure to expand on that lead in the Sylvania 300. Kenseth did not have a particularly strong history at the New Hampshire Motor Speedway, having never won there and bringing in the twentieth best Driver Rating among the contestants.
That didn't matter. Kenseth is driving with so much confidence it is oozing out of his pores, and he made the race his second straight showcase victory and seventh on the year. This doesn't mean that he has left everyone else in the dust, however. His teammate with Joe Gibbs Racing, Kyle Busch, finished as the runner-up for the second week in a row and is still in a position to capitalize if Kenseth slips. He's 14 points back. And then there is the always-threatening presence of Jimmie Johnson, the five-time Sprint Cup champion, who is only four points behind Busch. Everyone else is well back.
This Sunday it's the AAA 400 at Dover International Speedway, and this trio of stars would seem to have the upper hand on all the others, based on past results.
Here are the odds to win the race in Dover, with those at 33/1 and lower as they are posted at Bookmaker.eu:
Jimmie Johnson #48 4/1
Matt Kenseth #20 4/1
Kyle Busch #18 17/4
Kasey Kahne #5 9/1
Jeff Gordon #24 11/1
Brad Keselowski #2 12/1
Carl Edwards #99 12/1
Clint Bowyer #15 18/1
Kevin Harvick #29 18/1
Kurt Busch #78 18/1
Denny Hamlin #11 20/1
Greg Biffle #16 20/1
Martin Truex Jr. #56 20/1
Joey Logano #22 22/1
Dale Earnhardt Jr. #88 25/1
Brian Vickers #55 33/1
Ryan Newman #39 33/1
Johnson is always going to be a threat to win in Dover. In 23 career races there he has finished in the top five eleven times, with seven victories. He captured this particular race in 2002, 2005, 2009 and 2010. That ties Richard Petty for the most wins in this race. Among the drivers who will be lined up on Sunday, he is the field's best at Dover in a number of statistical categories, including Driver Rating (119.6), Average Green Flag Speed, Average Running Position and Fastest Laps Run. He is a legitimate co-favorite with Kenseth in this event, priced at 4/1 (+400) in the NASCAR odds.
Whether he can put a lot of distance between himself and Kenseth is another question entirely. The Cup points leader has had his own amount of success at Dover, with the second-best Driver Rating (107.3) and two wins. He has been in the top five on 13 of the 29 occasions he has raced at this venue.
Busch (17/4, or +425) is a guy who always seems near the lead, and he's also one of those drivers who wins in all the NASCAR series. In fact, by finishing second two weeks ago, he just barely missed making it a sweep of all three of the weekend races, as he took the Nationwide and Camping World Truck series events in Chicagoland. He's won twice at Dover, with the third-best Dover Driver Rating in the field. He is trying to shed that reputation of being someone who can reach the Chase, but fades once he gets there.
There are other Cup drivers who have outstanding credentials racing at Dover. Carl Edwards, for example, has an average finish of 8.8 over the eighteen races he has contested there, and that is better than any of these Chase drivers. He is in fourth place in the Chase standings right now, 36 points back of the lead, and at 12/1 for victory in the NASCAR lines at Bookmaker, he could conceivably make a move. After all, Kenseth finished in 40th place the last time he was in Dover.
Ryan Newman is ninth in the points and 33/1 to win on Sunday, but no one would argue that he hasn't had more than his share of success racing in Dover. He has won three times there, including back-to-back wins in the AA 400 in 2003 and 2004, and he has captured the pole on no less than four different occasions.
Kevin Harvick has had a good enough year to be sixth in the Chase standings at the moment, but no one in the Chase has been on the lead for fewer laps (53). And you couldn't blame those NASCAR bettors who wouldn't dare support his chances. Dover is not Harvick's best track; in fact, in 25 career races on this course, he's made it into the top five only three times.
If you're looking for a spoiler, it might just be Brad Keselowski, who won this race last year en route to capturing the Cup title. After having seven top ten finishes in his first eight races, Bad Brad has had only five Top 10's since. But if you know anything about Keselowski, there is nothing he'd like better than to spoil this for somebody. And he is 12/1 as listed by Bookmaker.eu, so he's getting some respect.