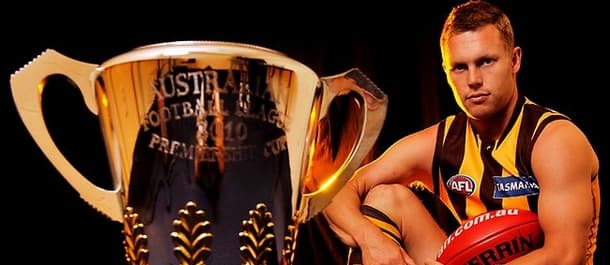 The Brownlow Medal is the Australian Football League's night of nights when the competition honours its best and fairest player and the wives and girlfriends of the stars try to outdo each other on the red carpet prior to the event.
In the days leading up to the Brownlow Medal count on Monday 28 September there will be numerous leaks purporting to be the official tally but all of the past ones have been hoaxes aimed at attracting media attention. The Australian Football League umpires vote for the Brownlow Medal – the three field officials confer after each regular season match and award three votes, two votes and one vote to the players whom they regard as the best, second best and third best respectively – with the award going to the player who ends up with the most votes without incurring a suspension, hence why the prize is known in some quarters as the best and fairest.
There are many ways of trying to get a read on the Brownlow Medal but collating the virtual votes of Australian Football League journalists is one of the most sensible. Naturally, some Australian Football League journalists have a tendency to overrate and underrate certain players so it makes sense to go back through recent history and, if you like, weight the journalist votes. For example, the 2014 Brownlow Medal winner, West Coast star Matt Priddis, has regularly polled better with umpires than with journalists, whereas the opposite is true of Hawthorn skipper Luke Hodge.
One has gone through the virtual Brownlow Medal votes of a significant group of Australian Football League journalists and reached two conclusions – bookmakers are underrating Hawthorn's Sam Mitchell and overrating Adelaide's Patrick Dangerfield. There are ways to punt one's assessments.
Mitchell is the ninth highest Brownlow Medal vote getter in Australian Football League history and one of only four players in the top 16 who have not received the award – for the record, the others are Leigh Matthews, Brent Harvey and Scott West. One's analysis shows that Mitchell's Brownlow Medal votes bear a very strong correlation to those that Australian Football League journalists give him and so one is interested in backing the Hawthorn veteran to do well because only hot favourite, Fremantle's Nat Fyfe has received more love from the media pack this year.
Most Brownlow Medal bookmakers are listing Mitchell as their fifth favourite so one could do a whole lot worse than back him at odds of 12.00 with William Hill to become the first Hawthorn star since Shane Crawford in 1999 to take out the prestigious individual prize. However, one thinks that a smarter play would be to back Mitchell to make the Brownlow Medal top five at odds of 1.60 with the same betting firm.
Dangerfield is the talk of the Australian Football League because he is expected to quit Adelaide after the Brownlow Medal – he has been linked with a move to Geelong, which is the city in which he grew up. Dangerfield has had a terrific Australian Football League season in testing circumstances – Adelaide coach Phil Walsh was found dead in his home and his son has been charged with his murder – but, unless the media fraternity has marked him unfairly when awarding its virtual Brownlow Medal votes, he is not a serious contender, ranking well outside the top five. Betfair's exchange has a Brownlow Medal top-five market so one can lay Dangerfield on it and get much better than even money about him being a flop.
The Australian Football League is awash with statistics but here is one for you to consider – no player has averaged more possessions than Mitchell this year, with the Hawthorn veteran having a mean of 30.86 touches per game. Dangerfield does not make it inside the top 10 with his 26.83 average.
Tips Summary
Sam Mitchell to win Brownlow Medal
28th September
Odds: 12.00
Sam Mitchell top 5 Brownlow Medal
28th September
Odds: 1.60
Australian Football League
Brent Harvey
Brownlow Medal
Hawthorn
Leigh Matthews
Luke Hodge
Matt Priddis
Patrick Dangerfield
Sam Mitchell
Scott West