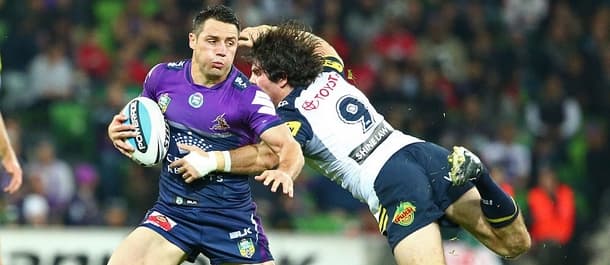 The National Rugby League kicks off shortly and, if one does not mind waiting seven months for an odds-on winner, backing Melbourne to finish the regular season in the top eight and qualify for the Finals Series is an attractive wager.
Melbourne's superstar trio of Cooper Cronk, Cameron Smith and Billy Slater are the wrong side of 30 but the Queensland representatives have at least one more good year in them and the latter should be refreshed after missing the second half of last season following surgery on his injured shoulder.
No National Rugby League team has a record as good as that of Melbourne over the last 13 years. Just once in the last 13 National Rugby League seasons has Melbourne failed to make the top eight and that was in 2010 when the Storm's salary cap sins led the competition's governing body to condemn it to a campaign of playing for no points. That Melbourne still managed to post 14 National Rugby League victories – the Storm would have ended fifth on the ladder had they been eligible – was an absolutely remarkable effort from a side that could have easily thrown in the towel. For the record, Melbourne has finished first four times, second once, third once, fourth twice, fifth twice and sixth twice in the 12 National Rugby League seasons since 2003 in which it has been eligible to take out the ultimate prize.
In theory, the National Rugby League salary cap should mean that teams do not enjoy prolonged periods of success but Melbourne's astute recruitment has enabled it to remain among the tournament's contenders for more than 10 years. Melbourne coach Craig Bellamy is the master of improving players whom other National Rugby League clubs discard and, also, the Storm supremo does not waste valuable resources on men whom he does not require. Veteran utility forward Ryan Hinchcliffe was the only player of note to leave Melbourne during the National Rugby League close season, while the Storm have acquired the services of Cheyse Blair and Matthew White, both of whom are likely to step up a level or two in their new surroundings. Blair will compete for a winger spot and White will add depth to Melbourne's prop rotation.
The National Rugby League does not have a fair draw – the teams play only nine of their 15 rivals twice – so it is important to analyse the schedule before placing futures bets on the competition. Melbourne has what one would rate as a middle-of-the-road National Rugby League draw because the Storm will play six matches versus last year's top four sides, 12 matches versus last year's top eight sides and two matches off five-day breaks. What is not middle of the road is Melbourne's early National Rugby League program because the draw means that the Storm will have a realistic shot at being 9-0 before they entertain defending champion North Queensland in Round 10. Melbourne's opening two National Rugby League games are at home to Gold Coast and St George Illawarra teams which one expects to struggle and, if the Warriors do not gel in the first couple of months, then the Storm may register two victories over a side that is likely to get better as the season progresses. There is potential for Melbourne to all but lock in its National Rugby League Final Series spot before the State of Origin series begins.

Various bookies are offering odds of 1.65Bet €100 to win €16513/20Bet £100 to win £165-154Bet $100 to win $1650.65Bet HK$100 to win HK$165-1.54Bet Rp100 to win Rp1650.6500Bet RM100 to win RM165 that Melbourne does what Melbourne does and qualifies for the National Rugby League Final Series. In effect, one is betting on Smith and either Cronk or Slater being healthy for the majority of the National Rugby League season because, if that happens, Melbourne is almost certain to record enough wins to make the top eight yet again. One would want much longer odds than the inverse of 1.65Bet €100 to win €16513/20Bet £100 to win £165-154Bet $100 to win $1650.65Bet HK$100 to win HK$165-1.54Bet Rp100 to win Rp1650.6500Bet RM100 to win RM165 – that is roughly 2.54Bet €100 to win €25477/50Bet £100 to win £254+154Bet $100 to win $2541.54Bet HK$100 to win HK$2541.54Bet Rp100 to win Rp254-0.6494Bet RM100 to win RM254 – to bet on Melbourne flopping this year.
Tips Summary
Melbourne Storm to finish in the NRL top eight
National Rugby League 2016, starts 3rd March
Odds: 1.65Bet €100 to win €16513/20Bet £100 to win £165-154Bet $100 to win $1650.65Bet HK$100 to win HK$165-1.54Bet Rp100 to win Rp1650.6500Bet RM100 to win RM165
Finals Series
Melbourne Storm
National Rugby League
NRL