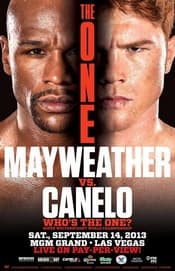 Is Floyd Mayweather Just Too Slick For Canelo Alvarez?
No one knows what the final pay-per-view numbers are going to be, but it is a virtual certainty that Saturday night's bout between undefeated fighters Floyd Mayweather (44-0, 26 KO's) and Saul "Canelo" Alvarez (42-0-1, 30 KO's) will be the highest-grossing fight of 2013. There are two titles at stake – Alvarez's WBC light middleweight (154-pound) crown and Mayweather's WBA "Super" Light Middleweight belt (don't get us started on that one).
In the boxing betting odds that have been established at Bovada.lv, Mayweather is the favorite, as would be expected:
Floyd Mayweather -280
Saul "Canelo" Alvarez +220
Fight Goes Full Distance -300
Fight Does Not Go Full Distance +230
In terms of the precise outcome, Bovada.lv posts these numbers:
Mayweather by KO, TKO, DQ +550
Mayweather by Decision -190
Alvarez by KO, TKO or DQ +400
Alvarez by Decision +500
Draw +2800
The question as we enter this fight, which is connected with Alvarez's best chance to win on Saturday, involves whether Mayweather will continue to have his legs; in other words, will he be able to exhibit enough movement to make it difficult for Alvarez to land with regularity. Mayweather seemed to have much ease of movement when he fought Robert Guerrero in May, although he was not as mobile in his fight against Miguel Cotto the year before.
The best scenario for Canelo would be for Mayweather to come out and stand with him as much as possible, because that would reduce the necessity for the Mexican to improvise. On those occasions when Mayweather gets lazy, he will stand and roll his shoulder instead of moving his legs, or he will let himself get caught up on the ropes for a few seconds. You see, he has so much confidence in his ability to avoid punches that he is willing to take those chances.
Maybe Alvarez is more talented than the average Mayweather challenger. He probably hits with a bit more "zip." And of course, that brings up something else when it comes to Mayweather, which is how well he can take a punch. That would seem such a silly question to ask about a man who has had 44 career fights, but the fact is, Mayweather hasn't been hit flush all that much in his career.
Certainly he has never had to accept a continuum of punches, and he is not inclined to trade at all. We saw this a bit with Roy Jones Jr., who so far outclassed his opposition and was so successful at eluding their offensive attack that only when he started to get older and "lose his legs" did he find himself in need of a chin. So the question of "legs," vis-a-vis Mayweather, will be intertwined with his defensive capabilities, which in turn potentially impacts his durability.
If you are any kind of student of the sweet science, not to mention a boxing betting aficionado, you have to cast some doubt as to how much Alvarez will actually reach Mayweather. If you watched Canelo's fight against Austin Trout in April, you noticed that Alvarez was somewhat confused and didn't quite know how to attack. He got a bit more comfortable as the fight wore on, and even knocked Trout to the canvas, but you can't say that ever really "solved" Trout, and he was never able to sustain an attack on a consistent basis.
Granted, Trout was a southpaw, and that can sometimes make things more difficult, but beyond that, he is something of a technician; a savvy boxer who knows who to keep his distance and comes into a fight defensive-minded. Well, Mayweather is probably the world's best when it comes to using all those characterizations. And one thing about a fighter who appears to have some problems improvising, as Alvarez did – that generally is not a condition that gets better when the next opponent is even a greater challenge.
There is little doubt that Alvarez is a fighter with some tools. He can box a little, punch a bit, and is not slow by any means. He is also quite worldly, ring-wise, for someone his age (22). Don't make the mistake of putting him in the same category as previous Mayweather opponents like Arturo Gatti, Guerrero or even Ricky Hatton. But from the standpoint of quickness, he's really not in the same league as Mayweather. So he is either going to have to catch him with a big punch, or outwork him. Good luck with that.
Understandably, there is an awful lot of sentiment for Alvarez within the Latin community. And there has probably been a fair amount of money that has gone his way among the Bovada.lv betting constituency. But this may simply serve to provide more value for Mayweather, as it has made this number rather reasonable. There was a lot of talk as to whether Canelo was ready for something like this; whether his connections (who included Oscar De La Hoya of Golden Boy Promotions) may have been calling for this fight too soon. Clearly he would have stood a better chance had Mayweather granted him this fight after he had aged another year or two. But guess what – Mayweather knows that too, which is why this fight is happening now.
No, he is probably not ready, but in this business, one answers the wild call of the dollar, and a $12.5 million guarantee, with the possibility of back-end participation, is a hard thing to pass up.
Quickly, let's talk about a couple of side issues.
One is the weight. Mayweather made Alvarez agree to a 152-pound weight limit, despite the fact that Alvarez holds one of the titles, arguably the only "real" title, that will be up for grabs, and that is at 154 pounds. Some outsiders were making much of this, but anyone who points to it is living in a world of excuses. Two pounds shouldn't mean all that much in terms of weight loss for Alvarez, especially since the opponent he's fighting is already above his optimum weight class and began his career at 130 pounds.
Another side story is the fact that the aforementioned De La Hoya will not be on hand. He issued this statement on Tuesday:
Los Angeles (September 10) – Canelo Alvarez and I have big fights coming up this weekend. His is the ring and mine in treatment.

I will not be at the fight this Saturday to cheer Canelo to victory since I have voluntarily admitted myself into a treatment facility.

I explained this to Canelo and he understood that my health and long term recovery from my disease must come first.

Thank you for your understanding. I ask for your support and privacy during this difficult time for me and my family.
So Oscar is reportedly headed to rehab, and there has already been a healthy amount of speculation as to whether this is a cover story for something else. It would seem incredibly unusual for someone closing in on the biggest night of his life as a promoter to chose this time to seek treatment, rather than, say, next Monday. If any of this involves a business dispute with Alvarez, that is a factor that could conceivably affect Canelo's mindset, but like we said, that is speculation.
Compared to Mayweather, Alvarez is relatively untested. So everything with Mayweather is likely to be a whole new experience for him. Mayweather probably realizes that he can outbox this foe, and doesn't need to be taking many chances. Since he's been fighting title bouts above 140 pounds, he has gone the 12-round distance seven of nine times, stopping only Hatton, and Victor Ortiz, in what was something of a controversial finish. This shapes up as another workmanlike, distance effort, so the best value here, might be to play "Mayweather by decision" at the price of -190.
Bet the Mayweather-Alvarez fight, with a huge number of wagering options, at Bovada.lv now. For SBO fans outside the US, bet it now at www.bet365.com