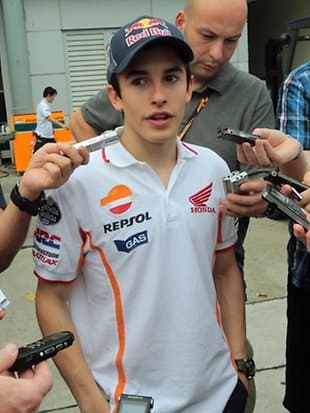 Dani Pedrosa has revealed that he was unable to walk for three days after his Aragon MotoGP accident two weeks ago and Jorge Lorenzo's results in the Malaysian MotoGP have been poor so Marc Marquez is the pick to win at Sepang.
Pedrosa has had a luckless year, with the Aragon MotoGP summing up his 2013 MotoGP campaign. Pedrosa was tussling with Marquez for the race lead when his Honda teammate's elbow pad skimmed the back of the rear disc of Pedrosa's motor cycle and broke the wire to its traction control system. Seconds later and Pedrosa was bouncing off the tarmac after his malfunctioning machine threw him off it.
The freak occurrence probably cost Pedrosa victory in the Aragon MotoGP. Pedrosa had the best tyres of the leaders and, therefore, he was odds on to beat home Marquez and everyone else had he remained upright. Marquez went on to claim his sixth MotoGP victory of his debut season and effectively end Pedrosa's chance of a maiden title.
Pedrosa would have been the headline selection for the Malaysian MotoGP had it not been for his latest injury, which while it will not stop him racing will mean that he races at below 100 per cent. Pedrosa's form in the Sepang circuit is superior to that of Jorge Lorenzo and, while it difficult to make comparisons with Marquez because this is first year in the top grade, Pedrosa's results in Malaysia compare favourably with those of the championship leader.
Only four motor cyclists have celebrated MotoGP glory this season so, if one draws a line through Pedrosa due to his injury and Valentino Rossi due to Sepang being where he was involved in Marco Simoncelli's fatal accident in 2011, the only other options are Marquez and Lorenzo. Preference is for Marquez based on previous events at the Malaysian venue.
Marquez qualified fastest for the 125cc Malaysian Grand Prix in 2009 but retired on the 12th lap of the race. Marquez made amends in the same class in 2010, winning the race by more than two seconds having occupied pole position. Marquez was injured when the Malaysian Grand Prix took place in 2011 and he was in contention for victory in the Moto2 category last year when he was part of an accident on lap 12 again.
Lorenzo's Malaysian MotoGP numbers that date back to 2008 are not particularly impressive by his own high standards. Lorenzo has registered two pole positions and another two top-three grid berths in his four appearances – like Marquez, he missed the 2011 edition due to injury – but he has one second, one third, one fourth and one retirement to show for his race efforts. That is a disappointing return.
Given the choice between backing Marquez at odds of 2.20 with Coral or supporting Lorenzo at odds of 2.75 with Ladbrokes, which is what one faces if Pedrosa and Rossi are off one's list, the choice is relatively simple: get with the favourite at 2.20.
Ladbrokes has framed a Malaysian MotoGP tricast market and, for once, it may be worth having a bet on it. The favourite option is Marquez first, Lorenzo second and Pedrosa third, which has yet to happen this year but looks highly likely to occur at Sepang. The three Spaniards have filled the MotoGP podium seven times this term, including in four of the last five races. Lorenzo and Pedrosa did not start the German MotoGP so seven out of 13 is the overall strike rate and, remember, only Pedrosa's incredibly unfortunate retirement prevented the three amigos dominating the Aragon MotoGP.
Marquez to beat Lorenzo to beat Pedrosa is available at 4.00 with Ladbrokes and it looks like the Malaysian MotoGP exotic for punters who enjoy betting outside the normal parameters.
With Marquez needing only to finish third in the remaining four MotoGP races to win the championship, bookmakers are offering odds of 1.12 that he clinches the title. Marquez has only failed to finish in the top three once this year and that was when he failed to complete the Italian MotoGP.