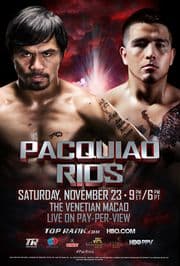 Manny Pacquiao is a fighter who is looking to redeem himself for a knockout loss that seriously set his career back. He will have a chance to put himself back on track and perhaps open up more substantial opportunities for himself when he steps into the ring on Saturday night against Brandon Rios in a 12-round welterweight that will take place at the The Venetian Macau's CotaiArena and has the WBO International title at 147 pounds on the line. HBO carries this as a pay per view telecast.
Here is one of those rare situations where both fighters in a major PPV promotion are coming off defeats. Rios was beaten in his last bout by Mike Alvarado, but is recognizable among boxing aficionados as someone who will certainly do whatever he can to keep things very eventful. If nothing else, it should be a bout that will engage and entertain fans for as long as it lasts.
In the boxing betting odds that have been posted at Bovada, Pacquiao is the favorite:
Manny Pacquiao -500
Brandon Rios +350
Under 9.5 Rounds -175
Over 9.5 Rounds +125
Where to bet on the Pacquiao Rios Fight
Pacquiao is fighting in Macau (or Macao, if you prefer) for a couple of reasons. First of all, he will not fight in the United States anymore because of the tax liability it puts him into; Macau provides much more relief along those lines. And because of Macau's status as a much more lucrative casino destination, promoter Bob Arum is looking to establish a foothold there. The next stop is pay per view directed at the Chinese audience, at which point monster numbers could be achieved.
Pacquiao is fighting for the first time since December of last year, when he suffered a sixth-round knockout loss at the hands of Juan Manuel Marquez, in what was the fourth fight between the two. The "series' had been 2-0-1 in favor of Pacquiao until then, with all the results being somewhat controversial. Speaking of controversy, that is what most folks remember about Pacquiao's loss to Timothy Bradley last June, so when you think about it, the Filipino sensation is coming off two straight defeats. He has not stopped anyone since November 2009, when he halted Miguel Cotto in the twelfth round.
A champion of some kind at flyweight, junior featherweight, junior lightweight, junior welterweight, welterweight and junior middleweight, Pacquiao has been fighting at this weight as early as that Cotto bout.
Here are some of Bovada's boxing odds on other results:
Pacquiao by KO, TKO or DQ -140
Pacquiao by Decision +210
Rios by KO, TKO or DQ +475
Rios by Decision +900
Draw +3500
In case you're not familiar with Rios, he is a former U.S. amateur champion and Olympic alternate at 125 pounds who has developed a reputation as a non-stop, all-action fighter who turned pro in July 2004 and ran up a string of knockouts. His breakthrough win came in an eliminator for the WBA 135-pound title in 2010 against Anthony Peterson, when he scored a disqualification victory in fight where he was well ahead in the seventh round. In February 2011 he won the WBA title with a stoppage of Miguel Acosta. He won subsequent title fights against Urbano Antillon and John Murray before failing to make weight against Richie Abril, where he won a split decision but obviously needed to move up in weight.
He has since engaged in two sensational skirmishes with Mike Alvarado at 140 pounds. In the first (October 2012), Rios stopped Alvarado in the seventh round, dealing him his first career loss. Then in the rematch, which took place on March 30, he lost a decision in a fight that was filled with drama. In that bout the WBO light welterweight (140-pound) title was on the line. Now he moves up yet another weight division to take on Pacquiao.
When there are well-hyped fights like the Rios-Alvarado rematch, it is not often that the man who gets the bigger reward, in terms of money and opportunity, is the one who LOST the match. Yet that is the case here. Rios is the one who was selected to fight one of the two biggest pay-per-view attractions in the sport, while Alvarado had the title but went on to fight, and lose to, Ruslan Provodnikov.
So why has the loser gotten the spoils? Well, it's actually pretty simple. Rios, as a straight-ahead brawler type, is much more suited for Pacquiao than Alvarado, who allows himself to get into brawls, quite obviously, but can exhibit strong boxing skills with movement on occasion as well. Pacquiao's connections would much rather he fight the opponent he "doesn't have to go looking for."
No, he won't have to work too hard to have Rios within his range, and keep in mind that he will be fighting the smaller man too. Rios might have a height advantage over Pacquiao, and Manny may be the guy who has, over the span of his career, started at junior flyweight before moving as high as junior middleweight. But the fact is, Rios has essentially been out of the lightweight division only a little over a year, and here he is stepping in against a whirlwind who, in the words of Timothy Bradley, "throws combinations and every shot is a death blow."
To those who look below the surface, it is readily apparent that this fight is designed to make Pacquiao look good, by not depriving him of every opportunity to land those "death blows." It won't be a matter of him not being able to land either, not if previous fights with Rios are any indication. Can Rios take his punches? That is an unknown, since the Lubbock, TX native has not fought as a welterweight before. And the folks in Pacquiao's camp are banking on the proposition that Rios does not come with enough wallop to overwhelm him. They want people to be talking about how sharp PacMan looked after this fight, and this is about as good a matchup as any to put punching capacity on display.
Let's put it this way: this will be a pretty good barometer as to where Pacquiao is at right now. If he is "shot" (which isn't likely) he might cave in under the onslaught of punches, and when you think about it, that is exactly what happened when he, as a physically smaller fighter, took care of business against an aging Oscar De La Hoya back in December 2008.
We don't think he's shot, but we also don't think Rios is going that easily. He is, at the very least, one of those "warriors" you hear about. That's why, while recommending Pacquiao at -500 for this fight, we could also see the +125 price at Bovada paying for the "Over 9.5 Rounds" proposition, as well as +210 in the boxing betting odds for "Pacquiao by Decision."
The Pacquiao-Rios fight is approaching! Place your wagers at the home of great boxing odds – Bovada!