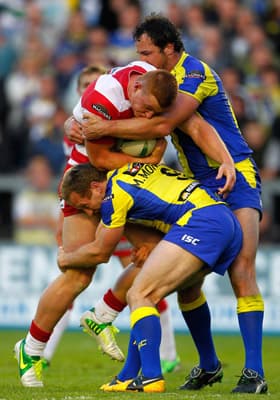 Warrington and Wigan have played out two thrilling games already this season and betting on their third clash, which happens to be the Super League Grand Final at Old Trafford, being another tight affair is the sensible way to punt.
Bookmakers have installed Warrington as the marginal match favourite as the Wolves bid to win their first Super League Grand Final having fallen at the final hurdle last year, going down 18-26 to big-game specialist Leeds. Warrington finished two positions above Wigan on the ladder and the Wolves won one and drew the other of their matches versus the Warriors during the regular season, hence why bookmakers have decided to make Tony Smith's team give up a start.
If one allows six points for home advantage, which is a tool that many rugby league handicappers use, then both of this term's games between Warrington and Wigan rated exactly the same. Warrington and Wigan played out a 17-17 draw at the DW Stadium in February 2013 before the Wolves beat the Warriors 22-12 at the Halliwell Jones Stadium four months later. In theory, Warrington is a six-points superior side to Wigan but review the matches in question and one finds that the gap between the teams may be much smaller than that. Indeed, one can make a case for ranking Wigan ahead of Warrington.
Wigan's home game took place with the Warriors missing more than half of their first-choice pack. Warrington won the war up front – the Wolves made 1,227 metres to Wigan's 1,049m – but still required a Lee Briers drop goal 12 minutes from time to earn a share of the spoils. And Wigan was missing eight senior players, including six stars who played last week's Grand Final qualifier against Leeds, when the Warriors lost by 10 points at Warrington's base.
One's gut feel is that most bookmakers are bang on the money in favouring Warrington over Wigan by two points given that Warriors captain Sean O'Loughlin will either miss the Super League Grand Final or play at less than 100 per cent fitness due to the Achilles injury that he has been trying to get over for several weeks. If O'Loughlin were fully fit then Wigan would have a decent shout at being the favourite.
Rather than try to pick the Super League Grand Final winner, which is a thankless task given that there seems to be very little between Warrington and Wigan, dutch the winning margins and bet on the title decider being very close.
Bookmakers have their preferred margins but the ones that appeal for the Super League Grand Final play are Warrington 1-10 at odds of 3.40 with Paddy Power and Wigan 1-10 at odds of 3.60, also with Paddy Power. Dutch the two odds and one gets the equivalent of 1.75 about either Warrington or Wigan winning by between one and 10 points. The draw is trading at 21.00 with a number of bookmakers, including Paddy Power, so really conservative punters can include that option as well but the price of doing that is one's odds fall to 1.61.
Another option worth considering if one wants to bet on the Super League Grand Final being close if backing a successful drop goal at odds of 3.00 with Betfred. Wigan has kicked eight drop goals in its 29 Super League matches this season, while Warrington has booted four one-pointers. Based on those statistics, Wigan is about a 3.50 chance to kick a drop goal in the Super League Grand Final and Warrington is about a 7.00 chance. Therefore, odds of 3.00 about either Wigan or Warrington scoring a one-pointer are more than fair if one thinks that the Super League Grand Final will be tight.
Betting on the Super League Grand Final man of the match is always popular but the Harry Sunderland Trophy looks like an impossible puzzle given the difficulty in splitting Wigan and Warrington. Only twice in the previous 17 Super League Grand Finals has the award gone to a player on the losing side – Bradford's Henry Paul in 1999 and Paul Deacon, also of the Bulls, in 2002. Bradford went down by two points and one point respectively in the 1999 and 2002 title deciders.