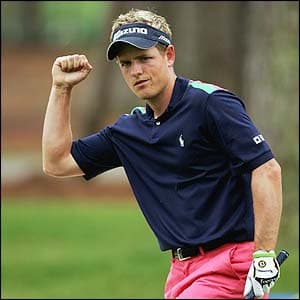 The TOUR Championship by Coca-Cola is the world's classiest golf tournament because it is limited to the top 30 golfers on the FedExCup Play-offs list. Quality events are the best to analyse from a punting perspective and the pick of the market is Hunter Mahan at odds of 26.00 with Stan James.
What is known in golf betting circles as the Nappy Factor is starting to kick in for Mahan, who withdrew from the RBC Canadian Open while topping the leaderboard so that he did not miss the birth of his first child, daughter Zoe. Mahan had a week and a bit off the PGA Tour following his child's arrival, returning to finish 57th in the PGA Championship. Since then Mahan's placings, in chronological order, have been 25th in The Barclays, 13th in the Deutsche Bank Championship and fourth in the BMW Championship.
Mahan is not only in rapidly improving form but also he has a fine record in the TOUR Championship by Coca-Cola at East Lake Golf Club in Atlanta. Mahan has played in each of the last six TOUR Championship by Coca-Cola events, with his finishes being fifth in 2007, 17th in 2008, 24th in 2009, 15th in 2010, second in 2011 and eighth in 2012. Only top 10s or better are worthy of respect given the restricted nature of the tournament but Mahan's three top eights in half a dozen attempts, two of them in the last two years, are very interesting coupled with his recent statistics.
If one is wondering about the Nappy Factor, it is a concept that British golf betting analyst Keith Elliott introduced in the mid 1990s. Elliott emphasised how the performance of a golfer could improve significantly following the birth of a child. Elliott believed that the improvement could be starker after the birth of a first child, particularly a first son. Elliott's theory has passed the test of time.
Luke Donald, who credited his then one-year-old daughter Elle with his climb to number one in the world rankings in 2010, is the other TOUR Championship by Coca-Cola golfer worth backing to win the event, with Paddy Power offering odds of 19.00 about the Englishman. Donald has won the TOUR Championship by Coca-Cola but his East Lake Golf Club form is terrific, with four top fives in six visits to the venue, including second in 2010, third in 2011 and third in 2012.
Donald played himself into good form during last week's BMW Championship on his home course in Illinois, posting rounds of 70, 70, 67 and 66 to finish fourth on 11 under par, five strokes behind Zach Johnson and level with Mahan. One would have expected Donald to make hay in the opening two rounds of the BMW Championship because he knew the venue so much better than any of his rivals. It is actually a positive with regards to the TOUR Championship by Coca-Cola that Donald did his best work on the third and fourth days.
In terms of TOUR Championship by Coca-Cola head-to-head bets, one should look to get with Mahan and Donald against opponents whose numbers do not stack up. Golfers close to Mahan in TOUR Championship by Coca-Cola betting who strike one as worth opposing include Keegan Bradley and Jason Dufner. Both Bradley and Dufner boast below-par TOUR Championship by Coca-Cola and recent form so look out for bookmakers who pair up Mahan with Bradley or Dufner.
Donald is a little but further up the TOUR Championship by Coca-Cola betting order than Mahan so bookmakers are likely to pair up him with the likes of Phil Mickelson, Justin Rose, Adam Scott and Henrik Stenson. Out of Mickelson, Rose, Scott and Stenson, Donald matches up especially well versus the first two golfers. Mickelson won the TOUR Championship by Coca-Cola in 2009 but his three subsequent efforts have been nothing better than average, while his last two PGA Tour finishes have been 33rd and 41st. Rose was second in last year's TOUR Championship by Coca-Cola but his overall East Lake Golf Club record is only fair and he was 33rd alongside Mickelson in last week's BMW Championship.