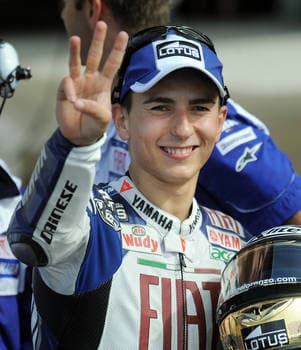 For years it was one of the safest bets in not only motor cycling but also sport in general. Backing Casey Stoner to win the Australian MotoGP was a non-brainer and he got the chocolates in six consecutive races. But Stoner walked away from MotoGP at the end of last season, which means that Phillip Island punters have to look elsewhere for a bet.
Stoner won the 2007 Australian MotoGP and went on to take out the 2008, 2009, 2010, 2011 and 2012 races as well before getting out of the sport because he did not enjoy everything associated with being a MotoGP competitor. No-one dominated a round of the championship in the way that Stoner bossed the Australian MotoGP so he has left big boots to fill.
Jorge Lorenzo, Marc Marquez and Dani Pedrosa have won all bar one of this year's 15 MotoGP events – Valentino Rossi's triumph in the Netherlands being the exception to the rule – so, once again, it comes down to determining which of the Spanish three to back to take the chequered flag first.
Lorenzo chased home Stoner in last year's Australian MotoGP and he did likewise in 2010. Lorenzo did not start the 2011 Australian MotoGP due to injury so do not hold that against him. Lorenzo has celebrated victory at Phillip Island in lower classes, dominating the 2006 Australian 250cc and 2007 Australian 250cc events with pole positions and race wins.
Marquez is making his Australian MotoGP debut as he attempts to clinch the overall title. There are a number of ways in which Marquez can wrap up this season's MotoGP championship at Phillip Island, the most feasible of which being a race win for the rookie and Lorenzo finishing third or lower.
While Marquez is an Australian MotoGP debutant he has raced at Phillip Island five times previously. However, Marquez has won only one of his five races at the Victoria venue – the 125cc contest in 2010 – and experienced more than his fair share of dramas there. Twice Marquez has received penalties for on-track misdemeanours in Australia.
Pedrosa won the 250cc class race in Australia in 2005 but, since then, he has not enjoyed most of his visits to the great southern land. Pedrosa qualified fastest for the 2007 Australian MotoGP but he missed out on a podium spot behind Stoner, Loris Capirossi and Valentino Rossi. Indeed, the best result that Pedrosa has posted in his six Australian MotoGP appearances is third behind Stoner and Rossi in 2009.
Lorenzo is the Australian MotoGP outsider of the three with most bookmakers and that do not feel right. Certainly one would prefer to back Lorenzo to win at Phillip Island than Pedrosa. But is backing Marquez more attractive again?
Probably not at the odds. If one draws a line through the four MotoGPs in which either Lorenzo did not start or one could say that he was riding in considerable pain as a consequence of breaking his collarbone then the head-to-head score between Marquez and Lorenzo this term is all square at five wins each. Factor in Lorenzo's superior Phillip Island form and Marquez being the hot favourite for the Australian MotoGP and the value argument supports a bet on Lorenzo.
Paddy Power is offering odds of 3.50 that Lorenzo wins his sixth MotoGP of the season and guarantees that the title race goes on for at least one more round. After Australia, the MotoGP circus moves on to Japan and then Spain.
If any motor cyclist is going to upset Spain's three amigos then it is most likely to be Rossi, who owned the Australian MotoGP before Stoner burst on to the scene. Rossi won the Australian MotoGP in 2001, 2002, 2003, 2004 and 2005 and he placed either second or third in 2006, 2007, 2008, 2009 and 2010. At odds against, Rossi is not the worst bet to make the top three on a circuit that clearly he likes a lot.
Rossi has been a model of consistency since retiring from his home MotoGP, with his 10 subsequent starts producing one first, three thirds and six fourths. Bwin is quoting odds of 2.00 that Rossi finishes in the Australian MotoGP top three.