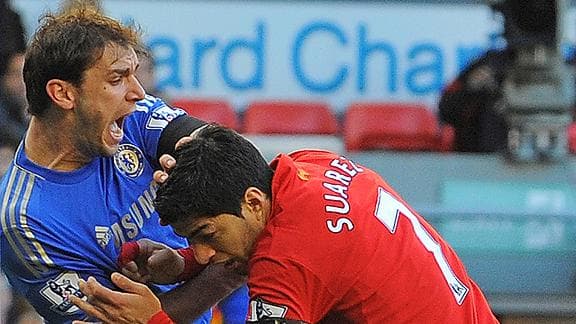 Sink your teeth into this: Coral are offering superb value on Saurez not getting sent off next season.
UK Bookmaker, Coral may have bitten off more than it can chew in framing a market on the disciplinary record of controversial Liverpool striker Luis Suarez in next season's English Premier League.
The bookmaker reacted to the English Football Association's imposition of a 10-match ban on Suarez for his off-the-ball bite of Chelsea defender Branislav Ivanovic in Liverpool's 2-2 English Premier League home draw with the Blues by publishing odds on his red card tally next term.
Clearly thinking that the average punter would steam in and take whatever odds it posted about Suarez seeing red next season, Coral went up with odds of 4-5 about the Liverpool forward being sent off at least once and odds of even money about the Uruguay international keeping his nose clean.
While acknowledging that Suarez would have had an early bath had Anfield referee Kevin Friend seen him biting Ivanovic – the Liverpool striker would have been sent off for serious foul play – it would have been his first red card in Reds colours since joining the Merseyside team in early 2011.
Suarez has been cautioned 17 times in 77 appearances for Liverpool in the English Premier League and, along with Sunderland midfielder Craig Gardner, he tops the English top-flight's yellow card count for the current season.
But Suarez – and this is very important in the context of the Coral market on his behaviour – seems to know how far he can push the envelope without receiving the ultimate in-game sanction. With four rounds of this term's English Premier League remaining, 38 players have been sent off at least once and Suarez is conspicuous by his absence from the list.
Suarez is one of those people whose reputation goes before them and that is on what Coral's odds-setting department is banking with its exotic market. Odds of 4-5 about the English Premier League's latest enfant terrible appear attractive based on the number of negative headlines that the former Ajax forward generates but the bottom line is that his career statistics point to the even-money option.
Suarez, who first came to international attention in 2010 when he handled the ball on the line deliberately in the last minute of his country's FIFA World Cup quarter-final tie versus Ghana – an action that, ultimately, paid off because Uruguay won the subsequent penalty competition – will miss a good chunk of Liverpool's 2013-2014 English Premier League campaign, which aids the recommended bet.
Irrespective of his physical status, Suarez will miss the first half a dozen of Liverpool's English Premier League matches next season, reducing the maximum number of games in which he could receive a red card for the purposes of the Coral market to 32. Now it is time for more mathematics.
English Premier League referees have brandished a total of 40 red cards in the 337 matches so far this term, which equates to about an 11.9 per cent chance of a red card in any given game. If Suarez plays 32 matches next season, he can expect to witness about four red cards in the games in which he features. Even allowing for his relatively poor disciplinary record, it does not make any sense at all to frame the market in the way that Coral's team has.
Suarez may not be one's favourite player – some Liverpool fans would prefer it if he wore another side's colours – but put sentiment to one side and bet on him not being sent off in the English Premier League term. The Reds striker's love of a yellow card will doubtless lead to some close shaves but, statistically speaking, there is no doubt whatsoever that Coral's offer of even money is well over the odds.
In all seriousness, a bookmaker would have to offer odds of around 2-1 before it would be worth taking a punt on Suarez receiving his marching orders at least once in next season's English Premier League. Coral's offer of 4-5 represents terrible value, regardless of the final outcome.