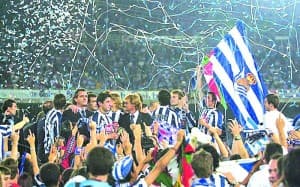 Barcelona, Real Madrid and Atletico Madrid may look nailed on to finish first, second and third respectively in this season's Spanish La Liga but the races to snatch the fourth UEFA Champions League berth and stay in the top flight are far less predictable with five rounds of games remaining.
Realistically, there are three teams in the hunt for Spain's fourth and final spot in next term's UEFA Champions League, with Sociedad (58 points) in pole position ahead of Malaga (53 points) and Valencia (53 points). Bookmakers, of course, favour Sociedad but, while the San Sebastian-based side has every right to be odds on, the quotes of around 1-4 are too short given its run home and those of its greatest rivals.
Sociedad's outstanding fixtures are Granada and Real Madrid at home and Getafe, Sevilla and Deportivo away. Objectively, one can put in Sociedad for three home points and five away points, which would see it end on 64 points. With trips to Barcelona and Real Madrid yet to come, Malaga will struggle to get to 64 points but what about sixth-placed Valencia?
Even though Valencia has only two home games to go, it does have a relatively kind schedule. Valencia will entertain Osasuna and Granada and it will travel to Rayo Vallecano, Getafe and Sevilla. Valencia's home matches are against teams at the wrong end of the Spanish La Liga ladder, while its away games are versus sides stuck in the middle that have little more than pride for which to play. Objectively, one can put in Valencia for six home points and at least four away points, which would see it end on 63 points.
Back Valencia to finish fourth in this season's Spanish La Liga at odds of around 6-1. Valencia has an easier Round 34 assignment than Sociedad so the market should, if everything goes according to plan, move in its favour. Backing Valencia now to lay down the track makes sense in the circumstances.
Mathematically, many teams are in danger of exiting the Spanish La Liga but bookmakers have settled upon six major relegation candidates – Mallorca at odds of around 1-4, Celta (4-7), Deportivo (4-7), Zaragoza (4-7), Granada (7-4) and Osasuna (3-1). Currently, Mallorca (28 points), Zaragoza (30 points) and Celta (30 points) occupy the drop zone, with Deportivo (31 points), Granada (32 points) and Osasuna (33 points) sitting just outside the dreaded bottom three.
The value sides in Spanish La Liga relegation betting are Deportivo and Zaragoza because, having gone through the remaining fixtures, there is a good chance that they will end up on a lower points tally than Mallorca, the team that everyone has written off as being doomed at this stage.
Mallorca has a favourable program, including home matches against Levante, Betis and Valladolid. While one is tipping that Mallorca will end up on 35 points, a even higher tally is not out of the question. After all, Mallorca's three home games are what one would call winnable based on the ladder.
Deportivo is in fine form – four wins and two draws in its last six matches – but its run home is tough, with home games versus Atletico Madrid, Espanyol and Sociedad plus away matches against Valladolid and Malaga. Objectively, Deportivo is on track for 34 points and relegation.
Also on track for 34 points is Zaragoza and, if anything, it is the best bet out of the 4-7 options. Zaragoza has won only one of its 17 games in all competitions and it was a 3-2 home victory over Mallorca thanks to an 88th-minute Ruben Rochina goal. With every other side forecast to reach 37 or more points, Zaragoza is worth a punt to go down.
Giant bookmaker, Bet365 is one of the leaders in Spanish La Liga betting and it has an excellent special offer pertaining to betting on the move. Whether one is a new or existing Bet365 client, a 100 per cent bonus is up for grabs for losing one's mobile or tablet betting virginity. Full terms and conditions are available on Bet365's website but, essentially, place a qualifying bet on your mobile or tablet and Bet365 will reward you with a 100% bonus, up to a maximum that is dependent upon your betting account's currency.