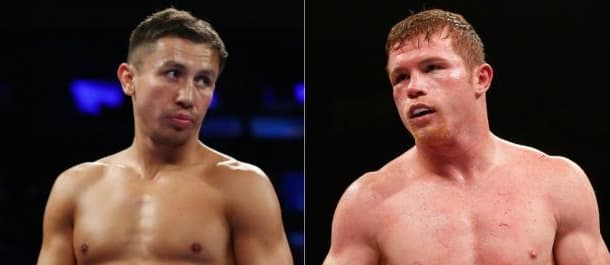 For boxing purists, there is only one fight on the calendar in 2017, and that fight falls on the night of Saturday September 16th. Saul 'Canelo' Alvarez v Gennady 'GGG' Golovkin has been marinating for well over two years, and we are finally getting the super fight that all fans have craved. Public opinion of the fight has tended to sway in recent times, and there is hot debate in boxing gyms, bars and amongst friends as to who will emerge victorious from this titanic battle.
Mayweather aside, Canelo is most likely the top draw in boxing today (Anthony Joshua may have an argument to that crown, but it is close), and his fan friendly style, baby faced looks and Mexican heritage have cemented him as a household favourite. Canelo started his professional career at the tender age of 15, and he has developed a seriously impressive resume, taking the scalps of future hall of famers such as Miguel Cotto and Shane Mosley. Canelo's only official defeat came against the wizard that is Floyd Mayweather, and that is no disgrace as he was in his early 20's and was a little green still. There could be arguments made that Canelo has been fortuitous in decision victories over Austin Trout and Erislandy Lara (with the latter especially seeming a dubious decision), but by and large, the young Mexican has outclassed his opponents, dazzling with great upper body movement and powerful combination counter punching. The criticism labelled at Canelo in recent times has been his use of catch weight. Such is the status of the Golden Boy fighter, he has been able to dictate at what weights his fights have been made. After capturing the middleweight crown (160lbs) when fighting at 155lbs, he continued to defend at that weight.
Despite his limited English, Gennady Golovkin has become one of the most popular fighters in the last few years. Why has he gained such a place in the hearts of fans? Two reasons – firstly his subhuman power, and secondly his boy next door looks and hilarious Borat style post fight interviews. Prior to going the distance with the hugely talented Danny Jacobs, Golovkin racked up 23 straight knockouts – a middleweight record. His aura of invincibility may have been slightly punctured last time out against Jacobs, but the New York native is a top-grade fighter in his own right and would probably rule the 160lb division were it not for Golovkin. GGG is simply a machine – a high output stalker who possesses dynamite in his fists. He is an intelligent boxer who applies educated pressure which puts opponents in a state of panic.
The Canelo v Golovkin fight has been talked about for a long time, and last autumn the inevitable happened when Golovkin and Canelo were mandated to fight. In what was seen as a move of weakness and trepidation, Canelo forfeited his title rather than face GGG. Some saw it as duck, while Canelo sighted the move as a business based one – suggesting the governing bodies did not give him enough time to negotiate. Observers suggested Canelo may have wanted to wait for Golovkin to slow down and some think he has done just that in his last two fights.
After the Canelo fight failed to come to fruition, Golovkin travelled to the UK to face the ultra-talented Kell Brook. Brook was the unbeaten welterweight champion, but he jumped up 13lbs to face Golovkin – a huge task. After a dominant first round, Golovkin ate combinations through rounds two and three before eventually closing the show in the fifth. It was clear to the expert eye that GGG had no respect for Brook's power, and he simply wanted to put on an entertaining fight. Following on, the fight against Jacobs was GGG's biggest test. He was forced to fight a man who weighed 15lbs more than him on fight night, but the utilisation of a ramrod jab and a knockdown helped to gain Golovkin the victory in what was admittedly a close fight. While Golovkin has faced upper echelon fighters in his last two bouts, the same cannot quite be said for Canelo. He beat a game but overmatched Liam Smith last autumn before fighting the corpse of Chavez Jr at a catch weight of 164lbs last time. Smith had some success before he was ultimately downed by a wicked body shot, and Chavez Jr was peppered with combinations, but managed to make it through the 12 rounds.
It appears that most boxers are picking Canelo to win, and sentiment has changed in the last year – in 2016 the odds on a Canelo victory were 4.50Bet €100 to win €4507/2Bet £100 to win £450+350Bet $100 to win $4503.50Bet HK$100 to win HK$4503.50Bet Rp100 to win Rp450-0.2857Bet RM100 to win RM450 , and now they are closer to 2.50Bet €100 to win €2503/2Bet £100 to win £250+150Bet $100 to win $2501.50Bet HK$100 to win HK$2501.50Bet Rp100 to win Rp250-0.6667Bet RM100 to win RM250 . The initial 4.50Bet €100 to win €4507/2Bet £100 to win £450+350Bet $100 to win $4503.50Bet HK$100 to win HK$4503.50Bet Rp100 to win Rp450-0.2857Bet RM100 to win RM450 odds on Canelo may be even bigger, were the two fighters to swap their last two opponents. Golovkin would have undoubtedly taken Liam Smith out in four or five rounds and would have done similar against Chavez Jr, while Canelo would most likely have been in a competitive fight with Kell Brook, and he would have had a hard time with Danny Jacobs who is naturally significantly a bigger man. It is something to ponder; public views have been changed by recent showings, but no one has taken into consideration the quality of opposition.
Who is the pick? Well it has to be Golovkin, and Golovkin by stoppage. Canelo is a fantastic counterpuncher and if Golovkin has one weakness it may be his defence and ability to take body shots well (Canelo's forte) – but will the Mexican maestro be confident in getting his punches off knowing the huge power shots that may be coming in return. Golovkin is a master stalker, and despite Canelo's blistering hand speed, his feet are slow. Golovkin will be able to back Canelo up to the ropes and that is not where he wants to be. Canelo averages around 40 punches a round, and those shots tend to come in clusters – he just can't work consistently for that long and carries a lot of mass for his size. Golovkin gets off around 60 punches a round and he will have to be switched on to what is coming back, but should be able to dictate the fight with the beautiful jab that put monster puncher David Lemieux into his shell. The view when it comes to this fight is that fans and pundits are buying into the hype, and that in turn is giving us some value on the Golovkin KO/TKO or DQ – priced at 2.62Bet €100 to win €26281/50Bet £100 to win £262+162Bet $100 to win $2621.62Bet HK$100 to win HK$2621.62Bet Rp100 to win Rp262-0.6173Bet RM100 to win RM262 with Paddy Power and Betfair. Likely to come in the mid rounds.
Tips Summary
Golovkin to win by KO/TKO or DQ
Saturday 16th September
Odds: 2.62Bet €100 to win €26281/50Bet £100 to win £262+162Bet $100 to win $2621.62Bet HK$100 to win HK$2621.62Bet Rp100 to win Rp262-0.6173Bet RM100 to win RM262
Boxing
Gennady 'GGG' Golovkin
Saul 'Canelo' Alvarez