2013 NBA Playoff Series Betting – Indiana Pacers vs. New York Knicks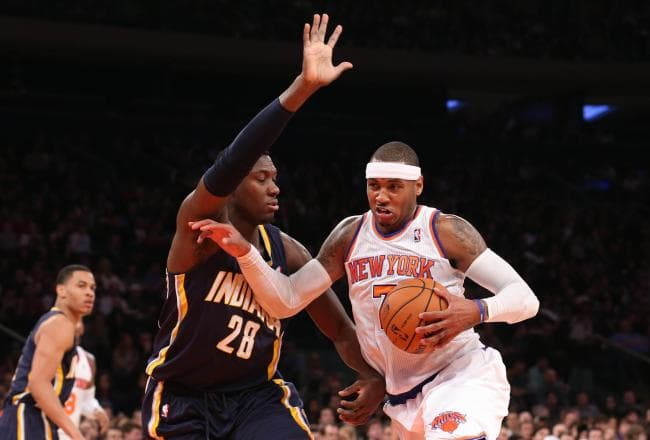 Series Odds: Indiana +165 – New York -190
Like our other picks for tonight, odds are provided by Bovada, one of the world's top sportsbooks and our choice for NBA betting.

The Knicks and the Pacers meet in a Second Round Series that is likely to bring back memories from early 90s of Reggie Miller and Spike Lee. The cast is different this time around, but the stakes are the same. New York will take home court advantage in this best of seven series.
The two teams played each other four times during the regular season and split the series. All the games were quite physical, and both teams struggled to shoot 50 percent or better from the field. They both accomplished this feat only once in four games. The tough atmosphere in the regular season will only be magnified in the playoffs.
The Knicks looked like they would breeze by the Boston Celtics in First Round as they flew out to a 3-0 series lead. But Boston was not going out quietly, and ultimately won two more games before falling in the sixth game of the series with the Knicks winning 4-2. The Pacers also had a tough series against the Atlanta Hawks, which was back and forth, but won by Indiana in six games, as well.
Our Prediction:
Fans who love tough defense and low field goal percentages need to tune into this series as this pits two of the best defense teams against each other.
The Pacers play an old-school style that preaches sharing the rock and a defense first philosophy. The Knicks are similar in style, but focus on their star players to do their scoring and run more isolations.
If you're looking for a definitive advantage that one team has over the other – it's hard to find one. These teams are remarkably similar talent wise and are only a few games apart in the record department. One could make the case Indiana was more consistent throughout the season and put together a better body of work overall.
The Pacers tough defense on the perimeter could be tough for Knicks who rely on the three pointers heavily. George Hill is not the most talked about name in point guard circles, but he is an excellent defender and passer who should make things tougher on Felton and Kidd.
Paul George is the go-to-guy on offense for the Pacers, he is one of the NBA's bet all around players and this year's Most Improved Player. He faces off against Iman Shumpert and has a nice size advantage against the small forward (three inches). Shumpert looked impressive against Paul Pierce, but it will be a whole difference series for him as he takes on George.
The Knicks primary scorers are Carmelo Anthony and J.R. Smith, and when they both get going opponents usually don't have a chance. Melo's matchup against David West is a dream matchup for the NYK as the veteran big will have a hard time matching Anthony's athleticism and nose for the rim. Hibbert is a force inside, but has been prone to inconsistent play and has had a down year.
Finally, the Knicks bench is far superior to that of the Pacers. J.R. Smith, Jason Kidd and Kenyon Martin all have productive minutes off the pine, and the team may return Amar'e Stoudemire. The Pacers best option off the bench is Gerald Green who has had a subpar season. D.J. Augustin has been terrible as a backup point guard and once promising forward Tyler Hansbrough brings energy but is foul prone. He doesn't offer enough offensively to make up for his defensive shortcomings.
Indiana is temping as an upset pick at +165, but we're going with New York. The Pacers are too prone to droughts offensively, and when the Knicks are on, they are really ON – and can score against any defense in the league. Add in New York's extra bench depth and solid coaching from Mike Woodson and the Knicks have a recipe for success – at least against Indiana.
Our Play: Knicks -190 betting with Bovada.