Lokesh Rahul blasted a century to guide India to a comfortable victory over England in the opening T20 of their series at Old Trafford.
The Three Lions made a poor start to the series as they were unable to cope with the tourists' wrist spinners, who ripped through their middle order.
Kuldeep Yadav was the bowler responsible for the carnage as he claimed career-best figures of 5/24 in international T20s. His left-arm spin produced the wickets of Jos Buttler, Eoin Morgan, Alex Hales, Jonny Bairstow and Joe Root, limiting England's striking power.
Only Buttler managed to get to grips with the turning ball as he blasted his second-straight half-century in T20 cricket. However, his timing was disrupted towards the end of the innings, leaving the Three Lions about 30 runs shy of a competitive total.
Although David Willey removed Shikhar Dhawan in the first over of India's reply, Rahul quickly controlled the chase as he blasted the England seamers to the fence before taking the attack to Moeen Ali.
Rahul reached three figures off just 53 deliveries in the penultimate over before Virat Kohli hit Ali for six to drive his side over the line. England need a response in their next match at Sophia Gardens.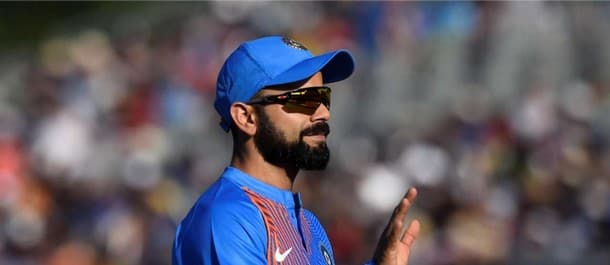 England's Top Batsman
Buttler was the one batsmen other than Roy and Willey late in the innings to get to grips with the India attack. The 27-year-old has been in outstanding form this season, building off his time in the Indian Premier League where he confirmed his reputation as one of the leading batsmen in limited-overs cricket. He notched his second fifty on the bounce in the T20 format with another confident display at the crease.
Buttler scored his half-century in 29 deliveries, with seven fours and two sixes. He has settled into his role as opener with relative ease and has helped maintain England's dominance in the early overs. Spin proved to be a difficult prospect even for Buttler as the Old Trafford pitch resembled Mumbai rather than Manchester. It played a significant role in England's struggles.
Morgan was one of the many victims of Yadav's leg-spin. His form has been up-and-down, although he continues to be an exceptional leader on the pitch. Morgan will be determined to bounce back and lead the way with the bat. He has the ability to play spin using his variety of sweep shots along with finding the boundary with his big hitting. Back Morgan to lead the run column at odds of 7.00Bet €100 to win €7006/1Bet £100 to win £700+600Bet $100 to win $7006.00Bet HK$100 to win HK$7006.00Bet Rp100 to win Rp700-0.1667Bet RM100 to win RM700 with Betway.
India's Top Batsman
Rahul was sensational at Old Trafford as he did not allow England's bowlers time to settle into a rhythm. The pace of Liam Plunkett has been a serious asset for the Three Lions, but on this occasion Rahul was able to take him to task. The 26-year-old dominated the strike with his partners in the middle Rohit Sharma and Kohli barely getting a look in. Rahul's striking ability was brilliant as he cleared the rope five times along with 10 boundaries.
Rahul out blasted Buttler, making his half-century in 27 balls, while he made his second fifty in a shorter period to record his second international T20 century. The 26-year-old highlights the depth of the India batting line-up as Dhawan, Sharma and Kohli barely made an impact in the opener, while Suresh Raina and MS Dhoni never made it to the crease. The nature of T20 makes the chances of them winning by such a comfortable margin again unlikely.
Kohli will be looking to get into form ahead of the one-day series and the Test matches. Back him to fire at Sophia Gardens at odds of 4.33Bet €100 to win €433333/100Bet £100 to win £433+333Bet $100 to win $4333.33Bet HK$100 to win HK$4333.33Bet Rp100 to win Rp433-0.3003Bet RM100 to win RM433 with BetVictor.
England's Top Bowler
The contest proved to be a difficult one for Plunkett and Ali, who were smashed around the ground by Rahul. The off-spinner was particularly victimised as he was dispatched for 37 runs in just 2.2 overs. Rashid was economical as India's batsmen were in no hurry to take on the leg-spinner in advantageous conditions. They made a point of seeing off the Yorkshireman before taking the attack to Plunkett and Ali to guide them to victory.
England will have to a stronger effort in the second match of the series to contain the Indian batsmen. Plunkett had been a valuable wicket-taking bowler for Morgan's men. However, he had a rare off day at Old Trafford as his pace disappeared over the rope with regularity. Plunkett has the experience and quality to bounce back from his disappointing performance. Back him to lead the wicket column at odds of 4.50Bet €100 to win €4507/2Bet £100 to win £450+350Bet $100 to win $4503.50Bet HK$100 to win HK$4503.50Bet Rp100 to win Rp450-0.2857Bet RM100 to win RM450 with BetVictor.
India's Top Bowler
Yadav was the decisive factor in India's win over England at Old Trafford. His variations with his left-arm leg-spin bamboozled the Three Lions' batsmen, who were unable to pick him. Yadav capitalised on the conditions to float the ball up the wicket, resulting in the dismissal of Hales. Bairstow and Root were both stumped after being confused. Morgan and Buttler were out going for the fence, highlighting the control and spin used by Yadav.
He will need to maintain his form, although England have now had a long look at his action and the way the ball leaves his hand. Yadav has been in excellent form on tour and it would not be a surprise to see him lead the way once again. The long boundaries at Old Trafford played into his hands, although he may not be afforded the same protection at Sophia Gardens. However, back him to lead the way at odds of 4.00Bet €100 to win €4003/1Bet £100 to win £400+300Bet $100 to win $4003.00Bet HK$100 to win HK$4003.00Bet Rp100 to win Rp400-0.3333Bet RM100 to win RM400 with Betway.
Match Verdict
England were caught out by the spin of Yadav in their defeat at Old Trafford. They have the quality to bounce back, but with little preparation time between matches the batsmen will have a challenge on their hands to put the leg-spinner under pressure.
India's batsmen may have the edge in facing a slightly inferior attack and that could allow them the freedom to either put up an imposing total or chase down England's score. Expect a response from Morgan's men, but it will not be enough to get back into the series. Back the visitors at odds of 1.80Bet €100 to win €1804/5Bet £100 to win £180-125Bet $100 to win $1800.80Bet HK$100 to win HK$180-1.25Bet Rp100 to win Rp1800.8000Bet RM100 to win RM180 with BetVictor to deliver the victory.
Tips Summary
Jos Buttler To Be England's Top Batsman
Friday 6th July 2018 17:30 BST
Odds: 3.75Bet €100 to win €37511/4Bet £100 to win £375+275Bet $100 to win $3752.75Bet HK$100 to win HK$3752.75Bet Rp100 to win Rp375-0.3636Bet RM100 to win RM375
Virat Kohli To Be India's Top Batsman
Friday 6th July 2018 17:30 BST
Odds: 4.33Bet €100 to win €433333/100Bet £100 to win £433+333Bet $100 to win $4333.33Bet HK$100 to win HK$4333.33Bet Rp100 to win Rp433-0.3003Bet RM100 to win RM433
Liam Plunkett To Be England's Top Bowler
Friday 6th July 2018 17:30 BST
Odds: 4.50Bet €100 to win €4507/2Bet £100 to win £450+350Bet $100 to win $4503.50Bet HK$100 to win HK$4503.50Bet Rp100 to win Rp450-0.2857Bet RM100 to win RM450
Kuldeep Yadav To Be India's Top Bowler
Friday 6th July 2018 17:30 BST
Odds: 4.00Bet €100 to win €4003/1Bet £100 to win £400+300Bet $100 to win $4003.00Bet HK$100 to win HK$4003.00Bet Rp100 to win Rp400-0.3333Bet RM100 to win RM400
India To Beat England 2nd T20
Friday 6th July 2018 17:30 BST
Odds: 1.80Bet €100 to win €1804/5Bet £100 to win £180-125Bet $100 to win $1800.80Bet HK$100 to win HK$180-1.25Bet Rp100 to win Rp1800.8000Bet RM100 to win RM180
cricket
England
india
T20
Virat Kohli