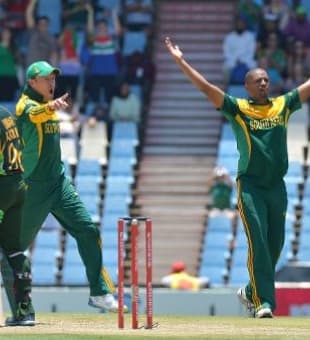 India's tour of South Africa begins with a three-match One Day International series, with the teams having met once previously this year during the ICC Champions Trophy.
Such is the stark contrast in pitches between those in South Africa and those in India, the first thing that one should consider whenever these two sides met, irrespective of the format, is the recent head-to-head record based on venues.
At the click of a couple of buttons in the information age in which we live it is possible to find out how South Africa has fared against India in South Africa and how the Proteas have fared versus the Indians in India. The results are very telling and point towards excellent match and series bets.
South Africa and India took part in a five-game One Day International series in South Africa in 2011. South Africa won the First One Day International and went on to take out the series 3-2. It continued the outstanding run of the home team in One Day International series between South Africa and India dating back to their first clash in 1991.
There have been seven One Day International series between South Africa and India. The home side has won six of them – India won 2-1 in 1991, South Africa won 5-2 in 1992, India won 3-2 in 1999, South Africa won 4-0 in 2006, India won 2-1 in 2009 and South Africa won 3-2 in 2011 – with the 2005 series in India ending 2-2 after one match was abandoned without a ball bowled. And if one factors in the One Day International tournaments featuring South Africa, India and one or more minnows such as Bangladesh, Kenya and Zimbabwe, the record of the home team continues to shine brightly. To cut what would be an incredibly long story short, India has not won a One Day International competition in South Africa despite having seven chances over the last two decades.
Of course, records are there for teams to break them but one cannot escape reaching the conclusion that South Africa is over the odds at 1.80 Ladbrokes, to win the First One Day International at Johannesburg's Bidvest Wanderers Stadium and the Proteas are even more attractively priced at odds of 1.80 with Stan James to win the best-of-five-game series.
Overall, South Africa and India have played 67 One Day International matches against each other. South Africa is well ahead in the head to head with 40 wins to India's 25 and two no-results making up the difference. India is the world's top-ranked One Day International side compared to South Africa's ranking of fifth, with the Indians in first place largely because of their victories in the ICC Cricket World Cup in 2010 and the 2013 ICC Champions Trophy. Taking out the last two major One Day International tournaments means that India is worthy of considerable respect but the 2010 ICC Cricket World Cup took place on Indian soil so one should not go overboard. Home advantage, as the data listed above supports, is massive in a sport such as cricket when the playing conditions vary so much around the globe. South African pitches are bouncy and assist seam bowling, whereas Indian pitches are dusty and assist spin bowling. It is akin to the enormous difference between the fast grass courts of Wimbledon's All England Club and the slow clay courts of Roland Garros in Paris in the sport of tennis.
There is no need to get fancy with the One Day International series between South Africa and India. Simply back South Africa to prosper at odds not a great deal less than even money because the Proteas have every right to be strong favourites at home to the Indians given past history.
Admittedly, South Africa does not have the finest record at the Bidvest Wanderers Stadium – the Proteas have won only one of their last 11 completed One Day International games at the venue, albeit it was the most recent match – which is surprising since it is the home of South African cricket.