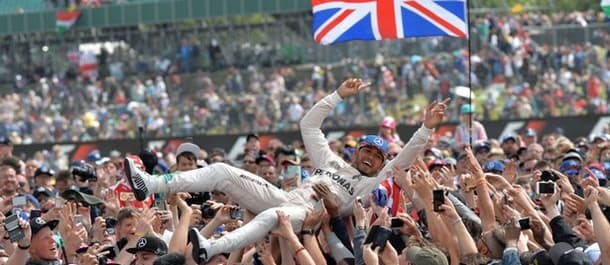 Lewis Hamilton has won each of the last three editions of the British Grand Prix and, with Sebastian Vettel owning a decidedly poor Silverstone record for a four-time Formula One champion, one is tipping a home victory on Sunday.
Hamilton did not endear himself to some sections of the British public in the lead up to the British Grand Prix when, in typical style, he elected to miss a parade in London so that he could holiday with Winnie Harlow, a Canadian fashion model. But Hamilton has a terrific chance of getting even his harshest critics back on side and himself back in the Formula One championship race.
History is within Hamilton's grasp. If Hamilton wins this year's British Grand Prix he will match the achievements of Juan Manuel Fangio and Jim Clark, both of whom won their respective home races four times in a row. Hamilton is unbeaten in the British Grand Prix since 2013 when he qualified fastest but suffered misfortune in the race, suffering a left-rear tyre failure on its seventh lap. Hamilton has won the last three renewals of the British Grand Prix by 30 seconds, 11 seconds and eight seconds.
One remains of the view that most Formula One races are, from a punting perspective, a choice between Hamilton and Vettel. Valtteri Bottas has won two Formula One races this year but neither has been one in which Hamilton was a factor due to mitigating circumstances, while Kimi Raikkonen looks everything bit like a driver who has not taken the chequered flag first since the 2013 Australian Grand Prix. Raikkonen's demeanour is miserable because he knows that he is simply there to perform whatever duties assist Vettel since there is a clear pecking order in the Ferrari garage. Time will tell if there is such a thing in the Mercedes team but one suspects that, when push comes to shove, the Silver Arrows will favour Hamilton and instruct Bottas to be his wingman.
Vettel has a very ordinary British Grand Prix resume for a driver who has been Formula One's champion four times in his brilliant career. Vettel made his British Grand Prix debut in 2008, retiring in a gravel trap after colliding with David Coulthard on lap one. Vettel won the 2009 British Grand Prix from pole position but his subsequent Silverstone results have been seventh in 2010, second in 2011, third in 2012, retired in 2013, fifth in 2014, third in 2015 and ninth in 2016. In Vettel's nine British Grand Prix races, he has lost to his teammate six times. Hamilton has won eight of his 10 British Grand Prix matches versus colleagues.
Available at odds of 1.91Bet €100 to win €19191/100Bet £100 to win £191-110Bet $100 to win $1910.91Bet HK$100 to win HK$191-1.10Bet Rp100 to win Rp1910.9100Bet RM100 to win RM191 with several bookmakers, including Betfred, Coral and Ladbrokes, Hamilton is the British Grand Prix. It is somewhat ridiculous that Hamilton is 20 points adrift of Vettel on the Formula One ladder because the two great rivals have each won three races; it is just that the German has not experienced the same bad luck as the Briton.
With regards to British Grand Prix exotics, Bwin is offering odds of 1.85Bet €100 to win €18517/20Bet £100 to win £185-118Bet $100 to win $1850.85Bet HK$100 to win HK$185-1.18Bet Rp100 to win Rp1850.8500Bet RM100 to win RM185 that Max Verstappen gets the better of his Red Bull teammate Daniel Ricciardo in Sunday's race. Verstappen is having a season to forget but that is due to reliability issues – the Dutch youngster has failed to finish five out of nine races. Verstappen and Ricciardo are tied at 1-1 in the two Formula One races that they both ended this year so the ladder is not telling the whole truth and nothing but the truth. Verstappen was much too quick for Ricciardo in the 2016 British Grand Prix and Silverstone really does suit the Dutchman's skillset more than that of the Australian.
Tips Summary
Lewis Hamilton to win the British Grand Prix
Sunday 16th July, 13:00 GMT
Odds: 1.91Bet €100 to win €19191/100Bet £100 to win £191-110Bet $100 to win $1910.91Bet HK$100 to win HK$191-1.10Bet Rp100 to win Rp1910.9100Bet RM100 to win RM191
Verstappen to beat Ricciardo in the British Grand Prix
Sunday 16th July, 13:00 GMT
Odds: 1.85Bet €100 to win €18517/20Bet £100 to win £185-118Bet $100 to win $1850.85Bet HK$100 to win HK$185-1.18Bet Rp100 to win Rp1850.8500Bet RM100 to win RM185
British Grand Prix
F1
Formula One
Lewis Hamilton
Max Verstappen