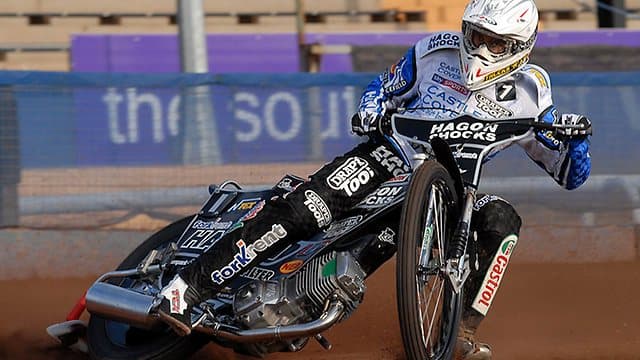 Just about able to hold on: We think Chris Holder to defend his title offers good value at odds around 9/2.
Speedway has enjoyed an international renaissance and the Speedway Grand Prix series that is about to enter its 19th year has been central to its bounce back in popularity.
From 1936 to 1994, the speedway world championship boiled down to one standalone event, most frequently at London's Wembley Stadium, in which one human or mechanical error often proved the difference between success and failure.
Sweden's Tony Rickardsson won the last speedway world title decided by one meeting, beating Denmark's Hans Nielsen and Australia's Craig Boyce in a run-off after the three riders had finished the regular program on 12 points apiece.
The Speedway Grand Prix concept took over in 1995 and Nielsen won his fourth and final world championship crown, scoring 103 points over six events to relegate Rickardsson and the United States of America's Sam Ermolenko to second and third place respectively. In 2012, there were a dozen races on the Speedway Grand Prix calendar and there will be 12 rounds again for the 2013 Speedway Grand Prix season.
Australia's Chris Holder is the defending Speedway Grand Prix champion after overcoming a poor start to last year's series – he picked up only four points in the first event – to edge out Denmark's three-time winner, Nicki Pedersen.
Europe Is Where The Action Is At
Speedway is a Europe-centric form of motor sport so it is natural that European venues are scheduled to stage 11 of the 12 rounds for the 2013 Speedway Grand Prix competition, with Auckland being the exception to the rule. The New Zealand Speedway Grand Prix will start the series on Saturday 23 March 2013, with the Speedway Grand Prix of Poland ending it in Torun on Saturday 5 October 2013.
Too Much Hype Surrounding Ward
Holder is the 2013 Speedway Grand Prix title favourite with pretty much every bookmaker betting on the series but it is another Australian rider who is the talk of the sport. His name is Darcy Ward and the 20-year-old is vying with the reigning champion for favouritism in spite of only having competed in two Speedway Grand Prix events previously.
Ward has the potential to go all the way in the speedway business but one gets the feeling that he is being hyped beyond his capabilities. Starting – better known as gating in speedway circles – is an essential skill for a rider with world title aspirations and, without wishing to be unkind, Ward still has plenty of work to do to improve his starts. It is one thing to overtake the British Elite League's lesser lights in spectacular fashion after exiting the first corner off the pace. It is quite another to battle one's way past the cream of the crop in a Speedway Grand Prix heat.
Plenty of 2013 Speedway Grand Prix punters are jumping on the Ward bandwagon but he represents bad pre-series value given the challenges that he faces in his rookie campaign.
Champion Good Value To Retain Title
With no fewer than 10 of the 15 riders who have qualified to take part in every 2013 Speedway Grand Prix round having won at least one event, there is a decent argument that this year's field is the hottest for many years, maybe ever.
That may tempt many 2013 Speedway Grand Prix punters to look down the championship betting market for a touch of value. However, there is nothing wrong with backing Holder to go back to back, with the 2012 king trading at odds of around 9-2 to become the second rider after Rickardsson (1998 and 1999, as well as 2001 and 2002) and Pedersen (2007 and 2008) to experience an ultimately successful title defence.
Unlike his Poole Pirates teammate Ward, Holder can gate with the best of them and, at the age of 25, he still has plenty of improvement in him. With the likes of Tomasz Gollob and Greg Hancock having seen better days and Ward too short in the 2013 Speedway Grand Prix championship book for someone so light on international experience and starting prowess, Holder is more than fairly priced at around the 9-2 mark.
Holder had a shocker in last year's series-opening New Zealand Speedway Grand Prix but he became a father on the morning of the event and so one can excuse his performance, which was his worst of the competition by some distance.
Pedersen shapes as Holder's biggest threat and one could certainly do worse than having a stake saver on the Danish veteran at odds of around 6-1. For every 100 units that one wants to bet, wager 85.71 on Holder and 14.29 on Pedersen.
Sayfutdinov Can Win Battle Of The Youngsters
Probably the best way to oppose Ward in the 2013 Speedway Grand Prix series is to back him in one of the season-long head-to-head markets that are available. Emil Sayfutdinov is trading at odds of around even money to outperform Ward even though the Russian rider has won three of the 38 Speedway Grand Prix events in which he has taken part.
Sayfutdinov was consistent without being brilliant during the 2012 Speedway Grand Prix competition but many speedway judges are expecting big things from him this year. There is every chance that Ward will not to finish in the top three to get the better of the 23-year-old from Salavat.