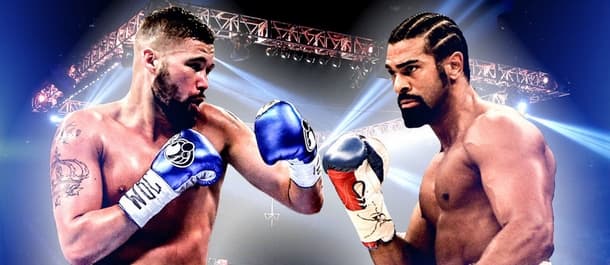 This weekend at the O2 arena in London there are no titles on the line for the match between David Haye and Tony Bellew. Nor does there need to be. Such is the bad blood between David Haye and Tony Bellew, that no straps need to be on the line – there is genuine needle between the two polarising pugilists, and that tension has captured the public's imagination, with the arena sold out and pay per view's being ordered faster than Eddie Hearn can say 'apples and pears'.
On paper, the fight looks a mismatch; Haye is an aesthetic Adonis, a two-weight champion with a strong CV and devastating power, while Bellew is slightly pudgy and mechanical boxer who used to compete at light-heavyweight. But is it as cut and dried as that? Perhaps, perhaps not – that is the intrigue of the fight. David Haye had a several year hiatus from the ring following his disappointing loss to Wladimir Klitschko back in 2011 and the two sub-par opponents (a generous description) he has faced in his comeback cannot be considered a barometer of whether he retains his ability, reflexes, chin and stamina. Conversely, in the time Haye has been out of the ring, Tony 'The Bomber' Bellew has been extremely active and has improved considerably since stepping up to cruiserweight, picking up a world title at his beloved Goodison Park. This fight is proven class vs recent form. Front cover of Men's Health vs Dad Bod. But where is the betting value?
The majority of pundits and casuals alike have come to the same conclusion – if David Haye catches Tony Bellew clean on the chin early, then it's a wrap. Haye has some of the best timing, accuracy and concussive power in boxing, and Bellew has been floored on more than one occasion. The aforementioned assumption is quite likely to be accurate, but perhaps two more pertinent questions are – what happens if Bellew catches David Haye on the chin, and secondly what happens if Bellew escapes the first few rounds relatively unscathed. How much does Haye have in the petrol tank? After all he is a heavily muscled, explosive fighter who tends to be somewhat of a front-runner and at an advancing age, it wouldn't be ridiculous to think that he may have stamina limitations down the stretch.
For all he isn't going to win any bodybuilding contests any time soon, Tony Bellew is a 12 round fighter, who has scored knockouts down the stretch and who comes on strong in the later rounds. And he can crack. 'The Bomber' was a feared puncher on the amateur scene, but after turning pro at 175lbs, his power seemed to be significantly blunted by brutal weight cuts (The Liverpudlian stands at 6ft 3 and walks around at 220lbs). At cruiserweight, Bellew has stopped 4 out of his 5 opponents and his power has evidently returned with the extra poundage. Haye definitely doesn't possess a granite chin, having been dropped on several occasions at both Cruiserweight and Heavyweight and although Bellew would have more chance of knocking Haye out in the later rounds, it would be foolish to suggest he couldn't do it early if he lands.
How is the fight likely to play out? Bellew can fight two ways – reckless and violent, relying on his power, or conservative, sitting behind a jab, double jab and a two. The latter strategy is far more likely to be utilised, and he will start cautiously, wary of Haye's power. Bellew will want to circle to his right away from Haye's powerful, looping right hand and will be desperate not to make any mistakes early. Contrastingly, Haye will be looking to strike early. He is a devastating counter puncher who will look to come in with an overhand right if Bellew throws a lazy jab. He isn't a volume fighter, but he definitely makes each shot count. Up in close, Haye will be the stronger fighter, but Bellew does have a beautiful left hook that can be a fight finisher and the Hayemaker will have to be wary of that.
What is the play? Although no outcome would surprise, the betting value looks to be with the fight finishing fairly early. Although Haye has to be a strong favourite to be the victor if that happens, and Bellew is likely to try to be cautious early, both fighters make defensive mistakes, both can go down if caught clean, and both fighters are very good finishers. Bet365, BetVictor and Paddy Power go 2.10Bet €100 to win €21011/10Bet £100 to win £210+110Bet $100 to win $2101.10Bet HK$100 to win HK$2101.10Bet Rp100 to win Rp210-0.9091Bet RM100 to win RM210 about under 4.5 rounds, and that looks to be the best pick at a shades of odds against.
Tips Summary
Haye vs Bellew – Under 4.5 Rounds
Saturday 4th March, 21:00 GMT
Odds: 2.10Bet €100 to win €21011/10Bet £100 to win £210+110Bet $100 to win $2101.10Bet HK$100 to win HK$2101.10Bet Rp100 to win Rp210-0.9091Bet RM100 to win RM210
Boxing
David Haye
Haye vs Bellew
Tony Bellew