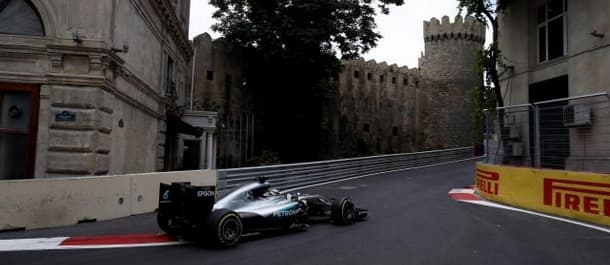 Lewis Hamilton has been uncomplimentary about the Baku City Circuit, the latest home of the European Grand Prix, but he is likely to enjoy some success in the Azerbaijani capital.
According to Hamilton, the Baku City Circuit is a motorway. Billed as the fastest street track in the world, the Baku City Circuit features a 2.1-kilometre-long straight with the overtaking-friendly drag reduction system in operation on it. The brainchild of Formula One's most prolific designer, Hermann Tilke, the Baku City Circuit features several slow corners that connect the various lengthy straights, meaning that the Azerbaijani layout is likely to suit cars with the combination of good grip and good power. Only two cars tick both those boxes and they are the Mercedes that Hamilton and his teammmate, Nico Rosberg, have the pleasure of driving.
Hamilton has a favourite's chance of winning the European Grand Prix for the first time – it has been on the Formula One calendar in six of the British driver's seasons at the highest level of motor racing, albeit at tracks in Germany and Spain – but one is concerned about two things: the length of the main straight and the possibility of the safety car making more than one appearance on Sunday.
There will be a relatively long run to the first corner when the lights go out on Sunday and one does not trust either Mercedes driver to make a decent start to the European Grand Prix. Both Hamilton and Rosberg blew the beginning of last week's Canadian Grand Prix and poor starts have been the story of the season for the Mercedes men, especially the Briton. On a Baku City Circuit track for which there is no historical data, one cannot find a compelling reason to back Hamilton to win the European Grand Prix at odds-on prices even though the virgin layout should suit his Mercedes vehicle and he has rediscovered his trademark swagger.
A much better bet, one thinks, is backing Hamilton to be the fastest qualifier for the European Grand Prix. Driver error is always possible during qualifying but the design of the Baku City Circuit really ought to turn the race for pole position into a two-man between Hamilton and Rosberg, with one favouring the Briton over his German rival. Hamilton has had a disappointing, frustrating start to his defence of the Formula One championship but, even so, he has begun four of the seven races from the best spot on the grid compared to Rosberg's tally of two and Daniel Ricciardo's single score.
Betfred and Totesport are offering odds of 1.73 about a fifth pole position of the Formula One season for Hamilton and, in a round that does not appeal greatly from a betting perspective, that is one's idea of the best wager available.
Tips Summary
Hamilton to win Pole Position
Qualifying Saturday 18th June, 17:00 GMT
Odds: 1.73
Baku City
European Grand Prix
F1
Formula One
Lewis Hamilton