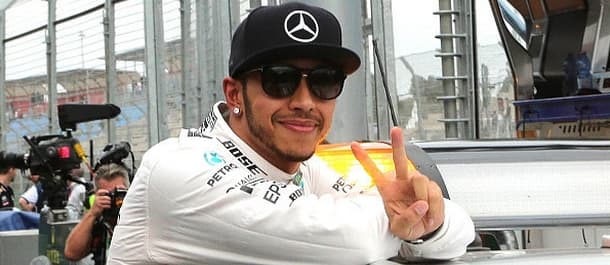 Critics of Formula One who say that it is predictable would have been rubbing their hands with glee when Lewis Hamilton secured pole position in last month's Austrian Grand Prix.
It was Hamilton's seventh pole position out of the eight Formula One races this year and it completed a Mercedes calendar-year shutout of the best place on the grid. Yes, that is right: Mercedes has had one of its cars sitting on pole position in every race all the way back to the 2014 Austrian Grand Prix in which Felipe Massa started there. Indeed, Massa's 2014 Austrian Grand Prix pole position is the only time in the last 27 races that either Hamilton (14 times) or Nico Rosberg (12 times) has not qualified fastest.
Anything can happen in a Formula One race – just ask those punters who backed Hamilton to win the Monaco Grand Prix and saw his Mercedes managers make a massive tactical error and hand not only first place to Rosberg but also second place to Sebastian Vettel – but there seems to be little that can go wrong in a qualifying session, particularly when Mercedes boasts such an enormous advantage over its various rivals.
Here is a snapshot of how dominant Mercedes has been in the qualifying sessions of this season's Formula One races: the Silver Arrows have filled the front row of the grid for six of the eight races and, apart from Vettel's sterling effort in Malaysia, no non-Mercedes competitor has got closer than 0.355 seconds to the quickest Silver Arrows on a Saturday.
Silverstone, home of the British Grand Prix since 1987, is a power circuit that should play into the hands of Mercedes and other Mercedes-powered cars so betting on the pole position winner boils down to a simple choice between Hamilton and Rosberg. Hamilton is available at odds of 1.55Bet €100 to win €15511/20Bet £100 to win £155-182Bet $100 to win $1550.55Bet HK$100 to win HK$155-1.82Bet Rp100 to win Rp1550.5500Bet RM100 to win RM155 with Bwin, which means that the bookmaker assesses his chance of being the fastest qualifier at around 65 per cent. Hamilton has a 87.5% strike rate in this year's Formula One qualifying competitions, Silverstone is his home track and it is obvious that he wants to beat Rosberg really badly. The latest comments out of Hamilton's mouth regarding Rosberg prove that there is no love lost between the pair at all.
Away from the front of the British Grand Prix grid, the most attractive betting option is Nico Hulkenberg to collect some points, a play that is trading at odds of 1.67Bet €100 to win €16767/100Bet £100 to win £167-149Bet $100 to win $1670.67Bet HK$100 to win HK$167-1.49Bet Rp100 to win Rp1670.6700Bet RM100 to win RM167 with several bookmakers, including Ladbrokes and WilliamHill.
Hulkenberg posted his best result of the Formula One season when he finished sixth in the Austrian Grand Prix, thereby making it two points collects in a row. Hulkenberg has done quite well in previous British Grand Prix editions, placing eighth, 10th (twice) and 12th in his four appearances, out qualifying and out racing his teammate in each of his last three visits to Silverstone. Also worth nothing is that Hulkenberg began last year's British Grand Prix from a hugely creditable fourth position on the grid.
The other major reason why one is keen to back Hulkenberg to finish in the British Grand Prix top 10 is that Force India will debut its new car at Silverstone and the team's results have been heading in the right direction since it made a disappointing start to the season. The word of the Force India garage, which is located at Silverstone, is positive so one can see the Mercedes-powered team challenging Lotus and Red Bull for the title of Formula One's fourth best outfit, beginning with a strong showing on home tarmac.
Tips Summary
Hamilton to claim pole position
5th July 13:00 GMT
Odds: 1.55Bet €100 to win €15511/20Bet £100 to win £155-182Bet $100 to win $1550.55Bet HK$100 to win HK$155-1.82Bet Rp100 to win Rp1550.5500Bet RM100 to win RM155
Where to Bet: Bwin
Hulkenberg to finish in the points
5th July 13:00 GMT
Odds: 1.67Bet €100 to win €16767/100Bet £100 to win £167-149Bet $100 to win $1670.67Bet HK$100 to win HK$167-1.49Bet Rp100 to win Rp1670.6700Bet RM100 to win RM167
Where to Bet: Ladbrokes, WilliamHill
British Grand Prix
Force India
Formula One
Lewis Hamilton
Nico Hulkenberg
pole position
Silver Arrows
Silverstone