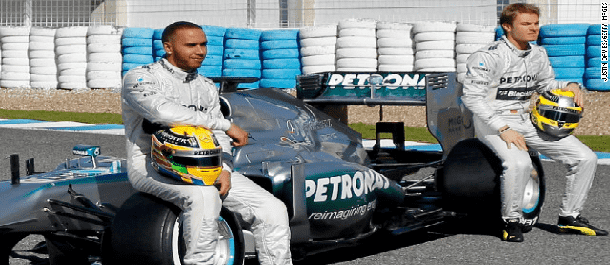 There are seven rounds of the Formula One season remaining and, having been rebuked by all and sundry for his role in Lewis Hamilton's retirement from the Belgian Grand Prix, it is time for Nico Rosberg to pull in his head and behave.
What does that mean for Italian Grand Prix punters? Well, one thinks that it means Hamilton is worth backing at odds of 2.00Bet €100 to win €2001/1Bet £100 to win £200+100Bet $100 to win $2001.00Bet HK$100 to win HK$2001.00Bet Rp100 to win Rp2001.0000Bet RM100 to win RM200 with Bet Victor to win at Monza because of a number of factors that are likely to be at play over the weekend.
First, Monza is the quickest circuit on the Formula One calendar and, therfore, it should favour the cars that are powered by the cutting-edge Mercedes engines, particularly those of the Silver Arrows team of Hamilton and Rosberg.
Second, Hamilton has shown more of an aptitude for Monza than Rosberg. Four times in seven Italian Grand Prix races has Hamilton qualified on the front row of the grid, taking pole position in 2009 and 2012 and taking the chequered flag first in 2012. Hamilton's Italian Grand Prix record would be even better if he had not experienced some bad luck along the way. For example, he was involved in an accident when third in the 2009 Italian Grand Prix and he was impeded during his flying lap during the second qualifying session for last year's race, an incident that consigned him to 10th spot on the grid. That Adrian Sutil was given a three-place penalty for blocking Hamilton was scant consolation. Rosberg has not finished higher than fifth in any Italian Grand Prix since making his Formula One debut for Williams in 2006.
Third, Hamilton's mindset going into the Italian Grand Prix must be that he needs to win almost every races between now and the end of the Formula One season to have a good chance of regaining the title that he won for the first time in 2008. Twenty-nine points separate Rosberg and Hamilton on the ladder so, if the Mercedes drivers were to finish second and first respectively in every race leading into the Abu Dhabi Grand Prix, the Briton would lead the German by 13 points with double points up for grabs in the desert. Rosberg would need only to snag one victory prior to the season-ending race to go into it with an advantage.
And finally, Formula One drivers are human beings and most human beings that find themselves in Rosberg's situation – with regards to both his position in the championship and the eyes of the public – take their feet off the gas. One believes that there is a good chance that Rosberg will approach the Italian Grand Prix cautiously, thereby leaving the door wide open for Hamilton to drive through it.
One cannot come up with a decent reason to support Rosberg over Hamilton in the Italian Grand Prix. Almost everything points to Hamilton finishing ahead of Rosberg and, because Mercedes should be better suited to Monza than its rivals, it makes more sense to back the Briton at odds of 2.00Bet €100 to win €2001/1Bet £100 to win £200+100Bet $100 to win $2001.00Bet HK$100 to win HK$2001.00Bet Rp100 to win Rp2001.0000Bet RM100 to win RM200 to win the Italian Grand Prix than at odds below even money simply to beat the German. One supposes that any Rosberg punters are betting on Hamilton losing his cool, which he has been known to do in the past, and not finishing.
Mercedes has won nine of this year's 12 Formula One races and, in a clear sign that the Silver Arrows team is the one to beat, either Hamilton or Rosberg has occupied pole position for 11 of those dozen events. Basically, if Mercedes does not contribute to its own downfall, it should provide the Italian Grand Prix winner and one thinks that Hamilton is more likely to be that driver than Rosberg.
Tips Summary
Hamilton to win Grand Prix
7th September 13:00 GMT
Odds: 2.00Bet €100 to win €2001/1Bet £100 to win £200+100Bet $100 to win $2001.00Bet HK$100 to win HK$2001.00Bet Rp100 to win Rp2001.0000Bet RM100 to win RM200
Where to Bet: Bet Victor
Bet Victor
Forumula One
Grand Prix
Hamilton
Monza
Rosberg
Tips