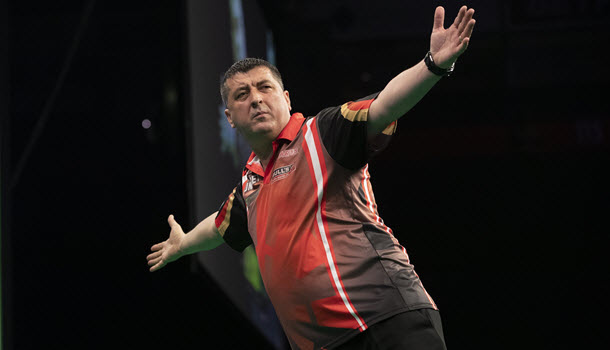 Lots of permutations this week as the race for semi-final spots reaches a climax. Four players are chasing the final two places at the O2 in London.
James Wade, Mensur Suljovic, Gerwyn Price and Daryl Gurney are the men under pressure.
All four have their destiny in their own hands, but even if they lose can also qualify if other results go their way.
Michael van Gerwen and Rob Cross have their own private battle to see who tops the table and picks up a nice £25K bonus.
It's all very complicated and our experts will explain the various possibilities.
We expect Daryl Gurney and James Wade to be the two contenders left standing when the dust is settled.
Get the best odds on Premier League Darts with our selected bookmakers below:
Week Fifteen – First Direct Arena, Leeds
Thursday 16th May Sky Sports Action, Sky Sports Mix
Gerwyn Price v Peter Wright
Daryl Gurney v Michael Smith
Michael van Gerwen v Mensur Suljovic
James Wade v Rob Cross
2019 Unibet Premier League Darts Week Fifteen Match Previews
Current standings
| | | |
| --- | --- | --- |
| | Points | Leg Diff |
| Rob Cross (Q) | 22 | +28 |
| Michael van Gerwen (Q) | 21 | +37 |
| James Wade | 18 | +18 |
| Mensur Suljovic | 17 | +2 |
| Daryl Gurney | 17 | +2 |
| Gerwyn Price | 16 | +1 |
| Peter Wright (Eliminated) | 10 | -21 |
| Michael Smith (Eliminated) | 9 | -27 |

2019 Unibet Premier League Darts Week Fifteen Permutations
Rob Cross is already qualified for Finals Night. However, there is a sizeable £25K bonus for winning the league. Plus serious bragging rights obviously. Voltage just needs to match the result of MVG on the night to guarantee himself first place.
Michael van Gerwen also has his eye on that £25K bonus. He needs to get a better result than Cross, so it is out of his hands. He has the advantage of playing before Cross, so he'll hope to get the win to put the heat on. And then he will hope for a favour from James Wade.
James Wade could be under severe pressure himself by the time he plays Cross. A draw or win definitely gets him in. And he will qualify regardless if either Suljovic or Gurney fail to win. But if both gain a victory then he will be really under the gun.
Mensur Suljovic will be chasing a win against MVG. A draw or even a defeat may be good enough if Price and Gurney fail to win. But with that duo up against eliminated opposition, there is every chance the Austrian may need to get something against the World Champion.
Daryl Gurney is in a tricky spot. A win will put him into the Top 4, but possibly only temporarily. He then must hope that Suljovic doesn't beat MVG by a similar or better margin. If that nightmare happens then Superchin will be relying on Rob Cross to beat James Wade. If Gurney and Suljovic finish level on points and leg difference, then further tie-breakers come into play. Next is Legs Won Against Throw, which currently favours the Austrian.
Gerwyn Price can't catch Wade, so fourth place is the best he can hope for. Getting a win whilst Suljovic and Gurney fail to win is his path to the O2. A draw will be enough if his two rivals suffer defeats.
After disappointing campaigns, Peter Wright and Michael Smith only have pride to play for this week.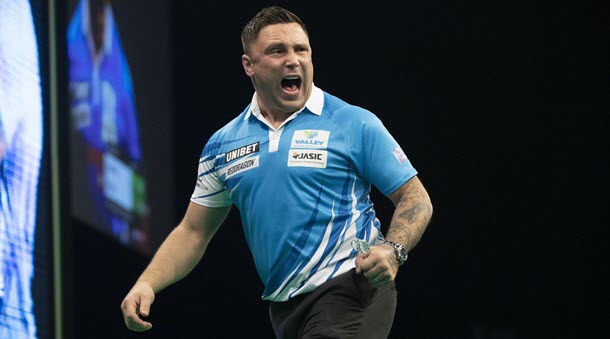 Gerwyn Price v Peter Wright
Tip – Gerwyn Price to win 2.30
Price was in a strong position for a playoff spot a few weeks ago but has had a bad run-in. Controversy has been a factor in his recent matches.
He caused himself lots of problems in his encounter with James Wade, behaving poorly on stage from the start. His match against Daryl Gurney in Sheffield last week was equally feisty with the players nearly having a fist-fight at the end. Price did appear to be the innocent party on this occasion. If he can keep properly focused against Wright then he has every chance of a victory.
Snakebite has had a terrible Premier League. He has shown little spirit since it became apparent a month ago that he wasn't going to make the Top Four. He did show good form at the weekend with a deep run in the European Darts Grand Prix, including a victory over MVG. It's unlikely he'll be able to translate that form to the Premier League. Another defeat looks on the cards this week.
Daryl Gurney v Michael Smith
Tip – Daryl Gurney to win 2.35
Superchin has hung on admirably in the race for a playoff spot. Beating MVG twice has been his highlight, although there have been a few lowlights along the way. He will need to keep his focus, unlike in his encounter with Gerwyn Price last week. He needs a win here and is capable of achieving it. Then he must hope other results go his way.
Bully Boy has shown glimpses of form over the last month. He has gained no wins but has achieved draws against Wade and Suljovic to dent their progress. He does look in need of a break though, with another early defeat in the European Darts Grand Prix at the weekend.
Michael van Gerwen v Mensur Suljovic
MVG has had a curious campaign with some unexpected setbacks. Despite beating Rob Cross twice, he trails that rival in the table. He has been in excellent form in other PDC events with a trio of £25K wins in the last month. He brought some of that sparkle to the Premier League last week with a season-high average of 110. He should win this with ease and then it's over to Voltage to respond.
The earlier matches will have a significant influence on this match. Suljovic will need to win if both Price and Gurney have won their games. However, if results go his way then a close defeat would be enough for Mensur. I expect MVG to get the win regardless.
James Wade v Rob Cross
Tip – James Wade to win 3.00
This is another game where the earlier results will have a huge influence on the approach of the players.
Cross might already be guaranteed first place and have nothing to play for. On the other hand, he could need the win to gain that coveted number one spot.
Wade might be out of the playoff spots and under huge pressure to get a result. Alternatively, he might be already qualified and able to enjoy himself. He could also be in a position to decide whether he plays MVG or Voltage in the semi-finals, which could lead to interesting gameplay scenarios.
Both have had fine campaigns and there isn't a lot between them ability wise.
At the prices, preferences must be for the Machine.
2019 Unibet Premier League Darts Week Fifteen Tips
Gerwyn Price to beat Peter Wright 2.30
Daryl Gurney to beat Michael Smith 2.35
James Wade to beat Rob Cross 3.00
Feel free to us know what you think of our tips. Click the button below and Share on Facebook or Twitter and tell us if you agree or disagree with our selections!
Daryl Gurney
Gerwyn Price
james wade
Mensur Suljovic
Michael Smith
michael van gerwen
PDC Premier League Darts
peter wright
Rob Cross