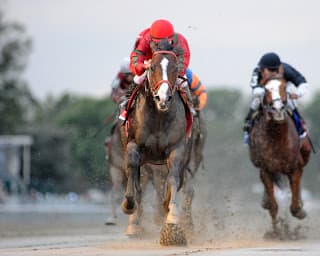 Most horses might be a prohibitive favorite if they had shown some dominance in a particular race and on a particular track.
For Flat Out, however, that is not exactly the case. But that's how accomplished the field he'll be facing on Saturday is.
The horse who has won the Jockey Club Gold Cup twice in a row is only the second choice as the big event approaches.
Only one other horse has won this race more than twice; that was the legendary Kelso, who won it five times in a row from 1960 to 1964.
When Flat Out goes to the gate on Saturday, he will be going after his sixth win in seven career starts at Belmont. His problem is that there are others who have distinguished themselves either at this venue or at this distance (a mile and a quarter) in a rather decorated field.
The Jockey Club Gold Cup is a significant race for many reasons. Not only is it a Grade I designation and a $1 million purse, it is also the first opportunity for many of the top three-year-olds in the country to meet up with outstanding older horses. All of this builds up to the November 2 Breeders Cup at Santa Anita Park, and the winner of this race gets an automatic entry into the Breeders Cup Classic.
Here are the horse racing odds on this event as they are currently posted by the folks at Bovada:
Cross Traffic 5/2
Flat Out 3/1
Palace Malice 4/1
Orb 9/2
Alpha 8/1
Last Gunfighter 10/1
Ron the Greek 12/1
Vitoria Olimpica 20/1
Cross Traffic, the favorite here, was the winner of the Whitney Handicap and is expected to shoot to the front at the first opportunity. Breaking from the front, he'll have some clearance to do that. This is the race his connections, including Todd Pletcher, have been gunning for. They skipped the Woodward to prepare for this one.
In years past, this horse would not have rated the favorite's role; through 1975 it was a two-mile race, then was dropped back to a mile and a half (same distance as the Belmont Stakes) before settling in at a mile and a quarter in 1990.
Flat Out has really come alive as an older horse, and has shown a real affinity for Belmont, with earnings of $1.6 million there. But there are at least several others you can give a realistic chance to.
Indeed, the threats to Flat Out's "Three-peat" don't stop with Cross Traffic.
Orb won the Kentucky Derby, and is the fourth choice here, at 9/2 in the Bovada horse racing odds.
Palace Malice, also trained by Pletcher, is an interesting proposition for certain. Even though there was a poor performance in the Kentucky Derby, the Belmont Stakes was all his, romping home to victory by three and a half lengths. There's a strong pedigree too; Palace Malice's sire is Curlin, who won the Jockey Club Gold Cup back in 2007, then went on to win the Breeders Cup Classic as well. There are only three horses who have done that; Cigar and Skip Away preceded Curlin in pulling off that "double."
Speaking of doubles, Orb is trying to complete one that is also very rare, as he is attempting to become the first horse to win the Kentucky Derby and the Gold Cup in the same year.
Then there is Alpha, the Woodward winner over Orb, who is going off at 8/1 here. The Woodward triumph was his first since the Grade I Travers last year.
Ron the Greek, like Flat Out also trained by Hall of Famer Bill Mott, ran fourth in the Woodward this year, and has run no worse than fourth in four different Grade I events this year. After winning the Santa Anita Handicap and Stephen Foster Handicap, Ron the Greek was sixth in last year's Jockey Club Gold Cup.
Last Gunfighter, who goes off at 10/1, has never been out of the money. He won six straight races from last October through the Pimlico Special in May. last time out came a win in the Iselin at Monmouth. But this is heavy company for a horse who lost to Flat Out in his only appearance venturing into anything as high as Grade 2 (the Suburban at Belmont).
Rounding out the field is another horse that brings some intrigue. Vitoria Olimpica, priced at 20/1 at Bovada, is another Pletcher-trained horse, has won in Group I in Brazil and went a strong mile and an eighth in winning on Saratoga's dirt track on August 22. With two starts in the U.S., there are those who think Pletcher has him in the field to somehow facilitate things for his other two, more highly-decorated charges.
Bet the horses the right way – get an account open at Bovada and test your handciapping skill in the big events!