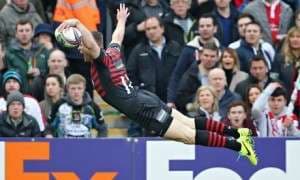 Backing Heineken Cup underdog Saracens to score the first try at odds of 2.15 with William Hill is the best way to attack the biggest club game in European rugby union.
Bookmakers have installed defending champion Toulon as the Heineken Cup final favourite, with the majority of handicap markets awarding three points to Saracens. Those are odds that are difficult with which to argue, particularly as Toulon defeated Saracens by 12 points in the semi-finals of last season's competition and no English team has won the tournament since London Wasps triumphed seven years ago.
Saracens will have its Heineken Cup final supporters since it has been the form side of the English Premiership in the second half of the season and, while the Millennium Stadium in Cardiff will stage the championship decider, it will feel much more like than a Sarries home game than a Toulon one.
But Saracens has a major injury doubt in the shape of its captain, Steve Borthwick, who damaged his pectoral muscle against Harlequins last weekend. Pectoral injuries are a nightmare and they have been known to scrub out players for months so, while Saracens is making noises that Borthwick may be fit to face Toulon, the odds are against him. If Borthwick fails to prove his fitness to Saracens staff, Sarries will probably field a second-row combination of Alastair Hargreaves and a patched-up Mouritz Botha. That would put Saracens at a distinct disadvantage against a Toulon team with seasoned internationals in that area.
If Saracens could put out its best possible side then one may be interested in backing it, either straight up or against the spread. Saracens and Toulon have had three common opponents this term – Clermont Auvergne, Exeter and Toulouse – and our analysis of those 11 matches across three competitions rates Sarries on top by a handful of points.
But instead of backing Saracens to take out the Heineken Cup final or, at least, run Toulon extremely close, one is much more interested in betting on Sarries to score the opening try. Markets on eventualities such as the first try have their origins in the betting on the game result and, from time to time, bookmakers should do more than just derive prices by pressing a button. This is one such time.
Toulon is not known for its try-scoring prowess. Toulon scored 12 fewer tries than Clermont Auvergne in the French Top 14 this season. Toulon kicked all its 24 points versus Munster in the Heineken Cup semi-finals. And Toulon has the most accurate goal kicker in rugby union, Jonny Wilkinson, on hand to convert any kickable penalty that it receives.
Wilkinson has had a great career but he has made his name as a goal-kicking number 10 whose defensive work is better than his offensive work. Toulon is a pragmatic team that plays to its strengths so one expects it not to try anything fancy in the Heineken Cup final. That means playing for territory and trying to force Saracens into mistakes close to goal.
One expects Saracens to be easily the more expansive of the Heineken Cup finalists because, if it tries to beat Toulon at its own game, it is likely to end in tears. Saracens did not score a lot of tries in the English Premiership – 35 in 22 matches – but it crossed for six five-pointers in its Heineken Cup semi-final smashing of Clermont Auvergne and one thinks that it will throw caution to the wind again.