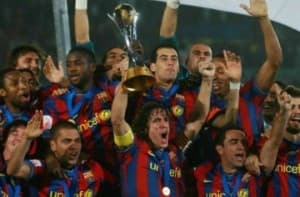 The FIFA Club World Cup is the annual football tournament featuring the reigning champion teams of the six continental confederations – AFC, CAF, CONCACAF, CONMEBOL, OFC and UEFA – that has been a permanent fixture in the calendar after absorbing the long-running Intercontinental Cup in 2005.
The 2012 FIFA Club World Cup will be the ninth edition of the competition and comprise the following seven sides: Al Ahly (AFC), Auckland (OFC), Chelsea (UEFA), Corinthians (CONMEBOL), Monterrey (CONCACAF), Ulsan (AFC) and, because Japan is hosting the event, Hiroshima (champion of Japan).
However, Hiroshima is not one of the two Japanese cities in which this year's FIFA Club World Cup matches will take place, with the eight games split between Toyota and Yokohama, kicking off on 6 December 2012 with a play-off between Auckland and Hiroshima for a quarter-final berth.
The winner of Auckland versus Hiroshima will earn a match against Al Ahly, with the quarter-final victor lining up versus Corinthians in the semis. And Monterrey and Ulsan will fight for the right to play Chelsea in the last four.
FIFA Club World Cup Betting Tips
Betting on the winner of the 2012 FIFA Club World Cup really is as simple as picking either Chelsea or Corinthians. All eight previous editions have been won by teams from either the UEFA or CONMEBOL confederations, with European sides taking out the last five titles after South American teams had won the first three. It would be an enormous shock if neither Chelsea nor Corinthians lifted aloft the trophy, so much so that bookmakers are not being overly generous even in quoting third favourite Monterrey at odds of around 12-1.
Chelsea is odds on across the board but Roman Abramovich's billions mean that he is just about the only person who can afford to back the Blues at around the 8-13 mark and not worry about losing a few quid. Other than the fact that UEFA's representative won the FIFA Club World Cup in 2007, 2008, 2009, 2010 and 2011, there is no logical argument as to why Chelsea should be as short in the betting as it is.
Crisis club is a term bandied around all too easily these days but it applies to Chelsea now. In fact, it has applied to the Blues for much of Abramovich's nine years as its plutocratic owner because the Russian loves nothing more than hiring and firing managers. Rafa Benitez is the 10th person to pick a Chelsea side during the Abramovich era.
There are rumours circulating that Chelsea will have to win this year's FIFA Club World Cup for Benitez to have a job after the tournament. It is mark of the mess in which the Blues find themselves that the rumours are believable. Their fans hate Benitez. Yes, they hate him. Hate is a very strong word but it is the most appropriate way to describe the emotion that Chelsea supporters feel for the Spaniard.
Chelsea is unbackable at around 8-13. The Blues have not won any of their last six matches and their winless run would be eight games had Victor Moses not scored a 94th-minute goal to beat Shakhtar Donetsk 3-2 at Stamford Bridge last month in the Champions League.
So that leaves Corinthians, the Copa Libertadores champion that is trading at odds of around 12-5. The Brazilian side is taking the event seriously, so much so that its coach, Tite, admitted that his players were thinking of Japan during their last couple of Serie A matches. Corinthians went through last term's Copa Libertadores campaign without losing a game – eight wins and six draws – thereby becoming the first unbeaten winner since Boca Juniors in 1978.
At the odds, Corinthians makes much more appeal than Chelsea and the Brazilian team is in the easier half of the draw, which is another small bonus. Back Tite's men at 12-5.
FIFA Club World Cup Betting Offers
With neither Chelsea nor Corinthians joining the 2012 FIFA Club World Cup fray until 12 December, bookmakers have been slow off the mark with their tournament betting offers.
However, one can bank on the usual array of football betting offers, many of which pertain to goal scorer markets. For example, there is Betfred's Double Delight/Hat-trick Heaven promotion. Back a player to score the first goal and if he does that and then goes on to bag a brace, Betfred will double the first goal scorer price. If he scores first and then goes on to snag a hat-trick, Betfred will triple the first goal scorer price. It is worth noting that extra time, which is a possibility in this year's FIFA Club World Cup matches, does not count for the purposes of this offer.
Naturally, if one has not done so already, it makes sense to open as many online betting accounts as possible to pick up all the free bets and deposit bonuses that are available.
Football Betting Sites
FIFA Club World Cup Betting Strategies
Oppose Mexico's Monterrey
Bookmakers believe that Monterrey is the side most likely to triumph if both Chelsea and Corinthians flop but that does not feel right. The Mexicans have drawn three and lost two of their last five games and occupy seventh place in their domestic league after 17 rounds. Monterrey faces Ulsan in the 2012 FIFA Club World Cup quarter-finals and it is a false favourite based on a whole bunch of statistics.
Avoid emotional Al Ahly
It is probably sensible to avoid Al Ahly's matches in this year's FIFA Club World Cup because the Egyptian team will be playing on raw emotion following the deaths of dozens of Al Ahly fans at a domestic game not all that long ago.
Expect high-scoring matches
FIFA Club World Cup games have a history of being high scoring, with the 2.5 total being exceeded 39 times out of 67 matches, including 17 times out of the last 24 games.