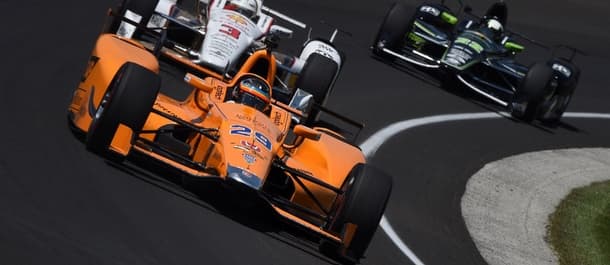 A two-pronged attack on Sunday's Indianapolis 500 makes good sense from a punting perspective, with one's picks being its most famous debutant and a former winner of the race.
Inferior Formula One drivers to Fernando Alonso have made the grade in North America and, therefore, one is expecting big things of the Spaniard in the Indianapolis 500. Alonso managed to win two editions of the Formula One title despite not having the best equipment and it is sad to see him near the back of the 2017 pack because his McLaren is not up to scratch. The only enjoyable bit about watching Alonso in Formula One is his increasingly blunt radio messages and media conferences in which he sprays his team colleagues.
The IndyCar progress that Alonso has made since arriving in the United States of America has been remarkable and speaks volumes for the talent behind the driver. One is confident that Alonso is the most skilled Indianapolis 500 competitor and, consequently, one can understand why William Hill is listing him at favourite odds of 7.00Bet €100 to win €7006/1Bet £100 to win £700+600Bet $100 to win $7006.00Bet HK$100 to win HK$7006.00Bet Rp100 to win Rp700-0.1667Bet RM100 to win RM700 to win the race. For example, Juan Pablo Montoya won editions of the Indianapolis 500 either side of his six-year Formula One stint in which he did not match Alonso's achievements. Montoya will start the 2017 Indianapolis 500 from 17th place on the grid after qualifying no fewer than 12 positions worse than Alonso.
One thinks that it is significant that Alonso steered his McLaren to seventh spot on the grid for the Spanish Grand Prix in the Formula One race before departing for the Indianapolis 500. It was an incredible effort – his McLaren teammate, Stoffel Vandoome, was 19th of 20 – and shows that Alonso is up for the challenge of winning the Indianapolis 500 on debut. Alonso has his game face on and, having made progress every time that he has raced on the Indianapolis Motor Speedway oval, one would not be at all surprised if he turned fifth in qualifying into first in the race itself.
Backing Alonso one out in the Indianapolis 500 would be a risky strategy, perhaps even an arrogant one. Therefore, one is going to dutch Alonso with the Indianapolis 500 pole sitter, Scott Dixon. Dixon leads the IndyCar Series points ladder so his Indianapolis 500 pole position is not a fluke and the New Zealander won the 2008 edition of the historic race after qualifying fastest for it. Dixon, who was born in Australia before relocating to New Zealand when he was just a boy, has been the star of the Indy Car Series this year, posting two seconds, one third, one fourth and one fifth in its opening five rounds. None of the other IndyCar Series points frontrunners has qualified well for the Indianapolis 500 so the likes of Simon Pagenaud, Will Power and Josef Newgarden are going to find it difficult to overtake both Dixon and Alonso during the 200-lap race this weekend.
William Hill is quoting odds of 9.00Bet €100 to win €9008/1Bet £100 to win £900+800Bet $100 to win $9008.00Bet HK$100 to win HK$9008.00Bet Rp100 to win Rp900-0.1250Bet RM100 to win RM900 about Dixon winning his second Indianapolis 500 race so dutching Alonso and the Kiwi with the same bookmakers results in a wager that has the potential to pay odds of approximately 3.94Bet €100 to win €394147/50Bet £100 to win £394+294Bet $100 to win $3942.94Bet HK$100 to win HK$3942.94Bet Rp100 to win Rp394-0.3401Bet RM100 to win RM394 . The world will be watching the Indianapolis 500 with great interest because of Alonso's participation and the dutched bet strikes one as a good way to spice up one's viewing with a value punt. For the record, the pole sitter has won 20 of the 100 editions of the Indianapolis 500 so Dixon looks well overpriced at odds of 9.00Bet €100 to win €9008/1Bet £100 to win £900+800Bet $100 to win $9008.00Bet HK$100 to win HK$9008.00Bet Rp100 to win Rp900-0.1250Bet RM100 to win RM900 on those numbers, while Alonso is a class act.
Tips Summary
Dutch Alonso and Dixon to win the Indy 500
Sunday 28th May
Odds: 3.94Bet €100 to win €394147/50Bet £100 to win £394+294Bet $100 to win $3942.94Bet HK$100 to win HK$3942.94Bet Rp100 to win Rp394-0.3401Bet RM100 to win RM394
Fernando Alonso
Indy 500
Motor Racing
Scott Dixon