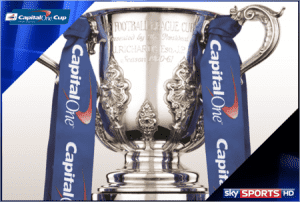 The 2013 English Capital One Cup final between Swansea and Bradford will be one of the most talked-about games in an English football competition that has 53 years of history.
When the Gregorian calendar hit 2000, Swansea was playing in England's fourth division and Bradford was rubbing shoulders with Manchester United et al in the English Premier League.
Thirteen years on and Swansea in the top half of England's top flight after gaining promotions in 2005, 2008 and 2011, whereas Bradford is in the English basement after suffering relegations in 2001, 2004 and 2007. The paths of the Swans and the Bantams crossed during a couple of English League One seasons in the mid 2000s, with Swansea winning one and drawing the other three of its matches versus Bradford.
What is currently known as the English Capital One Cup began its life in 1960. Liverpool is the most successful team in the tournament's history, with eight titles and another three losing final appearances. Aston Villa is next on the competition's honour roll with five wins, while Chelsea, Manchester United, Nottingham and Tottenham have four wins apiece. All up, 22 sides have tasted championship glory.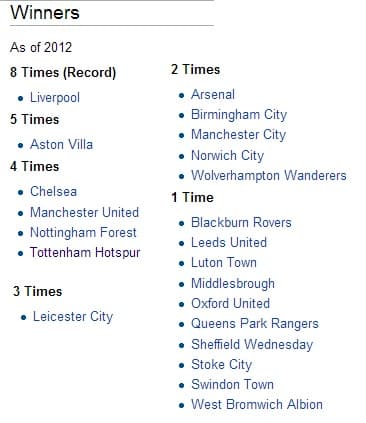 Source:
http://en.wikipedia.org/
Remarkable Run For The Bantams
Bradford's feat in the reaching the 2013 English Capital One Cup final is remarkable but it is not the first time that a team from England's fourth tier has made it through to the title decider. Rochdale faced Norwich in the 1962 final, which took place over two legs. The Dale lost 0-3 at Spotland and 0-1 at Carrow Road to lose 0-4 overall.
To get to Wembley Stadium, Bradford has eliminated Notts County (1-0 away), Watford (2-1 away), Burton (3-2 home after extra time), Wigan (4-2 on penalties after a 0-0 away draw), Arsenal (3-2 on penalties after a 1-1 home draw) and Aston Villa (4-3 on aggregate following a 3-1 home win and 1-2 away loss). The Bantams have earned their place in the 2013 English Capital One Cup final, winning three ties on the road and beating three English Premier League sides.
Bookmakers Cannot See Past Swans
Even though the Dalai Lama is firmly in Bradford's camp – he the Tibetan spiritual leader received a personalised Bantams shirt last year and his representative, Thubten Samdup, has sent a pre-2013 English Capital One Cup final letter of support – bookmakers are favouring Swansea strongly.
Swansea is trading at odds of around 1-6 to win its first truly major honour – one cannot really count the Welsh Cup – and the Swans are around the 2-5 mark to beat Bradford in normal time of the 2013 English Capital One Cup final.
The Bradford story is so romantic that bookmakers will field a lot of small bets not only from Bantams fans who bleed claret and amber but also from football supporters who want to be part of the West Yorkshire team's adventure.
Bantams Better Than Their Recent Results
The hearts of 2013 English Capital One Cup final punters will be with Bradford but where should their heads be?
First things first, Bradford is a better side than the raw results of its post-Christmas 2012 games in competitions other than the English Capital One Cup suggest. Since the Bantams made international headlines by beating Arsenal in mid December, they have won two, drawn four and lost seven of their 13 matches excluding their two-legged tie against Aston Villa. One can attribute Bradford's poor results to two factors: a lack of focus because its players have had their heads turned and Bantams boss Phil Parkinson choosing to rest key players ahead of the Wembley Stadium showdown.
Bradford will be switched on to face Swansea and the large crowd will not overawe its players. The Bantams are the biggest club in English League Two, averaging attendances of more than 10,000 people at a ground that would be the envy of many clubs in the top two levels of the English pyramid.
But can Bradford become the first team since 1991 champion Sheffield Wednesday to win the tournament while not playing in England's top flight? One would think that the Bantams must keep the game low scoring to have a genuine chance.
Focus On Goals, Corners And Shootout Markets
There are goals, corners and penalty shootout markets (prop bets) that stand out as the best avenues for 2013 English Capital One Cup final punters to explore in the search for great value.
Swansea is a relatively low-scoring side by English Premier League standards – the Swans have scored 38 goals in 27 league matches, or 29 goals in 25 league games if one excludes its thrashings of bottom team Queens Park Rangers – and Bradford manager Parkinson will, if he has any sense, settle upon a tactical approach that exercises caution.
One can bet at odds against that the 2013 English Capital One Cup final does not feature three or more goals. That leaps off the page as a decent bet considering Swansea's poor scoring statistics, particularly away from home, and the high probability of Bradford playing defensively.
Without wishing to be unkind, Bradford is a typical English League Two side in that it carries more of a threat to an elite team such as Swansea in the air than it does on the ground. The Bantams will fancy their chances of unsettling the Swans at set pieces so they will play for them, meaning a bet on a fairly high corner kick count appeals. After all, the weight of possession is likely to lie with Swansea so it should force more than its fair share of corners. Odds of around 6-4 about at least 11 corners are reasonable.
Finally, it is worth noting that Bradford has won nine – yes, nine – consecutive penalty competitions. Maybe that is the fun bet for 2013 English Capital One Cup final punters who want to be cheering for the massive underdogs.