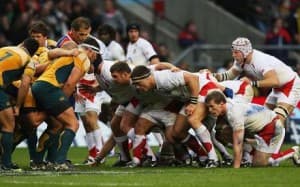 It can only be a matter of time before the Australian Rugby Union shows the door to Robbie Deans but, in the meantime, profit by opposing the Wallabies on their tour of Europe.
It seems that Deans has not only lost the Australia dressing room but also the country. Last weekend's 6-33 loss in Paris to a France side that few rugby union analysts rate highly was the final straw for many Wallabies supporters who cannot comprehend why Deans received a new contract just before last year's Rugby World Cup in his native New Zealand.
Some might say that Deans has been a little unlucky and it is true that Australia's injury list was pretty long during this year's inaugural Rugby Championship and has continued to grow in Europe. However, the Wallabies would not be in such terrible health if players such as Luke Burgess, Matt Giteau and George Smith were wearing the green and gold colours. Unfortunately, Deans got offside with them.
Australia will run out versus England at Twickenham having gone 175 minutes without scoring a try. Their critics have labelled them the Dullabies and no less than Michael Lynagh, the hugely respected Wallabies five-eighth in their 1991 Rugby World Cup-winning team, has come out and warned that they risk humiliation against their colonial masters.
Lynagh has offered conditional support to Deans – he feels that it would be unfair for the Australian Rugby Union to jettison the Kiwi because a second-string Wallabies are playing badly – but one gets the feeling that the all-round nice guy does not want to kick a bloke while he is down.
It would appear that bookmakers are being overly kind to Australia as well because they have installed the Wallabies as less than converted-try underdogs versus England. On the evidence of recent matches between the sides and the results of last weekend's games in London and Paris, the spread should be greater than the general six-point handicap.
England has won its last two matches against Australia. At Telstra Stadium in Sydney last year, the English prevailed 21-20 thanks to a Jonny Wilkinson penalty at the scene of his greatest triumph, the 2003 Rugby World Cup final. And they followed up that with an impressive, record-equalling 35-18 victory at Twickenham five months later.
There have been 10 November internationals at Twickenham between England and the Wallabies in the professional era and the ledger shows that, even when Australia was in its pomp, it found it difficult to win, let alone comfortably. England leads the series five wins to four – there was a 15-15 draw in 1997 – and the points tally 204 to 193.
With England's confidence sky high following its record defeat of Fiji and the under-strength Wallabies copping vitriol from all quarters, bookmakers should have given Australia more points on their main handicap lines.
There does not seem to be upside in backing the Wallabies in receipt of just six points given that they lost by 27 to a France side which most people would rate, at best, on a par with England. So back the home team against the spread before it moves because it is only going to go one way.