England will have a test of their championship mettle against South Africa before their campaign in the ICC Champions Trophy.
Eoin Morgan's men play the Proteas in a three-match series to build-up before the tournament and will be looking for a series win to send them forward with momentum.
The Three Lions responded to their last defeat in India at the start of the year with back-to-back series wins over the West Indies and Ireland.
England secured a 3-0 whitewash victory over Jason Holder's side in the Caribbean without moving out of first gear. It was the same story against the Irish, overcoming the minnows without a number of their key players, who were away on IPL duty.
Morgan's men now have the challenge of facing the number one ranked side in the world ahead of the ICC Champions Trophy, providing an excellent gauge of where the Three Lions stand ahead of the tournament on home soil.
South Africa are a star-studded line-up full of experienced players along with two of the most exciting talents in the game in the form of Kagiso Rabada and Quinton de Kock.
As a result, the series should provide great entertainment between two of the best limited-overs sides in the world – and could well be a preview of the final of the ICC Champions Trophy.
We'll now breakdown the match-up between England and the Proteas and look at the best betting odds for the series.
Top England Batsman
Alex Hales was on form for the Three Lions in their series against Ireland, proving his worth at the top order by getting his side off to strong starts in both matches.
The 28-year-old needed to build on his century in the final match of the series against the West Indies after previously missing portions of their tour of India and Bangladesh over the winter.
Hales looked in good rhythm to score his runs albeit against a pedestrian attack, notching 55 and 32 in his two innings. However, on his return to the county game he scored a century against a strong Durham attack, featuring Mark Wood.
England need the opener to fire as South Africa boast strong batting unit themselves, with the series likely to be a high-scoring affair. He has the form and the ability to get the Three Lions off to blistering starts in all three matches, therefore backing him 10/3 to lead the way for Morgan's men in the series at 4.33Bet €100 to win €433333/100Bet £100 to win £433+333Bet $100 to win $4333.33Bet HK$100 to win HK$4333.33Bet Rp100 to win Rp433-0.3003Bet RM100 to win RM433 with Bet365 would be a wise move.
Top South Africa Batsman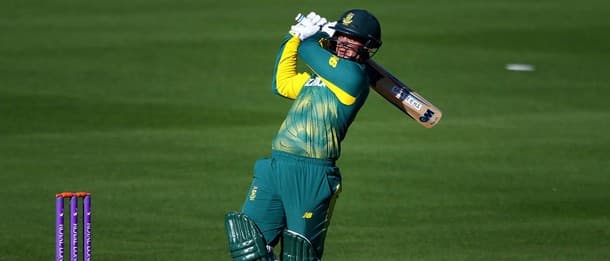 The Proteas have a number of talented batsmen at their disposal led by AB de Villiers and Hashim Amla. Both players have been at the top of the sport for the past decade and will be determined to make their impact at a major tournament, but will need to find their form first.
De Kock is the rising star of South Africa's batting line-up due to a number of eye-catching performances, including his brilliant century to guide his side to victory over Australia last year.
The 25-year-old blasted 178 off 113 deliveries, including 11 sixes, allowing his team to canter to a comfortable win with 13 overs to spare.
He has just as much destructive talent as De Villiers at the top of the innings and should provide the England bowlers with plenty to worry about over the course of the series.
De Kock is striving to join Joe Root, Steven Smith, Virat Kohli and Kane Williamson as the perceived best talents in the world and a dominant summer will prove his point. As a result, backing him to top score for South Africa in the series against England at 4.00Bet €100 to win €4003/1Bet £100 to win £400+300Bet $100 to win $4003.00Bet HK$100 to win HK$4003.00Bet Rp100 to win Rp400-0.3333Bet RM100 to win RM400 would be a solid punt.
Top England Bowler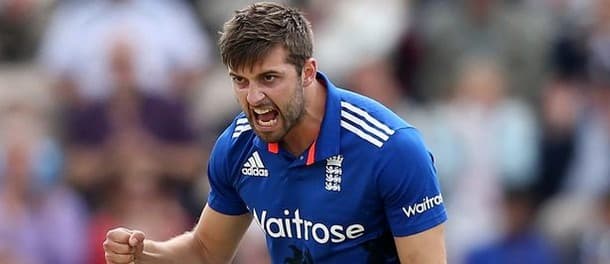 One of the biggest questions marks ahead of the ICC Champions Trophy surrounds England's bowling attack. The Three Lions lack experience in the line-up, with only one of the main line bowlers boasting over 50 caps in ODI cricket.
The current crop have been together over the past two years since England's failure at the 2015 World Cup and have formed a solid unit, although there has been superstar emerge. Chris Woakes and David Willey have been steady performers, especially in English conditions but will not strike huge amounts of fear into opposing batsmen.
Wood on the other hand has the pace and the ability to swing the ball that will cause problems from one to 11. The Durham speedster had a lot of issues with his ankle, missing the tour of the subcontinent over the winter due to his injury. He has returned to form for his county this term, but England need him to shine on the big stage to drag them over the line.
South Africa will provide an excellent test of his ability against high-quality batsmen. In the past he has risen to the occasion, therefore backing him to rack up wickets against the Proteas at 5.00Bet €100 to win €5004/1Bet £100 to win £500+400Bet $100 to win $5004.00Bet HK$100 to win HK$5004.00Bet Rp100 to win Rp500-0.2500Bet RM100 to win RM500 .
Top South Africa Bowler
England have historically struggled against spin bowling and against South Africa they will face one of the leading leg-spinners in world cricket.
Imran Tahir has been a revelation in limted-overs cricket and starred for Rising Pune Supergiant in the IPL, guiding his team into the latter stage of the tournament.
The 38-year-old is currently the top ranked bowler in both 50-over and 20-over cricket; boasting an outstanding average of 23.75 and accumulating 127 wickets in his 74 matches in ODIs.
For a leg-spinner his economy rate of 4.63 is even better, highlighting the challenge ahead of England's batsmen.
They may be forced to take the attack to Tahir, which will allow him to rack up the wickets. Backing him at 4.00Bet €100 to win €4003/1Bet £100 to win £400+300Bet $100 to win $4003.00Bet HK$100 to win HK$4003.00Bet Rp100 to win Rp400-0.3333Bet RM100 to win RM400 to end the series as South Africa's leading wicket-taker is the best to take.
Series Winner
England have been playing excellent ODI cricket of late, especially on home soil. However, South Africa have won seven out of their eight series, including their victory over the Three Lions early in 2016 when Morgan's men were beaten 3-2.
Both sides are stacked with quality players and will be boosted by the return of their stars from the IPL, therefore there should be little or no rust to speak of when battle commences on Wednesday.
They will be determined to put in strong performances to make a statement to rest of the teams competing in the ICC Champions Trophy, with England aiming to knock off the world's number one side, while the Proteas eyeing a victory over the pre-tournament favourite.
However, due to familiarity with conditions, England should just have enough to edge out their opponents to claim a narrow series win at 1.73Bet €100 to win €17373/100Bet £100 to win £173-137Bet $100 to win $1730.73Bet HK$100 to win HK$173-1.37Bet Rp100 to win Rp1730.7300Bet RM100 to win RM173 for the outright victory, while securing a 2-1 scoreline at 2.63Bet €100 to win €263163/100Bet £100 to win £263+163Bet $100 to win $2631.63Bet HK$100 to win HK$2631.63Bet Rp100 to win Rp263-0.6135Bet RM100 to win RM263 .
Tips Summary
England To Beat South Africa
24th May – 29th May 2017
Odds: 1.73Bet €100 to win €17373/100Bet £100 to win £173-137Bet $100 to win $1730.73Bet HK$100 to win HK$173-1.37Bet Rp100 to win Rp1730.7300Bet RM100 to win RM173
England To Beat South Africa By 2-1 Scoreline
24th May – 29th May 2017
Odds: 1.73Bet €100 to win €17373/100Bet £100 to win £173-137Bet $100 to win $1730.73Bet HK$100 to win HK$173-1.37Bet Rp100 to win Rp1730.7300Bet RM100 to win RM173
Alex Hales To Be Top England Batsman
24th May – 29th May 2017
Odds: 4.33Bet €100 to win €433333/100Bet £100 to win £433+333Bet $100 to win $4333.33Bet HK$100 to win HK$4333.33Bet Rp100 to win Rp433-0.3003Bet RM100 to win RM433
Quinton De Kock To Be Top South Africa Batsman
24th May – 29th May 2017
Odds: 4.00Bet €100 to win €4003/1Bet £100 to win £400+300Bet $100 to win $4003.00Bet HK$100 to win HK$4003.00Bet Rp100 to win Rp400-0.3333Bet RM100 to win RM400
Mark Wood To Be Top England Bowler
24th May – 29th May 2017
Odds: 5.00Bet €100 to win €5004/1Bet £100 to win £500+400Bet $100 to win $5004.00Bet HK$100 to win HK$5004.00Bet Rp100 to win Rp500-0.2500Bet RM100 to win RM500
Imran Tahir To Be Top South Africa Bowler
24th May – 29th May 2017
Odds: 4.00Bet €100 to win €4003/1Bet £100 to win £400+300Bet $100 to win $4003.00Bet HK$100 to win HK$4003.00Bet Rp100 to win Rp400-0.3333Bet RM100 to win RM400
Ab de Villiers
cricket
England
Eoin Morgan
south africa