England eased to victory over India in the second Test, leaving the home side on the brink of securing the series.
The Three Lions were outstanding in a rain-affected contest at Lord's. They were able to take control of the match from the off due to a fine bowling performance from James Anderson to bowl out the tourists for 107 in their first innings.
Chris Woakes took centre stage with the bat. He replaced Ben Stokes brilliantly in the lower, scoring his maiden Test century, while Jonny Bairstow also played well with an innings of 93.
Joe Root's men were in a dominant position with a lead of 289 runs. Anderson's early inroads allowed them to ease their way to victory as Stuart Broad ripped through the middle order, with Woakes also notching a couple of wickets.
Even Virat Kohli had no response for the England attack in seaming conditions as the home side romped to victory by an innings and 159 runs. The India captain was also struggling with a back injury, which could hinder his play in the third Test at Trent Bridge.
England welcome Stokes back into the side after he was cleared of a charge of affray. However, Root and Trevor Bayliss now face a selection crisis after the performances of Sam Curran and Woakes thus far in the series.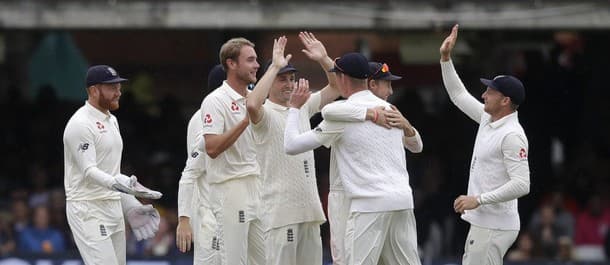 England's Top Batsman
Woakes was the surprise man to lead the way with the bat at Lord's. He played extremely well to reach three figures for the first time. Woakes was composed and was able to find the boundary, putting the India bowlers on the back foot in his partnership with Bairstow. Expect him to keep his place in the side for the contest at Trent Bridge. The Three Lions have a healthy competition for places, but one man under threat is Keaton Jennings. He needs a score at the crease to retain his spot alongside Alastair Cook. His opener partner has not been great himself, but still is capable of scoring a double hundred out of nothing.
The 26-year-old has not scored a fifty in his last seven Test matches. England have had a revolving door at the position next to Cook since the retirement of Andrew Strauss in 2012. Jennings could be on the way out once again as Rory Burns among others are pushing for a place. Therefore the Lancashire batsmen needs to find his touch in the middle. He's had a couple of starts and has the quality, but he desperately has to make a meaningful score. Back Jennings at odds of 7.00Bet €100 to win €7006/1Bet £100 to win £700+600Bet $100 to win $7006.00Bet HK$100 to win HK$7006.00Bet Rp100 to win Rp700-0.1667Bet RM100 to win RM700 with 888Sport to be England's leading batsman.
India's Top Batsman
India have been putrid outside of Kohli's performances with the bat in the first Test. They have not adapted to English conditions, failing to learn the lessons from their heavy defeats in 2014. To be fair to the tourists they were handed the worse of the conditions at Lord's. Whereas England batted in sunshine on day three, India endured cloudy skies, allowing Anderson then Broad to tear them apart. The problems have emerged at the top of the innings where Murali Vijay has been victimised by Anderson.
Shikhar Dhawan was dropped Lord's, but Lokesh Rahul and Cheteshwar Pujara also failed to fire. It put overwhelming pressure on Kohli and the rest of the team to score runs, although they too were unable to contend with the quality of the England attack. Conditions will not change a great deal at Trent Bridge where Anderson especially has thrived over his career. India need a strong start to their innings, beginning with the openers. Vijay scored a brilliant hundred in 2014 at Trent Bridge, albeit on a flat deck. Back Vijay at 6.50Bet €100 to win €65011/2Bet £100 to win £650+550Bet $100 to win $6505.50Bet HK$100 to win HK$6505.50Bet Rp100 to win Rp650-0.1818Bet RM100 to win RM650 for value with BetVictor to lead the way.
England's Top Bowler
Anderson continues to operate at an incredible level. He is now just 10 wickets behind Glenn McGrath for the most all time by a pace bowler. A stellar performance at Trent Bridge will take him past the Australia legend. The 36-year-old claimed nine wickets at Lord's, notching his 100th wicket at the venue in the process.
He now returns to another one of his favourite grounds in the hope of sealing the series for the Three Lions. Anderson has taken 60 wickets in nine matches in Nottingham at an average of 18.95. He has notched more five-wicket haul at Trent Bridge than any other venue, highlighting the danger to the India batsmen.
The strike rate of 40.6 is what will concern the tourists more than anything else. Anderson is unstoppable in Nottingham, while Broad is not bad either recording his infamous 8-15 against Australia three years ago. The flat deck got the better of the bowlers in 2014 in the draw between the two sides. However, on this occasion, Anderson will lead the way at odds of 2.90Bet €100 to win €29019/10Bet £100 to win £290+190Bet $100 to win $2901.90Bet HK$100 to win HK$2901.90Bet Rp100 to win Rp290-0.5263Bet RM100 to win RM290 with 888Sport.
India's Top Bowler
India need their pace bowlers to come to the fore at Trent Bridge. Mohammed Shami has had his moments in the series, but needs to become more consistent with ball in hand. If the pitch does not turn as it didn't at Lord's Ravichandran Ashwin becomes a spectator, nullified by England's right-handers. Shami took three wickets in his last outing and has found some movement with the new ball. He has built off his form from India's series in South Africa when he claimed 15 wickets.
Shami removed Jennings and Root with a couple of good deliveries. However, the 27-year-old was worn down over the course of the innings. His fitness could be the decisive factor as England were able to put miles in his legs that have not been tested in a lengthy Test series. Shami could be the one to provide a spark for the tourists at odds of 4.00Bet €100 to win €4003/1Bet £100 to win £400+300Bet $100 to win $4003.00Bet HK$100 to win HK$4003.00Bet Rp100 to win Rp400-0.3333Bet RM100 to win RM400 with BetVictor.
Match Verdict
England are rolling with their seamers putting the India batsmen well and truly on the back foot. The batsmen have not been required to be that good in the middle, doing enough to put enough runs on the board.
With Kohli ailing with a back problem and the rest of the line-up struggling to adapt to English conditions, expect the home side to wrap up the series at one of their favourite venues with relative ease. Take Root's men to claim the victory at Nottingham at odds of 1.57Bet €100 to win €15757/100Bet £100 to win £157-175Bet $100 to win $1570.57Bet HK$100 to win HK$157-1.75Bet Rp100 to win Rp1570.5700Bet RM100 to win RM157 with Betway.
Tips Summary
England To Beat India 3rd Test
Saturday 18th August 2018 – Wednesday 22nd August 2018
Odds: 1.57Bet €100 to win €15757/100Bet £100 to win £157-175Bet $100 to win $1570.57Bet HK$100 to win HK$157-1.75Bet Rp100 to win Rp1570.5700Bet RM100 to win RM157
Keaton Jennings To Be England's Top Batsman
Saturday 18th August 2018 – Wednesday 22nd August 2018
Odds: 7.00Bet €100 to win €7006/1Bet £100 to win £700+600Bet $100 to win $7006.00Bet HK$100 to win HK$7006.00Bet Rp100 to win Rp700-0.1667Bet RM100 to win RM700
James Anderson To Be England's Top Bowler
Saturday 18th August 2018 – Wednesday 22nd August 2018
Odds: 2.90Bet €100 to win €29019/10Bet £100 to win £290+190Bet $100 to win $2901.90Bet HK$100 to win HK$2901.90Bet Rp100 to win Rp290-0.5263Bet RM100 to win RM290
Murali Vijay To Be India's Top Batsman
Saturday 18th August 2018 – Wednesday 22nd August 2018
Odds: 6.50Bet €100 to win €65011/2Bet £100 to win £650+550Bet $100 to win $6505.50Bet HK$100 to win HK$6505.50Bet Rp100 to win Rp650-0.1818Bet RM100 to win RM650
Mohammed Shami To Be India's Top Bowler
Saturday 18th August 2018 – Wednesday 22nd August 2018
Odds: 4.00Bet €100 to win €4003/1Bet £100 to win £400+300Bet $100 to win $4003.00Bet HK$100 to win HK$4003.00Bet Rp100 to win Rp400-0.3333Bet RM100 to win RM400
cricket
England
india
Joe Root
Virat Kohli