Will Things Break Good for Breaking Bad at the Emmys?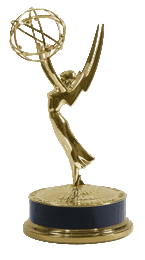 Much has been made of the "farewell tour" for the critically-acclaimed AMC series Breaking Bad, and as the last couple of episodes get ready to go into the books, the timing is interesting, because the series has never won in the category of Best Drama Series, even though its star has won the Best Actor Emmy three years running.
The Emmys stake place in Los Angeles on Sunday, September 22, and the CBS audience will see Neil Patrick Harris once again in the role of host.
Here are the Emmy odds for the Best Drama, as they are posted at Bovada:
Breaking Bad (AMC) 2/5
Homeland (Showtime) 7/2
Game of Thrones (HBO) 15/2
House of Cards (Netflix) 6/1
Downton Abbey (PBS) 20/1
Mad Men (AMC) 40/1
Of course, the popular notion is that this is the year for Breaking Bad, even though it must be noted that the series will be eligible next year as well because the last half of its final season got underway after the ballots were sent out. And it's not as if there are no other very strong contenders here. Homeland, the Showtime series starring Claire Danes, won last year. Mad Men (AMC) is always going to get support, especially after a season that was more than credible. In fact, its track record is kind of hard to beat, as it won four straight years before Homeland broke that streak.
Downton Abbey has had more Emmy nominations than any other internationally-produced series. Game of Thrones (HBO) has a massive following and has been nominated for the third straight year. The most interesting entry here is House of Cards, which was not produced by a television network at all, but rather by Netflix, the subscription content service that has been producing its own original programming for a few years.
Will the industry salute Netflix for its initiative? Well, probably not with an Emmy in this category. But most of the observers who follow these awards feel that if Bryan Cranston does not get a Best Actor award for the fourth time, and Damian Lewis of Homeland doesn't repeat, this might be the opportunity for Kevin Spacey, a two-time Oscar winner who was such a smash in the lead role.
As you can see from these Emmy lines at Bovada, Spacey is the third favorite in the Best Actor class, with Cranston at 2/3 (-150) for his remarkable portrayal of Walter White. Jon Hamm is not currying favor from entertainment bettors, as he is just 20/1 as Don Draper on Mad Men.
Breaking Bad is well represented with favorites in other major categories. For example, Aaron Paul, who plays Jesse Pinkman, is at 1/2 as a Supporting Actor in a Drama Series, with Jonathan Banks, who played a smaller role in that show, priced at 15/1 at Bovada. For upset possibilities, perhaps Bobby Cannavale, who stole the show as Gyp Rosetti on HBO's Boardwalk Empire, might be worth some longshot bucks.
Anna Gunn, who plays Walter White's wife Skyler on Breaking Bad, is 2/3 for Supporting Actress in a Drama Series, and there don't seem to be any other strong contenders here, although Maggie Smith of Downton Abbey won last year and is nominated again (1t 2/1 odds), and Christine Baranski of CBS' The Good Wife (20/1) is being nominated for the fourth year in a row, as is Christina Hendricks of Mad Men (15/2, or +750).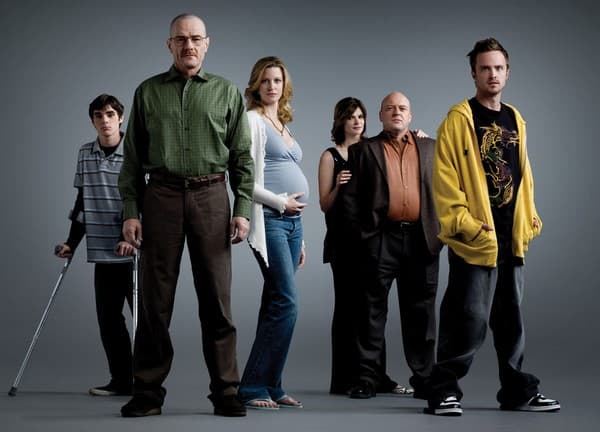 In it's final season will Breaking Bad be given a winning send off at the Emmy Awards?
In other categories, Danes looks like the clear front-runner for her lead role in Homeland, for which she is the 1/3 (-300) favorite in the "Best Actress – Drama Series" category, with a clear darkhorse in Kerry Washington, who was the star of ABC's runaway hit Scandal.
As for lead Actor in a Comedy Series, two-time winners Jim Parsons of The Big Bang Theory (2/1) and Alec Baldwin of 30 Rock (9/2) are once again nominated, but the favorite to win is Louie C.K. for his quirky FX series Louie which he writes, produces, directs and stars in. He's priced at 4/7 (-175) in the Emmy betting odds, although his series is 5/2 at Bovada (+250) for Best Comedy Series, which does not make it a favorite. No, that distinction goes to ABC's Modern Family, which is trying to win the Emmy in this category for the fourth straight year. The series it seems to borrow from, Arrested Development, had a revival this past year in Netflix, but it did not get recognized in this category, although Jason Bateman, the star, will be "competing" against Louie C.K. and the others for his lead role.
Julia Louis-Dreyfus, who has garnered fourteen Emmy nominations for acting, is the favorite for Lead Actress in a Comedy Series for her led role of Selina Meyer in the HBO series Veep, checking in at 1/3 (-300). The show is about a woman who becomes the Vice-President of the United States. No it's not a Sarah Palin imitation; that was famously done by Tina Fey, who is Louis-Dreyfus' closest competition in the Best Actress – Comedy category, priced at 4/1 at Bovada as she appears for the last time for her lead role in 30 Rock. Curiously, Veep is a big longshot on the Best Comedy Series list at 25/1, while 30 Rock, which has won the category three times, is 8/1 as it bids adieu to the Emmys this year.
Open up an account today and bet the Emmys at www.Bovada.lv!