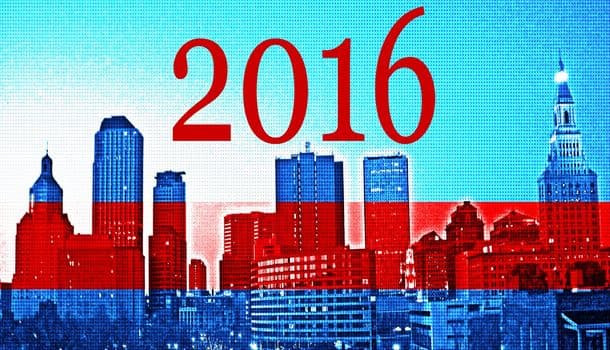 Let's take a look at the early betting markets for the 2016 U.S. Presidential Election.
The odds in this article are from Bovada.lv and BetOnline.ag – two US online bookies where you can bet on the election from home. Not only that – each site offers new customers a free play bonus.
We'll start with a brief look at the 2016 U.S. Democrat candidate market.
Hilary Clinton is priced at -450 and the field is priced at +325 at BetOnline.
All polls are pointing towards Clinton winning the Democrat nomination, despite all of the bad press about her recently. Most analysts say she'll "inevitably" win, but is -450 a price worth betting?
Many Democrats want Elizabeth Warren to run, but she still hasn't announced her running. The "real" threats are Bernie Sanders, Martin O'Malley, Jim Webb, Lincoln Chafee and Joe Biden.
However, are any of these candidates a real threat to Clinton? No. Well – at least not at this time and I can't see the tone changing. The price isn't great, but Clinton -450 is the bet to make.
The U.S. Republican nomination is still considered relatively wide open.
Here are the odds to win the U.S. Republican nomination:
The heavyweights are Jeb Bush (+175), Marco Rubio (+350) and Scott Walker (+350).
The other candidates priced up are Rand Paul (+800), Chris Christie (+1000), Ted Cruz (+1400), Mike Huckabee (+1600), Ben Carson (+2000), Rick Parry (+2500) and Michael Bloomberg (+2500).
It's hard to garner much information from the polls, as they're all over the place and dependant upon the demographic answering the poll questions. Several nominations in winning in different polls.
Bush has steamed in recently, ahead of Rubio. Bush is a political heavyweight, but he may prove to be a tough sell. I still believe Rubio stands a great chance due to strong support from Latino Americans.
Based on the RCP average of national polls – Bush leads at 15.4%, while Rubio (13.2%) and Walker (13.2%) are both close behind.
Paul (9.2%), Huckabee (8.6%) and Cruz (8.6%) are all hovering around 10% as well.
Bush has seemed to level on the polls a bit since April, while Rubio and Walker are moving up quickly.
It's still too early in the game to make a strong prediction, but I like the value on Rubio at +350, as I don't expect to see a better price on him. He has a great chance to earn the Republican nomination.
US Presidential Election Predictions
Let's take a quick at the US presidential election betting market now as well.
I've posted all of the odds at the bottom of the article for each "candidate" (Some people priced up aren't running at all) that's priced up in the market at the time of publishing.
Clinton is the favorite to win the US presidency, but I'm still not sold on her winning and that's even if she hangs on to win the US Democrat nomination, although she doesn't have much competition.
For some reason – Clinton is +110 at Bovada (Best Price) to become the next president — yet Bovada also has a prop paying +120 for a woman to be the next president.
At the end of the day – if you like Clinton — bet on the prop at better odds.
I believe Rubio would give her a good run for her money in the election if both are chosen.
Rubio is 9/1 to become the US president in 2016 at Bovada. Jeb Bush 5/1 has really steamed in and just a few weeks ago his odds were way bigger. It goes to show how volatile these markets are.
Complete odds:
Hillary Clinton – 11/10
Jeb Bush – 5/1
Marco Rubio – 9/1
Scott Walker – 9/1
Rand Paul – 18/1
Chris Christie – 20/1
Elizabeth Warren – 20/1
Andrew Cuomo – 33/1
John Kasich – 33/1
Martin OMalley – 33/1
Ted Cruz – 33/1
Joe Biden – 40/1
Ben Carson – 50/1
Bobby Jindal – 50/1
Jim Webb – 50/1
Kirsten Gillibrand – 50/1
Paul Ryan – 50/1
Mark Warner – 66/1
Rahm Emanuel – 66/1
Rick Santorum – 66/1
Susana Martinez – 66/1
Bob McDonnell – 75/1
Condoleeza Rice – 75/1
Deval Patrick – 75/1
Donald Trump – 75/1
Michael Bloomberg – 75/1
Rob Portman – 75/1
Al Gore – 100/1
George Clooney- 150/1
Michelle Obama – 150/1
Winning Party
The Republicans are +145 to win the election, while the Democrats are -175 to win.
I like the value on the Republicans at this point. They have a lot of strong candidates to consider and a lot of money coming into the coffers. Plus, there are a lot of scandals still in the way for Clinton.