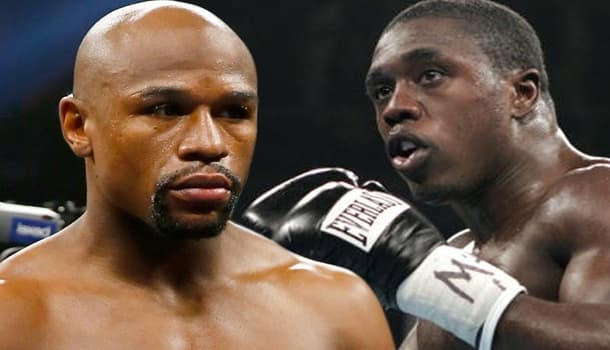 Fight Date: Saturday, September 12th 2015 at 11:00pm ET
Venue: MGM Grand Garden Arena in Las Vegas
TV: Showtime PPV
Floyd Mayweather has taken a lot of heat after announcing he'll be fighting Andre Berto.
Many boxing analysts have called this fight a complete mismatch and not worthy of our money.
If the fight wasn't on PPV it would be more understandable, but who wants to watch a mismatch when it costs big bucks, especially when the likely outcome is a boring decision?
Nonetheless – let's breakdown this upcoming fight and take a look at the early betting markets.
5Dimes has a number of betting markets already open, including the money line and method of victory props, but there still isn't an over/under round market opened up yet.
Join 5Dimes to get a $520 free play to bet on the Mayweather vs. Berto fight.
Berto vs. Mayweather Stats
Floyd Mayweather 48-0 (26 KO's):
Age: 38
Height: 5'8"
Reach: 72"
Stance: Orthodox
Andre Berto 30-3 (23 KO's):
Age: 31
Height: 5'6.5"
Reach: 68.5"
Stance: Orthodox
Berto has won two in a row, including a KO against Josesito Lopez last time out. However, he has lost three of his last six – with losses against Victor Ortiz, Robert Guerrero and Jesus Karass.
That's why many are questioning why Berto is fighting Mayweather.
Mayweather is coming off of a decisive win against Manny Pacquiao, but he has now gone six fights in a row with decision wins. He hasn't KO'ed anyone since Victor Ortiz in 2011.
On paper – Mayweather has a big reach advantage and a great jab. He'll be able to keep Berto on the outside with a steady jab, which will also open up opportunities later in the fight.
Mayweather has incredible defense in the ring as well, so even if Berto gets inside, he's going to have a tough time doing any damage. Berto would shock the world with a win next month.
Don't forget – Berto isn't the same boxer he was before shoulder surgery. He displayed some of his old power in his last bout against Lopez, but Lopez is a far cry from Mayweather.
This could be the last fight ever for Mayweather. He'd tie the record of Rocky Marciano at 49-0, but this is definitely a weird opponent to take on if this were to be his last fight.
However, I believe we'll see Mayweather again, as he'll want to get to 50-0 in his career.
Current Odds in Mayweather vs. Berto
Money Line: Berto +1500 vs. Mayweather -3000
Mayweather is a massive favorite and I don't see his odds lowering much before the fight.
You'll definitely get a better line on Berto by waiting until closer to the fight, as I believe we'll see him hit close to 20/1 by fight night once the public starts betting Mayweather.
We'll have to look at the alternative markets to make money in this fight.
Right now we can bet on this fight going the distance at -260 odds at 5Dimes. We're not likely to get a much better line on this prop and I'd recommend placing a bet on this market now.
We can always re-up closer to the fight if the odds are better, but I can see this market heading up over -300 odds by next month. Mayweather hasn't displayed much power in years.
Mayweather is the most technical boxer in the world, but he won't knockout Berto.
There really isn't too much to get excited about from a betting standpoint in this fight. We're not going to get a good price in any betting market that's worth wagering on.