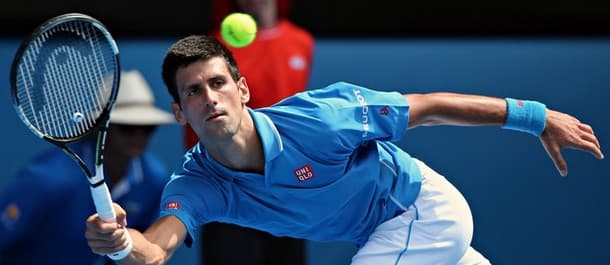 The 135th US Open will run from 31st August through to 13th September, and the world of tennis is gearing up for the last Major of 2015. Novak Djokovic already has the Australian Open and Wimbledon titles under his belt, and he bids for a hat-trick of Majors, while Serena Williams is aiming to become the first woman to hold all four Grand Slam titles in a calendar year since Steffi Graff in 1988.
Is there anyone who can take on the top two in tennis right now? This punter doesn't think so, and both should be backed despite the relatively short odds.
The hard court tournament takes place at the USTA Billie Jean King Tennis Center in New York, and while it promises to be as eventful as ever, there looks to be a lack of real competition for Djokovic and Williams in 2015. The former may only have one US Open title to his name, but he's competed in four of the last five finals and knows what it takes to go all the way. Serena is the three-time reigning champion, and it's tough to bet against her making it four. That Steffi Graff record must be in her sights, and if it's possible, that should make her even more determined and focused.
Let's take a look at the odds for the players at the top of the market:
Men's Singles:
Novak Djokovic – 2.25Bet €100 to win €2255/4Bet £100 to win £225+125Bet $100 to win $2251.25Bet HK$100 to win HK$2251.25Bet Rp100 to win Rp225-0.8000Bet RM100 to win RM225 with Bet365, BetVictor and Paddy Power
Djokovic has reigned supreme in 2015, kicking off with victory in Melbourne at the Australian Open, where he beat Andy Murray in four sets in the final. He didn't drop a set in the first five rounds of the French Open en route to the final, but his dominance was briefly interrupted by Stan Wawrinka who took the trophy and denied Djokovic his Grand Slam. The world number one bounced back to form at Wimbledon though, beating Roger Federer in the final to claim his third Wimbledon title at the All England Club.
He's in such good form this year that it's hard to see who can beat him, but if there is a chink in his armor it's that he's only been successful here once – in 2011. He has made it to the final four times in the last five years though, so it's equally hard to argue that he's ineffective here. With question marks over most of his main rivals, this could be US Open number two for Djokovic.
Andy Murray – 5.50Bet €100 to win €5509/2Bet £100 to win £550+450Bet $100 to win $5504.50Bet HK$100 to win HK$5504.50Bet Rp100 to win Rp550-0.2222Bet RM100 to win RM550 with Betfred, BoyleSports and Totesport
Andy Murray is priced up as the most realistic alternative, but it's been another year of 'nearly but not quite' for the Scottish star. He was beaten in the final of the Australian Open by Djokovic, before losing to him again in the semi-final of the French Open. He got to the last four again at Wimbledon but went out to Roger Federer, who went on to lose the final to Djokovic.
Roger Federer – 8.00Bet €100 to win €8007/1Bet £100 to win £800+700Bet $100 to win $8007.00Bet HK$100 to win HK$8007.00Bet Rp100 to win Rp800-0.1429Bet RM100 to win RM800 with BoyleSports, Ladbrokes and William Hill
The Swiss veteran showed at Wimbledon that he still has the class to compete at the top level, but it didn't look that way earlier in the year when he was knocked out of the Australian Open in the third round. He responded by reaching the quarter-final of the French Open, then the final at Wimbledon. He won the US Open for five consecutive years between 2004 and 2008, but it has to be remembered that the last of those wins was a long six years ago.
Rafael Nadal – 14.00Bet €100 to win €140013/1Bet £100 to win £1400+1300Bet $100 to win $140013.00Bet HK$100 to win HK$140013.00Bet Rp100 to win Rp1400-0.0769Bet RM100 to win RM1400 with Bwin
Nadal has continued to struggle with form in 2015 and has dropped down the rankings, but if he could recapture it he could be a danger at a big price. He only reached the quarter-finals of the Australian and French Open, before crashing out in the second round at Wimbledon, so it would require a leap of faith to back him.
Women's Singles:
Serena Williams – 2.20Bet €100 to win €2206/5Bet £100 to win £220+120Bet $100 to win $2201.20Bet HK$100 to win HK$2201.20Bet Rp100 to win Rp220-0.8333Bet RM100 to win RM220 with BoyleSports, BetVictor and Paddy Power
In the women's game Serena Williams continues to be so dominant that it's hard to oppose her. Any thoughts that she might take her eye off the ball are dismissed when you consider that she's aiming to be the first person since Steffi Graff to hold all four Major titles in one calendar year. She's won the US Open for the last three years running, and looks an outstanding bet to continue the run and to make history along the way.
She won the Australian Open by beating Maria Sharapova for the sixteenth consecutive time, racking up her sixth title and 19th Major title. A French Open win followed to bring her to within two Grand Slams of Steffi Graff's record of 22 wins. Serena's 21st Grand Slam title came at Wimbledon, which also brought up the second 'Serena Slam' of her career. It's very difficult to look past the odds on offer.
Victoria Azarenka – 7.00Bet €100 to win €7006/1Bet £100 to win £700+600Bet $100 to win $7006.00Bet HK$100 to win HK$7006.00Bet Rp100 to win Rp700-0.1667Bet RM100 to win RM700 with Bet365, Skybet and BetVictor
Azarenka lost two US Open finals to Williams in 2012 and 2013, and she is her closest competitor in the betting markets prior to the tournament. She struggled with injury in 2014 and ended the year ranked 32, but she's slowly working her way back towards the top. She's met Williams 20 times, losing 17 of those and only winning 3. It's hard to see her beating Williams to the title, especially off the back of such a serious injury.
Maria Sharapova – 10.00Bet €100 to win €10009/1Bet £100 to win £1000+900Bet $100 to win $10009.00Bet HK$100 to win HK$10009.00Bet Rp100 to win Rp1000-0.1111Bet RM100 to win RM1000 with Skybet and Ladbrokes
Maria Sharapova won the tournament back in 2006, but she has struggled with shoulder injuries throughout her career. She reached the final of the Australian Open but was beaten in straight sets by Williams, bringing her record against the world number one to 17 defeats and 2 wins. Once again it's hard to see Sharapova getting the better of Williams should they meet.
Tips Summary
To win the US Open:
Novak Djokovic – 2.25Bet €100 to win €2255/4Bet £100 to win £225+125Bet $100 to win $2251.25Bet HK$100 to win HK$2251.25Bet Rp100 to win Rp225-0.8000Bet RM100 to win RM225 with Bet365, BetVictor and Paddy Power
Serena Williams – 2.20Bet €100 to win €2206/5Bet £100 to win £220+120Bet $100 to win $2201.20Bet HK$100 to win HK$2201.20Bet Rp100 to win Rp220-0.8333Bet RM100 to win RM220 with BoyleSports, BetVictor and Paddy Power
novak djokovic
Serena Williams
US Open Tennis