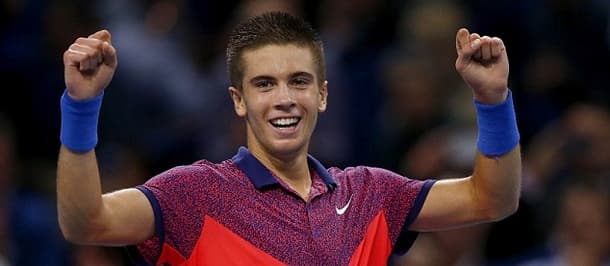 Rafael Nadal has competed in 42 grand slam men's singles tournaments and only once has he crashed out of a major event in the first round – he lost 6-7 6-7 4-6 to Steve Darcis in the 2013 Wimbledon men's singles competition.
But the 2015 version of Nadal is a pale imitation of the tennis player who won 14 grand slam titles, including nine French Open men's singles crowns, between 2005 and 2014. Nadal is 42-14 in men's singles action this year but those numbers include being 26-6 on clay so the Spaniard is 16-8 away from his favourite surface. Also worth pointing out is that Nadal has not defeated a higher ranked player since he defeated Novak Djokovic in the 2013 US Open men's singles. The physical toll of Nadal's style of play has caught up with the battle-weary Spaniard, who turned 29 in June.
The US Open men's singles draw paired Nadal with Borna Coric in the first round, with their match scheduled to take place on Monday – it is programmed to be the final event on Arthur Ashe Court so, clearly, tournament officials think that it is a clash worthy of being contested on the main stage.
Some bookmakers are inviting punters to back Nadal at odds on to beat Coric in straight sets but anyone who does that needs their head examined. Opposition players are not in awe of Nadal these days and Coric has every reason to think that he can qualify for the US Open men's singles second round at the Spaniard's expense because he is a member of a rare club – the Croatian boasts a head-to-head advantage over Rafa.
Coric and Nadal met on a hard court in Basel in October 2014 and the result was a 6-2 7-6 win for the Croatian in what ended up being the Spaniard's last match of the year. Coric did not serve well – fewer than half of his first serves got into play – but he won two-thirds of his service points, fired six aces and broke Nadal's serve three times. Coric was ranked 124th in the world when he faced Nadal last year – the gap between the players has shrunk from 121 places to 27 places ahead of their US Open men's singles encounter.
Nadal is not the only big-name player whom Coric has taken down in the last 12 months. Coric came up against Andy Murray on a hard court in Dubai in February and it was one-way traffic as the Croatian raced to a 6-1 6-3 win. Coric will draw upon his good performances versus players ranked in the top 10 – he was a tie-break game away from upsetting Stan Wawrinka on a hard court in Cincinnati two weeks ago – and not fear Nadal in the US Open men's singles.
Matchbook is offering odds of 5.60 that Coric sends Nadal packing in the US Open men's singles first round. Those are odds that are worth snapping up, however, one thinks that there is a more attractive way to side with the Croatian. Dutching Coric 3-1, which is available at odds of 13.00 with Betfred, and Coric 3-2, which sister bookmakers 888Sport and Unibet are listing at odds of 15.00, produces odds of 6.96 about Coric beating but not sweeping Nadal.
Conservative punters who see the logic in opposing Nadal but cannot bring themselves to bet on the Spaniard losing could do a lot worse than back Coric to win at least one set, an option which is trading at odds of 1.80 with PaddyPower.
Tips Summary
Coric to beat Nadal 3-1 or 3-2
1st September 01:30 GMT
Odds: 6.96 (Dutched)
Borna Coric
French Open
head-to-head
Matchbook bookmaker
rafael nadal
Steve Darcis
US Open
Wimbledon