England defeated India in a thrilling opening match to their five-game Test series by 31 runs at Edgbaston.
The momentum of the game shifted from both teams over the four days of the contest before the Three Lions put forward a winning effort to get over the line.
India skipper Virat Kohli was outstanding in the opening, brushing aside his issues of the last tour, scoring a brilliant hundred and then a half-century in the second innings.
However, his combined 200 runs was not enough for the tourists. Sam Curran and Ben Stokes came to the fore with the ball for the home side, notching four wickets in the first and second innings respectively.
It was an encouraging performance for England due to the performances of Curran and Stokes along with Joe Root, who scored an innings of 80 before being run out.
The Three Lions displayed the clinical edge to clinch the victory, although they will have to expect a response from India at Lord's.
India's batting line-up misfired other than Kohli in the opener and changes could be afoot to recall Cheteshwar Pujara to the team.
England will be without Stokes, who is currently involved in a court case on a charge of affray in Bristol. Chris Woakes will replace the all-rounder in the squad, while 20-year-old batsman has come into the side in place of the struggling Dawid Malan.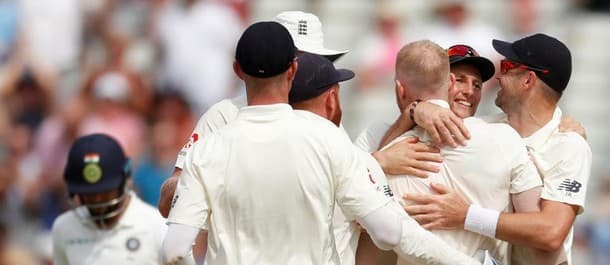 England's Top Batsman
Root played well for England in his time in the middle, only to be robbed of his 14th Test century by Jonny Bairstow. His fellow Yorkshireman called him through for a suicidal second run, which resulted in a direct hit on the stumps by Kohli. The India skipper responded with a mic drop in reference to Root's celebration after his century in the third one-day international. Root appears to be in prime form, although he has failed to post a century after reaching fifty in his last 10 attempts. The longer that run builds the more of a mental barrier it will become for the 27-year-old. It could have been the difference in the match as his opposite number posted 149 in his knock.
Root has watched Steve Smith, Kane Williamson and now Kohli rise to the occasion. Now more than ever he needs a meaningful knock at the crease to prove he belongs in the upper echelon in world cricket. Root has a good record at Lord's, averaging 56 with three centuries to his name. He scored a hundred last summer against South Africa and another against India this time around could hand his team a huge platform to take a 2-0 lead in the series. Back him to top score at odds of 3.50Bet €100 to win €3505/2Bet £100 to win £350+250Bet $100 to win $3502.50Bet HK$100 to win HK$3502.50Bet Rp100 to win Rp350-0.4000Bet RM100 to win RM350 with 888Sport.
India's Top Batsman
Kohli needed a brilliant performance to set the tone for the series. He was excellent in the middle, albeit he had a huge slice of luck to be dropped by Malan twice on his way to a century. Unfortunately for Kohli, he was the only batsman to find his form in the middle for his team. Out for their 436 runs he scored 200 of them at Edgbaston. The 29-year-old moved to the top of the ICC rankings due to his performance, moving ahead of his rival Smith. Kohli may have proved that he may have a slight edge over Root in the middle, the India skipper would have taken fewer runs if his side would have been able to pull off the victory.
Murali Vijay, Shikhar Dhawan, Lokesh Rahul and Ajinkya Rahane need to find their form in the middle to take the pressure of their captain. Hardik Pandya scored the next highest innings after Kohli's 149 and 51 with 31 runs. That level is not acceptable for the talent in the dressing room. Expect the India captain to lead the way with the bat once again to get his name on the Lord's honours board at odds of 3.00Bet €100 to win €3002/1Bet £100 to win £300+200Bet $100 to win $3002.00Bet HK$100 to win HK$3002.00Bet Rp100 to win Rp300-0.5000Bet RM100 to win RM300 with Betway.
England's Top Bowler
The Three Lions' reliance on James Anderson and Stuart Broad has been overwhelming over the past few years certainly since the retirement of Graeme Swann. Therefore the display of Curran would have delighted national selector Ed Smith and Trevor Bayliss, coming to the fore to rip through India's top order. The 20-year-old was not frightened to pitch the ball up to the batsmen and was rewarded with a litany of wickets in the first innings. He grew in confidence and was able to add vital runs with the bat at number eight in the order. England would have lost the contest had Curran not been playing, which suggests that he has more than a bright future at international level.
Curran's performance took the pressure off another player in the team in the form of Adil Rashid. He was able to play with freedom, notching three wickets. Rashid's recall was criticised by almost every pundit on the scene after he refused to play red-ball cricket for Yorkshire. England were assisted by conditions at Edgbaston, but may have to graft more for wickets at Lord's. Rashid will be an important figure, back him to prove a point and lead the way with the ball at odds of 5.50Bet €100 to win €5509/2Bet £100 to win £550+450Bet $100 to win $5504.50Bet HK$100 to win HK$5504.50Bet Rp100 to win Rp550-0.2222Bet RM100 to win RM550 with 888Sport.
India's Top Bowler
India bowled well at Edgbaston, but were let down by their batsmen. If there was one complaint they have allowed Curran to score a shade too many runs that allowed England to set a total in the 190s rather than 150, which proved to be the difference between the sides. Ravichandran Ashwin once again proved his quality with the red ball, tearing through England's top order. He tormented Alastair Cook by dismissing with virtually the same delivery that moved off a line to take his off-stump.
He is the dangerman as far as England are concerned after India made the decision to leave Kuldeep Yadav out of their starting line-up. Ashwin alone is a terrifying prospect and he may have a greater opportunity to influence the result at Lord's. Curran did take the attack to the off-spinner to knock him off his rhythm. It could dictate the series should England use their aggression to get after Ashwin. Back him to fire at Lord's on his first appearance at the ground at odds of 3.25Bet €100 to win €3259/4Bet £100 to win £325+225Bet $100 to win $3252.25Bet HK$100 to win HK$3252.25Bet Rp100 to win Rp325-0.4444Bet RM100 to win RM325 with 888Sport.
Match Verdict
England have a challenge on their hands to cope with India's response without Stokes. The all-rounder willed his team to victory on the final day of the Test, claiming the vital wicket of Kohli. The return of Woakes is crucial and should provide enough cover with Curran. If England are firing on all cylinders then they should have enough to edge their way to another win. India's batting outside of Kohli in English conditions will be their downfall once again. Back the Three Lions to claim the victory at odds of 2.05Bet €100 to win €20521/20Bet £100 to win £205+105Bet $100 to win $2051.05Bet HK$100 to win HK$2051.05Bet Rp100 to win Rp205-0.9524Bet RM100 to win RM205 with 888Sport.
Tips Summary
Joe Root To Be England's Top Batsman
Thursday 9th August – Monday 13th August 2018
Odds: 3.50Bet €100 to win €3505/2Bet £100 to win £350+250Bet $100 to win $3502.50Bet HK$100 to win HK$3502.50Bet Rp100 to win Rp350-0.4000Bet RM100 to win RM350
Virat Kohli To Be India's Top Batsman
Thursday 9th August – Monday 13th August 2018
Odds: 3.00Bet €100 to win €3002/1Bet £100 to win £300+200Bet $100 to win $3002.00Bet HK$100 to win HK$3002.00Bet Rp100 to win Rp300-0.5000Bet RM100 to win RM300
Adil Rashid To Be England's Top Bowler
Thursday 9th August – Monday 13th August 2018
Odds: 5.50Bet €100 to win €5509/2Bet £100 to win £550+450Bet $100 to win $5504.50Bet HK$100 to win HK$5504.50Bet Rp100 to win Rp550-0.2222Bet RM100 to win RM550
Ravichandran Ashwin To Be India's Top Bowler
Thursday 9th August – Monday 13th August 2018
Odds: 3.25Bet €100 to win €3259/4Bet £100 to win £325+225Bet $100 to win $3252.25Bet HK$100 to win HK$3252.25Bet Rp100 to win Rp325-0.4444Bet RM100 to win RM325
England To Beat India 2nd Test
Thursday 9th August – Monday 13th August 2018
Odds: 2.05Bet €100 to win €20521/20Bet £100 to win £205+105Bet $100 to win $2051.05Bet HK$100 to win HK$2051.05Bet Rp100 to win Rp205-0.9524Bet RM100 to win RM205
cricket
England
india
Joe Root
Virat Kohli