Game On Dude Favored for Breeders Cup Classic; Ron the Greek Now Scratched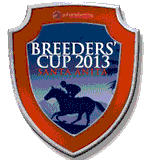 Horse racing handicappers can hammer away at the charts and do all the work in the world, but when something happens at the last minute there is nothing they can do about it; their only choice is to re-adjust.
On the Thursday before the $5 million Breeders Cup Classic, Ron the Greek, who recently was so dominant in winning the Jockey Club Gold Cup, destroying Palace Malice and Flat Out, had to be scratched from the race because of a crack in his right front hoof, according to his Hall of Fame trainer, Bill Mott.
Ron the Greek ran fourth in last year's Classic.
These are the latest odds on the Breeders Cup Classic as they are posted at Bookmaker.eu, reflecting the scratch of Ron the Greek:
1) Last Gunfighter +3630
2) Paynter +1080
3) Planteur +2305
4) Moreno +2948
5) Declaration of War +639
6) Mucho Macho Man +455
7) Fort Larned +700
8) Palace Malice +764
9) Game On Dude +268
10) Will Take Charge +1047
11) Ron the Greek SCR
12) Flat Out +1536
It should be noted that not all sportsbooks had been as quick to compensate for the loss of Ron the Greek from this field as of Thursday night, so be advised.
To some, this Classic field is not the most inspiring, as it greatly resembles the group that got together for the 2012 race. In fact, the top three finishers in the 2012 Classic, which was also held at Santa Anita, are on hand again. But Game On Dude is the only one that has a reasonable shot at winning Horse of the Year honors.
Fort Larned will be trying to win a second consecutive Classic, in which case he would be only the second horse to do that, joining Tiznow (2000 and 2001).
But the favorite in this race is the same as the favorite in last year's race. Of course that would be Game On Dude, who went to post at 13-to-10 but couldn't do any better than seventh. Once again the Bob Baffert-trained gelding is the bookie's choice, priced at +268 at Bookmaker and an even lower price at other American sportsbooks. There is indeed a basis for it; this six-year-old, owned in part by former major league player and manager Joe Torre, has not lost since last year's Breeders Cup. And that's not because he has been racing against stiffs either; this year, Game On Dude has won all five starts, including a clean sweep of the Grade I handicap races in California – the Santa Anita Handicap, the Hollywood Gold Cup and the Pacific Classic, scoring an 8.5-length victory in the latter. Santa Anita is the gelding's home track, and there couldn't possibly be a better scenario.
Well, unless Fort Larned (+700 at Bookmaker) can get out to the early lead again and hold onto it. That's the way things went last year, when the son of E Dubai assumed control after a quarter-mile and never looked back. It's the same distance (a mile and a quarter) and the same track. There have been some out-of-the-money finishes this year for the five-year-old, in the Gulfstream Park Handicap, Oaklawn Handicap and Whitney, but then there was the decisive win in the Stephen Foster Handicap at Churchill Downs in June.
If Game On Dude were to indeed win, it would mark the first Classic victory for Baffert, who also has Paynter (+1080), a miraculous story of comeback from multiple illnesses, including laminitis and colitis, having almost died about sixteen months ago. Baffert ran him in the Grade I Awesome again Stakes, finishing second to Mucho Macho Man.
Also, a win by Game On Dude – or Flat Out (+1536), for that matter, would make either of them the oldest horse to win the richest race ($5 million) in North America.
There are contenders who want to spoil the forecasts, to be certain. Aidan O'Brien has had some close calls in the Classic, and now he brings another from his stable, Declaration of War, to Santa Anita with two and a half months off. This horse was bred in the U.S., but moved to France early and later into O'Brien's stable at Ballydoyle. It's a family affair, as Aidan's son Joseph will be in the irons. O'Brien's horse goes off at +639.
Planteur (+2305 at Bookmaker) is the only European-bred running in any of the Breeders Cup races that is making a start on dirt. This is a deep closer, and if there is a lot of early speed, he may be one to consider, at least in the exotic horse racing bets. Will Take Charge (+1047 in the Breeders Cup Classic odds) supplies a story because D. Wayne Lukas is conditioning him. Lukas says he expects an "honest pace" for this Classic, and that it could work in favor of his "charge."
We'll see about that.
Place your bets on the big Breeders Cup races all day with the people at www.Bookmaker.eu!