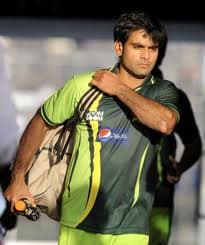 The majority of bookmakers are stubbornly refusing to accept that Pakistan deserves to be the favourite against Sri Lanka in the United Arab Emirates even though the Pakistanis have won two of the first three matches in the series comfortably and they were unlucky not to win the other one as well.
Pakistan went up 2-1 in its five-game One Day International series versus Sri Lanka in the United Arab Emirates by dominating the Third One International from the third over onwards. Pakistan was two runs for one wicket after two overs of its innings but Mohammed Hafeez came in to join Ahmed Shehzad at the crease and the match turned on its head. Hafeez scored 140 runs not out and Shehzad made 81 runs before being run out as Pakistan smashed Sri Lanka's bowlers to all parts of the Sharjah Cricket Stadium to end up with 326 runs for five wickets. Sri Lanka did not keep pace with Pakistan's run rate and fell 114 runs short of its target, losing its final wicket with 5.2 overs remaining.
Sri Lanka is well known as a limited-overs specialist and it would be fair to say that the Sri Lankans have sacrificed their development as a Test team to remain competitive in the Twenty20 International and One Day International forms of cricket. But it feels as though Sri Lanka's reputation goes before it and bookmakers quote it at artificially low odds. For example, there is very little to choose between Pakistan and Sri Lanka in the One Day International rankings – the Pakistanis are sixth and the Sri Lankans are fifth – yet bookmakers are favouring the latter even though it requires only a little bit of research to uncover statistics that show they struggle away from their home country.
Both Pakistan and Sri Lanka has played a large number of One Day International games in the United Arab Emirates and the numbers of the respective sides differ greatly. Pakistan has played 150 One Day International matches in the United Arab Emirates for 94 wins, 55 losses and one tie. Sri Lanka has played 86 One Day International games in the United Arab Emirates for 32 wins, 52 losses and two ties. The difference in win rates between Pakistan and Sri Lanka is a whopping 25 per cent and, if one digs a little deeper into the history books, one finds that the Sri Lankans are worth opposing away from home, irrespective of their opponents.
Pakistan is trading at odds of 1.91 with Betfred, to win the Fourth One Day International and clinch the series with one match to go. There is no logical reason as to why Pakistan is not the clear favourite so odds of 1.91 are attractive. Certainly one could make a level-headed case for Pakistan being at odds of around 1.70 and maybe even a bit shorter.
Sheikh Zayed Stadium in Abu Dhabi will stage both the Fourth One Day International and the Fifth One Day International. It has been the venue for 22 One Day International games since April 2006, with Pakistan featuring in all of them. Pakistan has celebrated 11 victories in Abu Dhabi, while Sri Lanka has won one of its four matches in the United Arab Emirates capital city and second largest settlement.
With regards to Fourth One Day International exotics, the pick is William Hill's odds of 2.75 about over one and a half run outs. The bet did not pay off in the Third One Day International when Shehzad was the only batsman run out but the head-to-head record shows that it was first time in the last five meetings that the total number of run outs went under one and a half. Now is not the time to abandon an exotic play that constitutes value at odds against.