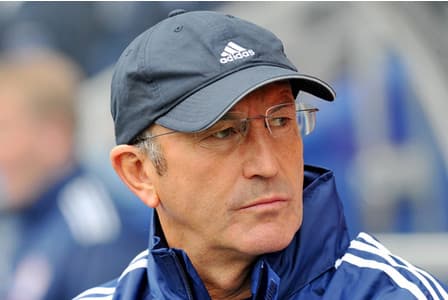 Stoke FC look like a potential demotion candidate at 4/1 with the departure of manager Tony Pulis and uncertainly over the summer months.
With the 2013-2014 English Premier League field set after Crystal Palace defeated Watford in club football's richest one-off game, bookmakers have wasted no time in installing the three promoted teams as the relegation favourites.
At odds of around 4-7 at Betfred, Crystal Palace is the English Premier League newcomer that bookmakers rate as the most likely to go down, with Watford (odds of around 8-11) and Cardiff (odds of around 6-4 at BetVictor) considered in more peril than such incumbents as Norwich (odds of around 11-4), Stoke (odds of around 4-1 at PaddyPower) and Sunderland (odds of around 6-1 with BoyleSports). In a sign of how tight one can expect the bottom half of next term's ladder to be, no fewer than 12 sides are trading at best prices in single figures to fall out of the top flight.
While it is understandable as to why bookmakers have opted to put Crystal Palace, Watford and Cardiff at the top of their English Premier League relegation markets, history teaches one not to underestimate the promoted teams.
The English Premier League kicked off in 1992 when Ipswich, Middlesbrough and Blackburn were the three newcomers. Only one of them went straight back down to the second tier – Boro finished 21st of 22 – while the Tractor Boys placed 16th and cashed-up Rovers just missed out on the UEFA Cup, ending the campaign in fourth, one point behind Norwich.
Overall, a total of 62 promoted sides have competed in the English Premier League over its 21 thrilling seasons. If one is wondering why the total is not 63 it is because there was a year in which only two teams went up and four sides went down so as to reduce the top division to 20 clubs. History shows that 27 of those elevated teams suffered immediate relegation but that it is getting easier for promoted sides to compete with the incumbents than it was in seasons past.
For example, only once have the three promoted sides been the three teams relegated and that was way back in 1998 when Bolton, Barnsley and Crystal Palace stayed in the English Premier League for only one campaign. On two occasions, the three elevated sides have survived as a whole – Fulham, Blackburn and Bolton in 2002 and Queens Park Rangers, Norwich and Swansea in 2012 – and not since 2008 has more than one promoted team bit the dust 12 months later.
While it will be difficult for Crystal Palace to maintain its regained English Premier League status – the Eagles have never spent more than one consecutive season among the elite since it was rebadged in 1992 – given that its best player, Wilfried Zaha, will rejoin parent club Manchester United in time for the big kick off, it would be foolish to write off Hull and Cardiff, particularly the wealthy Bluebirds.
In expectation that at least one of the three promoted sides will equal the achievements of Southampton and West Ham and hang around for more than one English Premier League term, one should be looking down the list of incumbents and identifying any that should be trading at shorter odds.
Bookmakers are probably correct in thinking that Norwich is the most vulnerable of the English Premier League old timers. The Canaries had an up and down season under Chris Hughton, at one stage looking like relegation certainties before going on a decent run in the middle of the campaign.
The statistics that make the most frightening reading for Norwich supporters are these: the Canaries had the worst record against bottom-half teams out of the 17 sides that stayed in the English Premier League and they had the worst away record out of the 17 survivors as well. Basically, Norwich saved its skin by picking up unexpected points, particularly at Carrow Road, versus the heavyweights.
Key to keeping one's head above water is how one performs against its peers. Norwich failed that test last season and, if the Canaries do not accrue enough points from their games against the likes of Crystal Palace, Watford and Cardiff next time around, they will be very serious trouble.
One could make decent value cases for backing Stoke to go down following the resignation of Tony Pulis and a number of other English Premier League teams. For example, both West Bromwich and West Ham will be lucky not to get dragged into a relegation scrap next term. What is crystal clear, though, is that there is no value in backing Crystal Palace, Watford or Cardiff to be demoted, certainly not at the early odds.