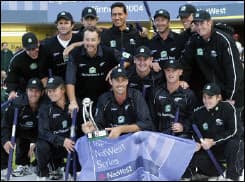 So great was New Zealand's dominance in the Test series that it makes sense to stick with the Black Caps in their first of their One Day International games versus the West Indies.
Only dreadful captaincy by Brendon McCullum and marvellous batting by Darren Bravo prevented New Zealand whitewashing the West Indies 3-0 in the Test series. New Zealand paid the price for enforcing the follow on unnecessarily in the First Test, although it did take Bravo's majestic 218 runs for the West Indies to set a target that the Black Caps could not reach in time. New Zealand made up for its First Test faux pas, winning the Second Test by an innings and 73 runs – in spite of another peculiar decision by Black Caps skipper McCullum – and taking out the Third Test by eight wickets.
The First One Day International between New Zealand and the West Indies takes place at Eden Park in Auckland and one has to favour the Black Caps quite strongly even though they are not one of the 50-over-a-side heavyweights. Currently New Zealand and the West Indies are ranked eighth and seventh respectively, with only Bangladesh (ninth), Zimbabwe (10th), Ireland (11th), the Netherlands (12th) and Kenya (13th) positioned below them on the championship chart.
But New Zealand has the momentum, home advantage was huge in the Test series and promises to be equally important in the One Day International battles and the West Indies has lost its best player during the Test matches because he does not waste his time playing in One Day International games now.
Bravo topped the West Indies batting averages in the Test series but he scored only 44 runs in his three innings other than his 218-run effort in the Second Test. Ask anyone apart from Bravo and his immediate as to whom was the best West Indies batsman during its Test matches against New Zealand and Shivnarine Chanderpaul would get the majority of votes. Chanderpaul may have the strangest batting technique in the first-class arena but he scored 256 runs versus New Zealand at an average of 64.00 that included one century, one half century and two unbeaten knocks. Chanderpaul has not played a One Day International since March 2011 and, while he was not the best exponent of 50-over batting ever seen, he did average 41.60 runs and his strike rate was 70.74. The West Indies is not good enough to lose someone with the ability of Chanderpaul from its batting line-up and not suffer.
The West Indies has a dreadful One Day International record this year. The West Indies has won eight, tied two and lost 13 of its 23 One Day International games in 2013 and three of its victories occurred at home to Zimbabwe. Away from home it won one and lost two in India, while its numbers at neutral venues read one win, one tie and one loss.
New Zealand's One Day International record this year against the world's top six team is seven wins, six losses and two no-results and that is in spite of playing just three matches in the land of the long white cloud where, apart from England, touring sides have a tendency to struggle because pitch conditions are unlike most other places.
United Kingdom based bookmaker William Hill, are offering odds of 1.67 that New Zealand wins the First One Day International. But perhaps an even better bet is the odds of 1.57 that Bet365 is offering about New Zealand winning the best-of-five-game series. The odds about New Zealand getting the better of the West Indies over what is a medium-length series should be a fair bit shorter.