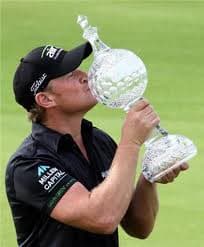 Great Britain and Ireland has won the last six editions of the Seve Trophy by Golf+ but its run is deservedly odds on to end at Golf de Saint-Nom-la-Breteche, near Paris.
The Great Britain and Ireland team has a distinctly C-grade look to it, with Luke Donald, Peter Hanson, Graeme McDowell, Rory McIlroy, Ian Poulter, Justin Rose and Lee Westwood qualifying for the side but choosing not to play. All seven golfers have a higher world ranking than Jamie Donaldson, whose mark of 44th makes him the star member of the Great Britain and Ireland side, at least on raw statistics.
The Continental Europe team features two golfers higher up the world ranking than Donaldson – Matteo Manassero (31st) and Miguel Angel Jimenez (43rd) – but what really makes the Jose Maria Olazabal-captained side stand out is that it has considerably fewer weak links than the Great Britain and Ireland team. Only one Continental Europe golfer is outside of the world's top 75, whereas five members of the Great Britain and Ireland side are ranked above that level.
In terms of statistical measures, the Continental Europe team has an average world ranking of 57th and a standard deviation of 24. The Great Britain and Ireland side has an average of 92nd and a standard deviation of 35. Bookmakers are quite right to have chalked up the Continental Europe team as the hot Seve Trophy by Golf+ favourite and, if one wants to bet on the outcome of the biennial tournament, Bwin's odds of 1.59 about Olazabal's side is the call.
Top points scorer markets are the most popular exotics in competitions such as the Seve Trophy by Golf+ and there are bets in this week's competition, with Francesco Molinari and Chris Wood standing out for their respective teams.
Molinari has an outstanding record in multi-player events having been part of two winning Ryder Cup sides and taking out the 2009 Omega Mission Hills World Cup in partnership with his elder brother, Edoardo. It was Molinari who secured the half point that secured outright victory for Europe in last year's Ryder Cup so he knows how to handle the pressure of playing not only for himself but also his team, while his Seve Trophy by Golf+ record reads five wins, three losses and one tie. Of the 10-golfer Continental Europe side, only Mikko Ilonen has better Seve Trophy by Golf+ numbers than Molinari but, crucially, the Finn's statistics are based on tournaments held away from Golf de Saint-Nom-la-Breteche, whereas the Italian's data pertains to the French course.
There is a good chance that Olazabal will pair up Molinari with Manassero, which would see Molinari partner the Seve Trophy by Golf+ competitor with the best world ranking at the time of the event. Molinari is trading at odds of 8.00 with Coral, to be the Continental Europe team's top points scorer and he is available at odds of 15.00 with Bet365 to be the top points scorer across both sides.
Wood qualifies for Seve Trophy by Golf+ betting attention by virtue of three things: his professed love of multi-player competitions; his performance in the 2009 Vivendi Trophy with Seve Ballesteros; and his recent European Tour form.
Wood makes no secret of the importance that he places on events such as the Seve Trophy by Golf+. He made his debut in the tournament four years ago and he was a major factor in the 16.5-11.5 victory of the Great Britain and Ireland side, winning his first four matches and drawing his singles rubber with Hanson that meant nothing in the overall scheme of things because his team had won already. Wood warmed up for the Seve Trophy by Golf+ by finishing seventh in last week's Alfred Dunhill Links Championship, shooting rounds of 66, 69, 69 and 65 to get within four strokes of the winner, David Howell. Wood played well in matchplay competitions earlier this year, including reaching the quarter-finals of the Volvo World Match Play Championship in Bulgaria.
Sportingbet is offering odds of 8.00 that Woods leads the way for the Great Britain and Ireland side, while the same bookmaker and Spreadex is inviting punters to take odds of 17.00 that the Englishman tops the overall points scorers.