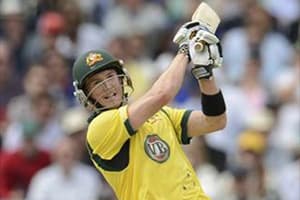 The likelihood of a wet outfield at the Barabati Stadium in Cuttack, venue for the Fifth One Day International between India and Australia, serves only to strength the case for backing the Australians to hit the most sixes and win.
Four matches in – three played to their conclusions and one abandoned shortly after India began trying to chase down Australia's 295 runs for eight wickets – and bookmakers still have not made sufficient adjustments to their odds!
Australia leads the seven-game One Day International series 2-1 with three matches to play and it deserves to be ahead. Australia is a better balanced One Day International team than India – the Australians are equally adept at batting and bowling, whereas the Indians give up far too many runs because their bowlers are not as suited to limited-overs games as they are Test matches – and, also, the away side has more big hitters in its ranks than the home team.
Renowned six smasher Aaron Finch failed with the bat in the Fourth One Day International, only scoring five runs off 10 balls before having his stumps blasted out of the ground by Mohammed Shami. But even though Finch failed to hit a six, George Bailey and Glenn Maxwell stepped into the breach and struck eight between them. Australia ended up scoring nine sixes, with Mitchell Johnson slog sweeping Ravindra Jadeja.
Australia has scored more sixes than India in every one of their three completed One Day Internationals this month. Australia beat India 9-2 in the First One International, with Finch and Maxwell scoring sufficient numbers of sixes to beat the Indians on their own. Australia edged India 12-11 in the Second One Day International, a remarkable result given the breathtaking manner in which the Indians won the high-scoring game. And Australia defeated India 8-5 in the Third One Day International thanks to the efforts of James Faulkner, who hit six sixes in his 64 not out.
One will never know for sure what would have happened had India been able to complete in its innings in the Fourth One Day International but history suggests that Australia's nine sixes at the JSCA International Cricket Stadium in Ranchi was a better-than-par score that the Indians would have struggled to get near. Most One Day Internationals at the facility have been relatively low-scoring affairs.
Back not only Australia to hit more sixes than India in the Fifth One Day International, an option that is available at odds of 1.83 with Bet365, but also the Australians to extend their series advantage to 3-1 at odds of 2.30 with the same bookmaker. Even allowing for the match taking place in India, Australia ought to be equal favourite at worst.
Indian officials are concerned that rain will affect the Fifth One Day International in Cuttack, where it has been wet for several days. One must think that if the game goes ahead that the rain-sodden outfield will favour the side that can hit balls out of the park. That side is most definitely Australia based on the current data.
Also, Australia's seam bowlers are superior to those of India so, if the rain and associated cloud cover results in the Barabati Stadium pitch assisting the pacemen, it is the away team that is most likely to reap the rewards.
Top batsman markets are a bit of a lottery at the best of times but such is the sensational form of Australia skipper Bailey that he is an interesting proposition at odds of 4.33 with Bet365. Bailey has answered his critics who believed that he was not worth his place in Australia's side, let alone as its captain, by scoring 318 runs in his four innings, including three half centuries. Bailey is playing with incredible confidence and he looks like he has the measure of every bowler in India's limited-overs squad.