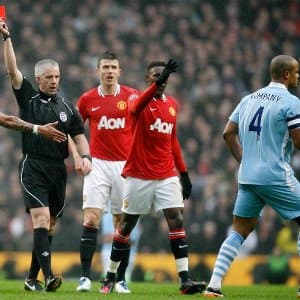 There are three certainties in Sunday's Manchester derby: City manager Roberto Mancini will wear a 1950s-style scarf; United boss Alex Ferguson will berate the fourth official about the amount of second-half stoppage time; and home captain Vincent Kompany will walk a fine line with the referee because big games bring out his nasty side.
No bookmaker would be sufficiently crazy to quote odds on either Mancini's sartorial elegance or Ferguson's clock watching but one will have no drama finding odds about Kompany's derby discipline as the week progresses now English Premier League officials have appointed Martin Atkinson to referee the Etihad Stadium showdown.
The opportunity for a value card-related bet presents itself because English Premier League fans do not perceive Kompany as one of the competition's bad boys and, also, his recent statistics show that he is a Jekyll and Hyde character.
So far this season, Kompany has picked up only one yellow card in his 14 English Premier League appearances and four yellows in his 21 matches in all club tournaments. Under Mancini at Manchester City, the Belgian has turned out 136 times, receiving 22 yellows and two reds. But dig a bit deeper and one finds data that is very interesting.
First, Kompany has an appalling disciplinary record in Manchester derbies. The Belgian has accrued four yellow cards and one red in the last half a dozen games between City and United, with the odd match out being the FA Community Shield that is little more than a friendly.
And second, most of Kompany's yellow and red cards come in what the overwhelming majority of football supporters would regard as big matches. The Belgian's four 2012-2013 yellows have come in games versus Chelsea, Dortmund, Fulham and Real Madrid. His 2011-2012 seven yellows and two reds came in matches against Chelsea, Everton, Liverpool, Manchester United (three times), Napoli, Porto and Wolverhampton. And his nine 2010-2011 yellows came in games versus Arsenal, Dynamo Kyiv, Everton (twice), Manchester United (twice), Reading, Tottenham and Wigan. There is a clear trend.
One should definitely look to bet on Kompany receiving a card of any colour in Sunday's English Premier League top-of-the-table clash and, also, check out the markets about the first player disciplined once they are live. One should expect bookmakers to go around 8-1 the field, with the Belgian unlikely to be the favourite unless compilers have done as much homework as they should do for exotics.
Going long on total cards markets should also be an option given that Atkinson will be the man with the whistle. The Bradford-based officials was one of the least card happy on the English Premier League's Select Group Referees panel in the 2000s but times have changed and now the Yorkshireman ranks as one of the most officious of whistle blowers.
Currently Atkinson is top of the English Premier League's yellow-cards-per-match chart, with his 47 yellows – and one red – working out at 3.92 yellows per game. Also, he ended the 2009-2010 campaign in first place with a 4.06 mean and, over the last three and a bit seasons, he has brandished 349 yellows and 26 reds in 96 English top-flight appointments.
Most of the Manchester derbies with Mancini and Ferguson in opposition have been blood-and-thunder affairs, with the 10 matches producing a total of 43 yellow cards and three reds. Also, if anything, the rivalry is getting more intense so one would expect a minimum of five cards on Sunday.
Forget trying to pick the winner of the latest Manchester derby and concentrate on cards-related markets. For the record, Kompany has been either cautioned or sent off in six of the 10 Mancini-Ferguson games, with other serial offenders including United bad boys Patrice Evra (four yellows) and Paul Scholes (three yellows and one red).