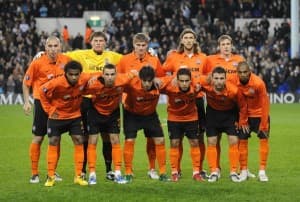 The latter stages of the UEFA Champions League group stage bring with it some of the most interesting football betting markets of the season as bookmakers grapple with the rather complicated rules that govern the high-profile competition.
Every year at this time, without fail, there are one or two interesting UEFA Champions League group bets because some bookmakers do not do sufficient homework before reopening their futures lines. Now is a great time to have a punt.
UEFA Champions League Group E comprises continental champion Chelsea, Italian champion Juventus, Ukrainian champion Shakhtar Donetsk and the lightweight of the section, Danish champion Nordsjaelland. With two rounds of games remaining, Chelsea and Shakhtar lead the way on seven points, ahead of Juventus on six points and Nordsjaelland on one. But it is not that simple and that is why some betting value exists.
In the event of two teams finishing a UEFA Champions League group on the same number of points, the first tie-breaker is the head-to-head record between the two sides. Chelsea and Shakhtar have played their head-to-head matches, with the English team winning 3-2 at home and losing 1-2 away. So it is advantage the Ukrainian side on the away-goals rule.
The next round of UEFA Champions League Group E matches sees Chelsea travel to Juventus and Shakhtar visit Nordsjaelland. According to the early markets, the most likely outcomes of those games are wins for Juventus and Shakhtar. Such results would make it impossible for Chelsea to win the section. And they would jeopardise Chelsea's chance of qualifying for the last 16. Behind on tie-breakers against both Juventus and Shakhtar, Chelsea would bow out if the Italians and the Ukrainians drew in Donetsk. Now that would be something.
To win UEFA Champions League Group E, bookmakers are betting around 11-8 Shakhtar, 9-5 Chelsea and 4-1 Juventus. To reach the next phase, bookmakers are betting around 1-4 Chelsea, 2-7 Shakhtar and evens Juventus. Value-conscious punters should back Shakhtar to win the section at 11-8 and lay Chelsea at 1-4 to qualify for the last 16. Not even Roman Abramovich could afford to back Chelsea at those odds.
UEFA Champions League Group E may be the most interesting section from a punting perspective but there are others that have captured the imagination of everyone. First, there is UEFA Champions League Group G featuring Barcelona, Benfica, Spartak Moskva and the Glaswegian giantkiller, Celtic.
If one assumes that Barcelona will beat Benfica at Camp Nou in the sixth and final round of UEFA Champions League Group G matches, Celtic will need only one point from its home game versus Spartak Moskva to guarantee its progress. Celtic is around 2-5 to qualify for the knockout phase and those odds are fair based on the state of the section currently.
Valencia is second in UEFA Champions League Group F after four rounds but on the fifth matchday it could not only overtake Bayern Munchen but also win the section. To do so, Valencia would need to defeat Bayern either 1-0 or by a two-goal margin. Bookmakers are betting around 2-5 Bayern, 9-4 Valencia and 33-1 BATE so it is something to consider, particularly given the home form of the Spaniards. Valencia has won its last six Mestalla matches and its 15-game home record reads 12 victories, two draws and only one loss.
Manchester City is in a deep hole in UEFA Champions League Group D. There are several ways in which Manchester City can avoid exiting European club football's top tournament at this stage for the second season running but the most feasible requires it to overcome Real Madrid at home and Borussia Dortmund away, as well as Ajax getting the better of the German team in the Netherlands. There is no value in backing Manchester City to qualify for the last 16 at around 20-1. If one seriously thinks that Manchester City can pull off a Harry Houdini-like escape act, simply start off by backing it to beat Real Madrid at Etihad Stadium.