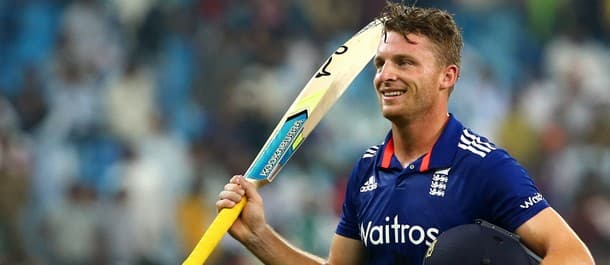 England were soundly beaten in the International Test Series against Pakistan in the UAE, but they fought back in grand style to take the One Day International Series 3-1, and we're looking forward to the three Twenty20 fixtures between the two countries over the next week.
There's rarely a dull moment in English cricket, and 2015 has summed up their inconsistency as the team has swerved from glory to disaster on a regular basis. After England's no show at the Cricket World Cup, they regained the Ashes against all odds from Australia in the summer and under new coach Trevor Bayliss all talk was of a new, aggressive English style of play. However, as they have done in the past, Pakistan brought England crashing back down to earth with a comfortable 2-0 victory in the recent test series.
The ODI series win demonstrated England's prowess for the short form of the game, with Jos Buttler hitting a remarkable century off 46 balls in the final game, to break his own record of a hundred off 61 balls. He's now hit England's three fastest centuries in ODI cricket, and this knock was the seventh fastest in the history of the one day format.
Twenty20 Series
Next up for England and Pakistan is a quickfire three-match Twenty20 series, the first of which is set to be played on Thursday 26th November in Dubai. The second will be played at the same venue on the following day, with the teams moving on to Sharjah for the final match on Monday 3oth November.
Eoin Morgan's English side are building towards the World Twenty20 which begins in March 2016 in India, and having already beaten UAE in a Twenty20 warm up match, they'll be geared up for this one. Jason Roy hit 59 and Alex Hales 40 as England put on 92 for the first wicket inside seven overs. They went on to score 174-6 and UAE could only hit 95-9 in reply, with Moeen Ali taking 4-11.
Odds for the Series
The series odds make for interesting reading, and the bookies are unsure of who to make favourite. We got a nice price on England to win the ODI series, but the layers are taking much fewer chances with the tourists this time around.
England – 10/11 with Ladbrokes
Pakistan – 1/1 with Totesport and Betfred
However, with confidence sky high after Buttler's incredible knock, England are still fancied to prevail over the course of the three games, and a side bet on England to win the series 3-0 at 11/2 with Ladbrokes makes plenty of appeal at a nice price.
One Day International Lessons
Pakistan surprised England in the first ODI match in Abu Dhabi, with Mohammed Hafeez's unbeaten century leading the hosts to a six-wicket victory. England hit a rough patch when they lost five wickets for 33 runs, and only posted 216 for Pakistan to chase. It was easy pickings for Hafeez and co. as they sealed the match with 38 balls to spare. It was all to change in the second match though, as Alex Hales notched his maiden ODI century to lead England to a 95-run victory. The tourists total was 283-5 after a late rally by Pakistan's bowlers, but the hosts rapidly fell to 50-5 before being bowled out for 188.
The third match was even more impressive from an England point of view, as they stormed to a six-wicket victory in Sharjah. Pakistan won the toss and elected to bat, but they were consummately dismissed by England for 208, with Hafeez's 45 the only resistance. England quickly set about chasing the target, with Taylor (67) and Buttler (45) bringing about the victory with nine overs to spare.
There was no let up in the England pressure in the final match of the series, where the tourists won the toss and set about showing a masterclass in one day batting. The win was built upon Jason Roy's maiden one-day century, with Joe Root adding an excellent 71; and that paved the way for Buttler to come out and smash Pakistan out of the park. His devastating 116 was even more impressive when you consider that he didn't arrive at the crease until the 36th over, and he brought about what proved to be an unassailable 355-5 for England. Pakistan threatened an amazing chase only briefly, but they were bowled out for 271 with Moeen Ali taking 3-53.
Team News
What we have seen from England over these recent games is a side in form, with Buttler, Roy, Hales and Root all impressing with the bat in at least one of the games, and Ali, Woakes and Willey providing the bowling attack to back them up. Morgan has a good side at his disposal, and the cricket world has been drooling over Buttler's awesome knock in that third game. All that attention should have brought an air of invincibility to the squad, and they will be determined to go out and show what they can do over a longer period of games.
Pakistan's bowling attack is highly reliant on the turning pitches of test cricket, and they have fallen short in the past in the shorter formats of the game. There were rumours abound after the third ODI in Sharjah of suspicious betting patterns after Pakistan collapsed from 132-2 to 208 all out, including three run outs; but Pakistan coach Waqar Younis dismissed the suggestions, saying "I have no doubt about my boys".
With England in the better form and more suited to Twenty20 cricket, it makes sense to back them to win the series, and the 3-0 series correct scoreline has to be worth a punt at a very decent price.
Tips Summary
England to win Twenty20 Series
Thursday 26th November – Monday 30th November
Odds: 10/11
England to win Series 3-0
Thursday 26th November – Monday 30th November
Odds: 11/2
cricket
England
pakistan
Twenty20