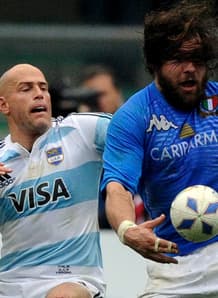 It is far from the most attractive rugby union Test match of the week but Italy against Argentina is the game on which value-conscious punters should focus their energies.
Argentina has had much the better of its head-to-head versus Italy since the second-tier rugby union nations clashed for the first time in 1978, with the Pumas winning 12 of the 18 games, including the last three matches in a row. But most recent games in Italy between the teams have been close – each of the last three matches have been decided by no more than eight points – and Argentina's form leading up to their assignment in Rome has been extremely disappointing.
The Rugby Championship was a disaster for Argentina from start to finish. Argentina lost 13-73 in South Africa in round one and, when everyone expected the Pumas to push Australia all the way in their final match, they responded by allowing the Wallabies to score more than 50 points. It would be fair to say that Argentina played Australia into form as the Wallabies had struggled to hit their straps under Ewen McKenzie until they ran riot in Rosario.
On a crude line through Australia, which has played both Italy and Argentina away from home in the last few months, the Azzurri are seven points superior to the Pumas and that does not take into account either home advantage, which has to be worth that amount again, or Argentina's deteriorating form. Argentina lost 6-40 in Wales last time out. Wales beat Italy 26-9 on the road in the Six Nations Championship so, if one awards seven points for playing at home, the Azzurri comes out of their Wales loss looking better than the Pumas.
Finally with regards to Italy against Argentina, the world rankings support a bet on the Azzurri as well. Italy is 11th on 74.34 rating points, while Argentina is 10th on 75.23 rating points. The number crunchers who maintain the world rankings believe that home advantage is worth three rating points on their scale so Italy would be their pick. Coral is offering odds of 2.00 that Italy defeats Argentina. Any odds over 1.80 about Italy would be perfectly acceptable to take.
Of the other Test matches taking place over the next couple of days, the best bet is Australia to cover the spread in its game versus Scotland at Murrayfield. Australia coach McKenzie has drawn a line in the stand, suspending six Wallabies players and reprimanding another nine for a disciplinary breach during their time in Ireland. But one cannot help thinking that bookmakers have overreacted to McKenzie's headline-grabbing action by only asking the Wallabies to give up nine and a half points.
One can back Australia to beat Scotland by more than nine and a half points at odds of 1.85 with Unibet. What has been lost in the media coverage is that Australia's suspended players feature only two starters from last week's 32-15 victory over Ireland and both of them played on the wing. With all due respect to wingers, they are the least important players of the 15 who make up a rugby union side, often touching the ball on fewer than a handful of occasions during 80 minutes of play. Being without a couple of wingers and a few replacements should not stop Australia getting the better of Scotland unless the Wallabies squad decide that McKenzie has gone too far and they do not put in 100 per cent effort for their boss. It would be hypocritical of Australia's players to think less of McKenzie given that many of them were screaming at him to discipline James O'Connor only a short time ago. One cannot it both ways.
While Australia was beating Ireland by 17 points on the road, Scotland was losing 0-28 to South Africa at home. Australia is not quite at the same level as South Africa but the Wallabies are getting there and a single-digit spread is sufficient reason to support the away team at odds of 1.85.