The Australian Open, the first Grand Slam tennis tournament of the year, is the biggest event on the international sports calendar in January and looks set to remain so despite recent attempts to move it to a later date.
First held in 1905 and a fixture on Melbourne Park's hard courts since 1988, the Australian Open has tended to throw up some shock finalists, particularly in the men's singles, with Arnaud Clement (2001 runner-up), Thomas Johansson (2002 winner), Rainer Schuttler (2003 runner-up), Marcos Baghdatis (2006 runner-up), Fernando Gonzalez (2007 runner-up) and Jo-Wilfried Tsonga (2008 runner-up) upsetting the odds to participate in the championship match on Rod Laver Arena.
The 2013 Australian Open, otherwise known as the Grand Slam of Asia-Pacific, will run from Monday 14 January to Sunday 27 January, with Novak Djokovic (men's singles), Victoria Azarenka (women's singles), Leander Paes/Radek Stepanek (men's doubles), Svetlana Kuznetsova/Vera Zvonareva (women's doubles) and Bethanie Mattek-Sands/Horia Tecau (mixed doubles) as the reigning champions in the main events.
The Big Four has become the Big Two
With 11-time Grand Slam singles champion Rafael Nadal having not played a match since his surprise Wimbledon loss to Lukas Rosol in June 2012 and 17-time Grand Slam singles champion Roger Federer having appeared in only one of the last half a dozen major finals – or just two of the last 11 if one goes back to early 2010 – it is time to stop talking about the Big Four and start referring to the Big Two.
World number one Djokovic and Andy Murray, the first British man to win a Grand Slam singles title since 1936, are the dominant forces in men's tennis and, provided that they are on opposite sides of draws title deciders between them are likely to become commonplace given their young ages. Both Djokovic and Murray were born in the middle of May 1987.
Murray better value than Djokovic
Bookmakers reacted to the 2013 Australian Open men's singles draw by shortening their quotes about Djokovic winning his third consecutive Melbourne Park crown and his sixth Grand Slam title, lengthening everyone else near the top of the betting market believing that the combination of the IBM computer and Pat Cash did the Serb a considerable favour.
Certainly Djokovic should have no complaints about the 2013 Australian Open men's singles draw. Djokovic is seeded to play Tomas Berdych in the quarter-finals and the Serb has an 11-1 career advantage over the Czech, including a perfect 10-0 in their hard-court encounters. And if the seedings work out as far as the semi-finals, Djokovic will face David Ferrer, whom he leads 9-5 overall and 8-2 on hard. Ferrer, it seems, has the measure of everyone ranked below him but he cannot find a way to beat any of the really big boys.
But while the bottom half of the 2013 Australian Open men's singles draw in which Murray finds himself is harder, the gap between the now-confident Briton and the other 63 men standing between him and the final is big and only getting bigger. Murray is seeded to meet Juan Martin del Potro in the quarter-finals and the Briton is up on the Argentine 5-1 regardless of surface and 4-0 on hard. And if Murray has to face Federer in the semi-finals, he can take solace from the fact that he enjoys a 10-9 lead overall and 9-8 on hard.
At their respective pre-2013 Australian Open men's singles prices, Murray (around 3-1) makes more appeal than Djokovic (around 6-5), with no-one else worthy of consideration.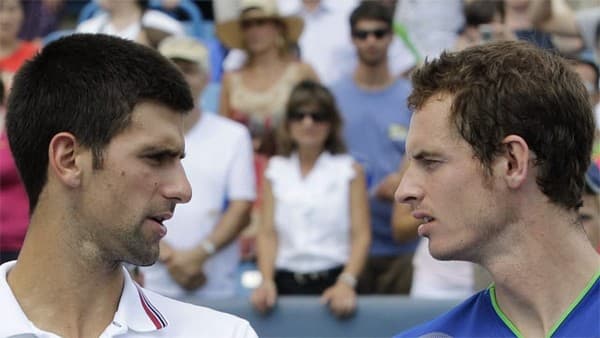 Will this years Australian Open be a 2 horse race or can someone spring a shock?
Women's singles favourite impossible to oppose
The 2013 Australian Open women's singles betting market has a similar shape to the men's singles one, with the favourite at around evens and just three players under double-figure odds. Serena Williams is the clear market leader and it is impossible to oppose the 15-time Grand Slam singles queen.
Williams has lost just once – 4-6 4-6 to Angelique Kerber in Cincinnati – since her disastrous French Open first-round exit in May 2012, with the American powerhouse winning 36 of her last 37 matches. Not only that but also she enjoys a big head-to-head advantage over her major rivals, Azarenka and Maria Sharapova. Williams is up 11-1 against Azarenka and leads Sharapova 10-2. If Williams turns up with either her A- or B-game then everyone else will be playing for second.
Smashing men's singles betting offers
BetVictor and the sister bookmaking organisations, Paddy Power and Sportsbet, have got smashing Australian Open men's singles betting offers that are well worth checking out.
If Murray wins the 2013 Australian Open men's singles title, BetVictor will refund losing winner bets placed before the start of the second round, up to a maximum of 50 British pounds or currency equivalent per household. BetVictor's offer is open to new and existing customers in Australia, Austria, Germany, Greece, Ireland, Israel, Liechtenstein, Luxembourg, the Netherlands, Switzerland and the United Kingdom. Obviously, BetVictor's offer should interest Djokovic punters since Murray is his biggest danger.
Paddy Power and Sportsbet will refund losing pre-match bets if the 2013 Australian Open men's singles competitor whom you back loses in the fifth set. Twenty-seven men's singles went the distance in the 2012 Australian Open, including the final between Djokovic and Nadal, with the numbers being 21 and 25 for 2011 and 2010 respectively. There are a total of 127 men's singles matches in a Grand Slam tournament so, based on the last three years, about one in five men's singles matches goes to five sets. It is a superb offer, with full terms and conditions available on the websites of Ireland-based Paddy Power and Australia-based Sportsbet.
And, of course, if you are relatively new to online betting, make sure that you open accounts with as many bookmakers as possible so that you collect all the sign-up bonuses.